It's not an unknown fact that travelling is expensive, but it's also important to know that certain travel destinations are more costly than others. The world is filled with an endless amount of places to visit, but be sure to do your research before you plan a trip so you can know a range on how much that trip will cost you. If you're wondering about the more expensive vacation destinations, we've rounded up some of the most pricey locations around the world.
10. New York City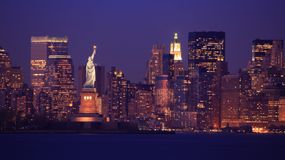 New York, New York is unsurprisingly one of the most popular tourist destinations in the world. NYC is the heart of many U.S. industries, including several culture industries, and it has traditionally been a hub for business and artists alike. Of course, the NYC tourism industry thrives on this reputation and generates many tourist dollars as a result. They justify higher rates due to demand and limited space, but the truth is that a lot of the hotels are just plain overpriced. With rates starting at $730 a night for a luxury hotel and the average price for a mid-range hotel being $350, NYC is not a place for the traveler looking for an affordable trip — unless you want to risk staying in a dive or take a gamble on a blind deal. Given that NYC is home to a $1,000 sundae and a steak that will cost you the same as your hotel, it's hardly surprising to hear that the city that represents America also represents American excess.
9. Paris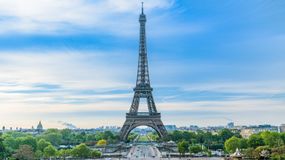 Much like New York, Paris, France, has become a popular destination for many travelers. With a long history and an influential role in the shaping of both Europe and the New World, Paris has also earned a reputation as a city of romance; helped by the city's quaint café culture, the French love of pastries, wine and chocolate and images of the iconic Eiffel Tower lit up in night. Adding to the popular French city's appeal is the number of royal castles and lavish cathedrals, many dating from the Middle Ages, that offer history buffs, architecture enthusiasts and even the average tourist an exciting sight-seeing adventure.
All of the popularity of Paris, however, has also culminated to the city becoming one of the world's most expensive tourist destinations. Banking on its reputation as being lavish and romantic, Paris hotels tend to go all out—which means that they also come with a hefty price tag. Some historical residences, including palaces, have been converted to hotels. One hotel charges around $26,000 for the privilege of staying just one night with them.
8. Fiji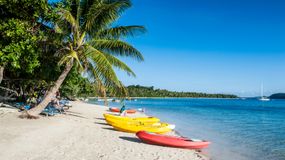 Contrary to common belief, Fiji isn't just one island, but actually a series of 332 islands! Fiji has become renowned as one of the best travel destinations in the South Pacific based on many reports —and as one of the most exclusive. Not only is the country regarded as a pristine island retreat with a keen sense of preservation of nature, it's renowned for its natural beauty and its remoteness.
On this list, exclusivity and remoteness adds up to a recipe for an overpriced vacation stay. While you might be able to get to the main islands relatively cheaply, many of the smaller islands in the nation are actually privately owned, either by individuals or by resort companies—and most of them charge hefty amounts for a visit. One example is Mantangi Island, a horseshoe-shaped volcanic island that encompasses all of 240 acres. Visit the beach, do some snorkelling and diving and hike through the island rainforest. At the end of a long day, relax in the outdoor Jacuzzi and the lava rock shower. Some would argue that luxury of this sort is a steal, but with rates starting at just over $600 a night, this lavish escape is unlikely to fit many travelers' budgets.
7. British Virgin Islands
The British Virgin Islands have earned themselves a reputation as a rich Brit playground. Sir Richard Branson, the founder and CEO of Virgin Corporation, has a villa on a private island that is rented out but only to those who can afford it. The island of Guana is another expensive destination. Guana has no public access, which means you have to fly in to neighboring Beef Island and then take the resort's boat over to your final destination. Guana is about 895 acres with sandy white beaches and averages around 30 guests. Yoga and tennis lessons are offered. Other activities include snorkeling, bird-watching and outdoor activities, such as hiking. A sea-view cottage will run you almost $700 a night in low season—and prices only increase from there. You can expect to pay much more for a villa in peak season of the year. Once you've seen the bill, you'll probably want to grab a drink at The Club, a colonial great house, to try and blur the memory.
6. Tuscany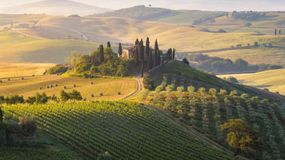 Few think of Tuscany when they think of visiting Italy, but those that do may find that lesser-visited or out-of-the-way destinations aren't always a ticket to an affordable trip. Tuscany is one of the most expensive regions in Italy, despite the fact that more people visit cities like Rome, Naples, Florence and Venice. Tuscany's appeal is its history, which stretches back to pre-Roman times. Many of the hotels aren't hotels at all, but ancient villas that have been converted into lavish suites for rich tourists. For those who want to get away from the tourist traps that many other Italian cities have become, Tuscany is a welcome relief—but its price tag isn't much different than places like Rome or Florence. Since much of Tuscany is still very rural, the area is stunning and famed for its vineyards, but the accommodations can be a little rough; some of the buildings are just old barns that have been converted, and they still cost around $3,000 or $4,000 a week. Add in a car rental—you'll need one to get around, and plenty of tempting truffle dishes and you're looking at a pricey European vacation!
5. Bora Bora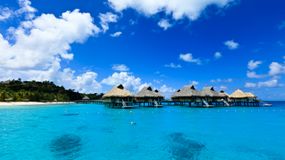 This tiny island in French Polynesia burns a big hole in many visitors' pockets. Although the island is beautiful and offers a luxurious experience, an average night on the island will run you a minimum of $800—with your meals included, of course. There's also the tiny issue of getting there; airfare to the middle of the South Pacific isn't exactly cheap these days. Nonetheless, Bora Bora attracts its fair share of celebrities, business elite and political magnates. Unless your heart is set on Bora Bora in particular, you can choose from a number of lesser-known islands in French Polynesia, many of which have lower rates due to decreased demand and a less developed tourist reputation. That also means you can beat the crowds—which is almost like having your own private island for half the cost. If it must be Bora Bora, be sure to look for all-inclusive vacation deals and hotels that offer discounted rates if you book multiple nights. You can also visit during the off-season, between December and March, to score better rates.
4. Seychelles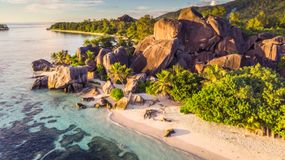 Surprise! Another island escape makes the list. Seychelles, like Fiji, is a country composed of not one, but several islands. Located in the Indian Ocean, just south of the main island of Mahe, is the island of Fregate. Fregate is really what lands Seychelles on the list, although the other islands can be expensive to visit as well. Fregate takes "expensive" to a whole new level.
Unsurprisingly, the island is a private resort dotted with 17 lavish villas, all of them constructed out of mahogany and African teak wood, boasting marble floors, ocean views, jacuzzis, and infinity pools. The resort has a passionate commitment to preserving nature so the jungle and seven beaches on the island are well-protected. Activities include windsurfing and guided hiking. Villas must be rented for a minimum of 3 days and rates start around $3,000—or about $1,000 USD a day!
3. Dubai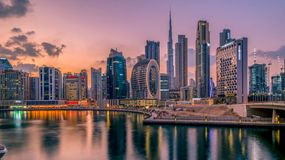 Much talk has been said of Dubai in the past decade or so. This Middle Eastern hotspot has become a mecca of modern excess which, of course, has made it popular with travelers who have money to burn. Financed by oil wealth, Dubai was developed by the rich for the rich as a playground for those who can afford it. From man-made islands to the luxurious Burj Al Arab and soaring towers, Dubai is all about spending money. If you're on a tight budget, you're going to want to steer clear of this destination!
In fact, most of Dubai's economy is centered on money or conspicuous consumption. Although the city boasts scenic coastline and a desert oasis, there is little to do outside of spending money in large shopping centers or on expensive outings, such as day-trips on yachts or renting a helicopter. The entire experience, even if you have the funds, feels a little bit empty, especially since many of the people who are living there are temporary workers longing to return home. Dubai lacks the culture and character that makes so many other expensive destinations appealing. Still, if you must, you can drop $20,000 to spend a night at Dubai's best hotel.
2. Musha Cay
The Exumas, or "Out Islands" of the Bahamas have long been known as a destination for the rich and famous. Ernest Hemingway visited them. David Copperfield claimed that the fountain of youth was located on one of them. And for the price tag on Musha Cay, you'd really hope he was right about that.
Musha Cay is just one of the eleven islands in Copperfield Bay, and like the others, it's an all-or-nothing sort of affair: you must rent the entire island for almost $40,000 a night. The upside? You're allowed to choose who gets to stay with you on your Caribbean island escape; you can invite up to 11 people to share the resort with you and all your (gourmet) meals are included in the price. Activities include deep-sea fishing and diving. You'll also get a personal fireworks show and a customized treasure hunt can be added to your vacation package—for some additional cash, of course.
1. Oslo
Norway's capital is scenic and delightful, filled with Scandinavian charm and still reminiscent of the Norwegians' Viking history. Rows upon rows of colorful houses and the proximity of scenic mountain vistas and the famous fjords can easily take your breath away. Like its other Scandinavian counterparts, Oslo tends to be clean and safe, and most of the population speaks almost fluent English, which can make it easy for the inexperienced tourist to get around and explore.
That said, Norway is notoriously known as Scandinavia's—and Northern Europe's—most expensive country. Although the country is rich in oil and its citizens are relatively well-off, the higher wages and relative wealth of the country has contributed to service sectors and tourist industries that charge about 20 percent more than anywhere else in Western Europe and a whopping 70 percent higher than world averages. It's no wonder that Oslo is ranked as the world's most expensive city! For travelers looking to experience Oslo in an affordable way, there are websites that offer tips and tricks for sticking to your budget, including where to find cheap accommodations, economical eateries and free activities in the city.