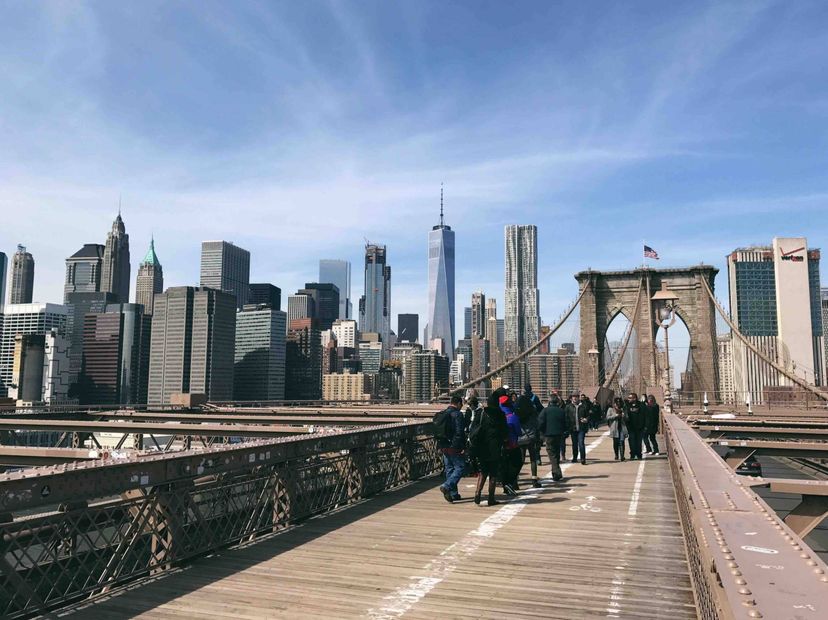 Brooklyn Bridge, one of New York City's most iconic landmarks, is a long suspension bridge that spans from Brooklyn in the East River all the way to Lower Manhattan.
This is the first-ever bridge to have used steel for cable wire in its construction. Ever since its construction, it has become popular all over the world as a spectacular architectural accomplishment, even in today's time.
It has also turned into quite a tourist attraction spot where people cross the bridge for fun to explore it and catch the dazzling Manhattan skyline.
One of the best ways to explore Brooklyn Bridge is to go on a fun bike ride! If you have your own bike, that's really great, but if not, you can easily rent one for your mini bike ride!
Rent A Bike
You will find several shops in Brooklyn that give bikes on rent.  Rent a bike, ride all day long, and then return it at the end of your trip. You can also opt for Citi Bike, and you will come across many Citi Bike Stations in Brooklyn.
You can ride to your heart's content, and once you've fully explored the Brooklyn Bridge, all you need to do is return the bike and take the NYC ferry.
The only issue with Citi Bike is that you won't be able to find one according to your own preferred time unless you are willing to take that risk!
Bike Tour
If you don't wish to rent a bike alone and would rather explore the bridge with a group of people, you can go for a bike tour!
There are many places that offer Brooklyn Bridge Bike tours for groups. Some of them also have bike rental locations in lower Manhattan and Brooklyn as well where you can rent a bike from them for the day with your friends or family.
Why Bike the Brooklyn Bridge?
For many people, the idea of crossing the Brooklyn Bridge sounds like a little too much, but if you ever do get the chance, you should definitely bike the bridge!
The most obvious reason is that it's fun, of course! Especially if you are with friends or a group of bikers, you will have such an amazing time biking the Brooklyn Bridge.
Another reason is that towards the end of your bike ride, you get to explore DUMBO, or what's known as one of the most interesting and appealing neighborhoods in Brooklyn!
The only downsides about biking the Brooklyn Bridge are that it can be a little pricey if you are going as a group, the bike and pedestrian lanes on the bridge tend to be quite crowded sometimes which can kill the fun and lastly, bike riding on the bridge requires a lot of skill and care sometimes.
To elevate your bike-riding experience, you can also cycle around the Brooklyn Bridge Park and enjoy some me-time among the greenery.