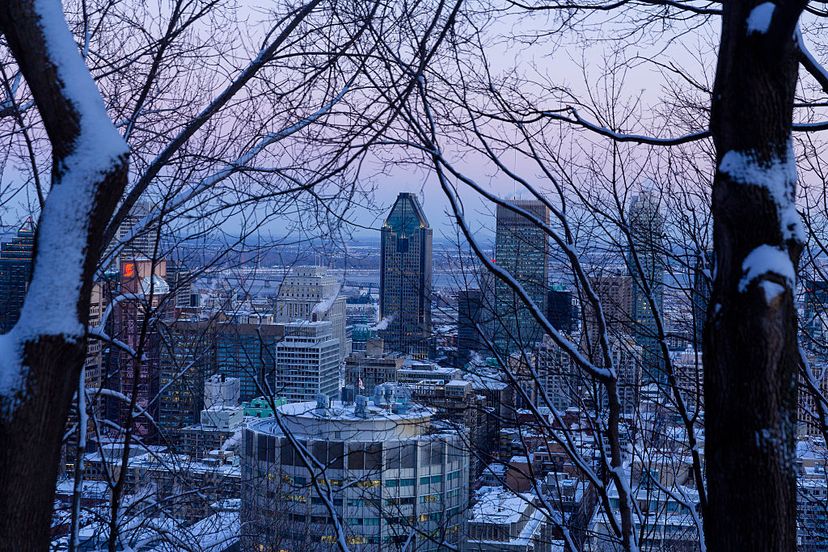 Montreal is known for its European style and boasts breathtaking architecture and cobblestoned streets. Travelers from all over the world are lured into the beautiful city, especially during the winter when the city is decked out in dazzling lights and snow. There are plenty of things to see and exciting activities that will keep you busy during your stay, many of which are free! Check out our guide for free things to do in Montreal in the winter! 
Winter Village at Olympic Park
Visiting Montreal in the winter provides endless opportunities for free fun and heading to the Winter Village at Olympic Park should be one of your first stops. The Winter Village offers a variety of free activities starting in December through March. A roaring fire, sparkling Christmas lights, and a towering 65-foot tall Christmas tree set the stage for the charming holiday village. A large temperature regulated skating rink is front and center in the village offering visitors free skating. Although it's worth noting they don't offer skate rentals so you'll need to bring your own. After skating, you can warm up in the heated chalet and toast a few marshmallows over the huge open fire.
Other activities include free sleigh rides and petting zoos for the kids. Keep your eyes peeled for the many free concerts and storytelling demonstrations that occur throughout the week and on the weekends. Adults can head to the festive outdoor space on Fridays and Saturdays that offer a bar, culinary lab, DJ's and other activities. If you happen to have taken public transportation to Olympic Park make sure to show your pass at the park's kiosk to gain free access to the tallest inclined tower in the world that happens to reside here. Between free Skating, great food, and fun activities, this is definitely one of the best things to do in Montreal during the winter. 
Spend Time in Old Port
This impressive area of Montreal is overflowing with history, breathtaking views of the city, and great winter activities. Head to Old Port for the day and discover one of the most picturesque places in Montreal. This popular place was recently revamped and now sees roughly 6 million visitors every year The Old Port is one of the most scenic spots to lace up your skates and head out onto one of the best ice surfaces in the city. The skating rink is open from early December through early March and skates and locker rentals are available on site. Shake, twist, and get your groove on at this rink with its many nights of music ranging from ballroom to retro and romance. You can check the schedule on their website.
If you stick around after 8 pm on a Saturday night you can watch the beautiful fireworks display. Grab a traditional Montreal style bagel from the small ice rink and wander the streets of this historic district. Head to the ice fishing village where for a small fee a heated shelter and all the necessary equipment and materials are provided for you to enjoy a day catching walleye, perch, and burbot. Or head down here when the epic ice canoe race takes place and you can watch as 40 teams participate in this exciting event. There are certainly plenty of things to do and see all day long! 
Visit the Churches
Montreal boasts many beautiful and historic churches that are certainly worth exploring. One of the most visited attractions in the city is the Basilique Notre-Dame which also happens to be Canada's first Gothic Revival-style church. It's located in the historic district in old Montreal. Admission used to be free for visitors but the church has since implemented an admission charge to help with costs of renovations and upkeep. That said, the small charge is definitely worth it! You'll get a chance to see the magnificent ornate wood carvings, stained glass windows, intricate statues, and vaulted ceilings.
Another magnificent church worth seeing is Saint Patrick's Basilica. It opened in 1847 and served the needs of the Irish immigrants who had come to Montreal to escape the famine and other troubles in Ireland. Much like the Basilique Notre-Dame, this church was also built in the Gothic Revival style and it may even remind you of the famous St. Peter's Basilica in Rome. This remarkable church is free to enter and boasts impressive 82-foot marbled-wrapped columns, stained glass windows, and beautiful oil paintings. 
Play at Fête des Neiges
Every weekend for four weeks starting in the middle of January through the beginning of February, visitors and residents are treated to a fun-filled family event called Fete des Neiges. Located at Parc Jean-Drapeau this free event offers activities and shows for everyone. Daily live ice sculpting demonstrations will take place along with zip lining, tubing, skating, and giant Foosball. Each weekend offers different choices of food trucks and dining options ranging from wood-fire pizza to potato donuts.
Free shows are offered and include Disney musical adventures, traditional folk groups, quiz shows, and other musical groups. It should be noted that not all activities are free at this event and we do recommend checking the website for the event's schedule. What is free is the chance to experience the shows, the skating path along the Saint-Lawrence River, snow soccer, the giant ice slide, a polar circus, and many exciting games for the little ones. This is definitely a winter activity every family should experience! Bundle up, pack a thermos of hot chocolate and enjoy the many free activities at Parc Jean-Drapeau.
Wander the Streets
Montreal is transformed into a Christmas wonderland during the winter season. The combined historical architecture with the liveliness that Montreal is known for creates a truly magical winter scene. Head to downtown Montreal where you can wander the streets and parks to witness the lights and decorations. McGill College Avenue is known for its dazzling lights that are draped over the trees creating a beautiful path leading to a pretty Christmas tree.
Further, Parc La Fontaine is outfitted with twinkling lights throughout the trees that illuminate a beautiful skating pond while Lahaie Park boasts "Christmas in the Park" featuring musicians, buskers, storytellers, and puppeteers. Rue Ste. Catherine is lit up with holiday lights and decorations and features incredible animated Christmas windows at the department store Maison Ogilvy. This city truly offers some spectacular lights and decoration displays that are certainly worth seeing.
Mount Royal Park
Skating, sliding, snowshoeing, and skiing right in the heart of the city, this may sound too good to be true but Mount Royal Park offers exactly that. Beautiful paths wind through the park and lead visitors to scenic lookout points. The Smith house is the entryway to the park and is where visitors can find information regarding the activities offered. It also offers a free permanent exhibit that traces the history, preservation, and conservation of the park. The café located inside is an excellent place for park-goers to warm up and enjoy a delicious bowl of soup or a hot cup of coffee.
Bring along your own snowshoes or skis and enjoy the park's trails for free which wind through woodlands, open meadows, and hilly areas. Or bring your skates and head out onto Beaver Lake. All equipment is available to rent at the park if you don't have your own. Head down one of the many slopes on your toboggan or inner tube (also available to rent). Mount Royal Park is the perfect winter playground for any visitor whether you are looking for outdoor fun or simply to enjoy nature. 
Experience Quebec Craftsmanship
Quebec Artists come from all over the province to showcase their crafts, gourmet food, and iced-ciders at a yearly event known as Salon des Métiers d'Art. This is the most anticipated arts and craft show of the year and should be on every visitor's list of things to do. For over 60 years this show has drawn in over 300 artists and craftspeople to Montreal in the month of December.
Admission to the show is free and visitors will be treated to original and unique pieces of art, whether they are decorative or functional, visionary, or traditional, the collection of unusual pieces will not disappoint. Along with the displays, visitors will be treated to fashion shows, demonstrations and entertainment. Located in the heart of the city we can't promise that you will leave this event without spending any money as these incredible pieces of art prove hard to resist. Step away from the blustery winter winds and enter an extraordinary world of art, fashion and incredible talent at the Salon des Métiers d'Art.
Festival Montréal en Lumière (Montreal High Lights Festival)
The Festival Montreal en Lumière is one of the largest winter festivals in the world. This exciting event combines performing art, exquisite food, the finest chefs, and free family fun. This 10-day festival does not promise to be a completely free event as tickets are available to purchase for events such as concerts and dining options. That said, there still are plenty of great free activities. A "Free Outdoor Site" is created every year and offers a plethora of open-air activities. Some of these include braziers, shows, activities for children, street theatre, puppet shows, circus acts, and fireworks that showcase the city's lively spirit and love of entertainment.
Another popular free event is Nuit Blanche. It's often described as an all-night overindulgence of free art, culture, food, music, and winter sports. Over 200 mostly free activities are offered throughout the night and are all connected by a free shuttle service. Discover local musicians, film screenings, art collections and perhaps even slide down the 361-foot long urban ice slide. With venues and attractions located throughout the city, we recommend planning your Nuit Blanche night before you go. 
Go Underground
What better way to escape the snow and cold than to get indoors and underground? The largest underground city in the world offers visitors access to shopping malls, hotels, museums, banks, the metro stations, and more. Keep in mind this is a massive complex so we recommend that you grab a map to help you navigate along the way. Avid shoppers should prepare on spending the whole day here browsing the malls and other unique stores that often pop up out of nowhere. If you don't love shopping, you can spend a few hours exploring the tunnels. 
While touring the tunnels, there are a few fascinating things to look out for. First, one of the tunnels features a beautiful vault door of an old bank. Further, part of the underground mall is also built under a sinking church  (the Christchurch Cathedral). This cathedral was saved by a group of investors who promised to repair the church as long as a shopping mall could be built underneath. The underground city is taken over with public art during the Art Souterrain event which turns areas into temporary art galleries with over 80 artists showcasing their talents. A number of permanent art exhibits also exist throughout the year.
Visit the Museums
The city of Montreal is known for its fabulous museum's which are home to many impressive Canadian art collections. Better yet, you'll be able to experience some of these beloved collections for free. Canada's oldest museum, The Musée des Beaux-Arts de Montréal is one of the oldest museums in Canada and boasts impressive Canadian art collections as well as fine art from European artists, Islamic metalwork, African masks, and Buddhist sculptures. General admission does cost $24, however, if you are 20 years old or younger you can enter for free. Further, if you visit on the first Sunday of the month, you can view the Discovery Exhibitions and collections for free! 
You should also head over to McGill University where the Redpath Museum doubles as a learning center for graduate students and a museum to the public. This natural history museum includes galleries of mummies and cultural artifacts from Egypt, a Tyrannosaurus Rex jaw, and extinct marine reptiles that once roamed the earth. Outside the museum is the extensive geological garden that features many of Canada's native minerals. The Redpath Museum is closed on Sundays but admission is by voluntary contribution for the general public every other day of the week. Enrich your mind and explore your way through history as you discover Montreal's many wonderful museums.