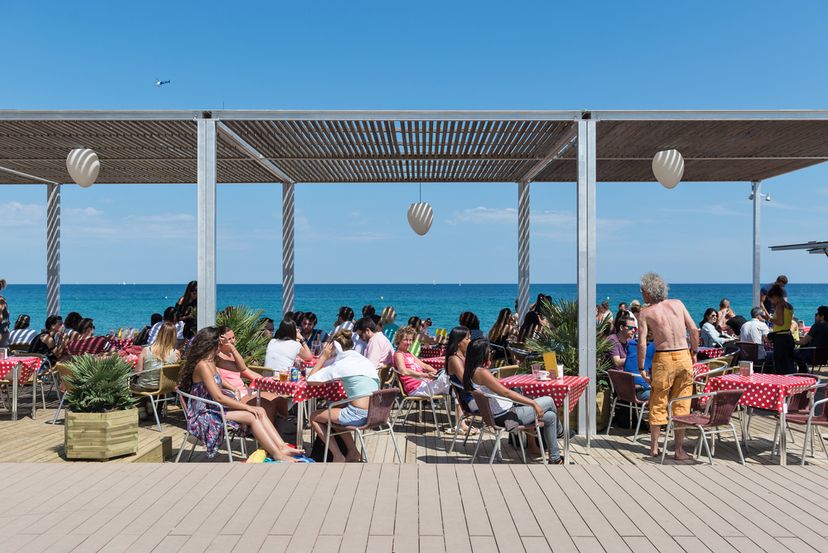 People in Barcelona take their food very seriously; both locals and tourists plan their entire day/week/month around food.  Food is a social experience; it is a time to indulge, to relax, to be with family, to learn, to earn a living…but not matter what it is, food in Barcelona comes first. The locals in Barcelona are proud of their culture, and nowhere is that more prevalent than in their culinary food scene. Catalan culture and Mediterranean cuisine is very important in Barcelona, yet we are seeing an influx of many cultural cuisines and Barcelona is proud of that too: from French, to Indian, Greek, and Lebanese, all have a place in making the cuisine in Barcelona world class.
5. Mercat de la Boqueria
Most restaurants and cafes that dot the famous Las Ramblas are obvious tourist traps; the prices are ridiculously high and the food is often mediocre. The exception to that is the Mercat de la Boqueria.  A local farmers market, this Mercat is where you will find all the fresh made cheeses and pastries, and Jamón ibérico so fresh it tastes like candy (the best way to eat it is packed in a rolled up newspaper cone while wandering the streets!)  Exploring local markets is the best way to get the feel for a new culture; come early to avoid all the tourists, and it will be just you and the locals, vying for the best slice of ham!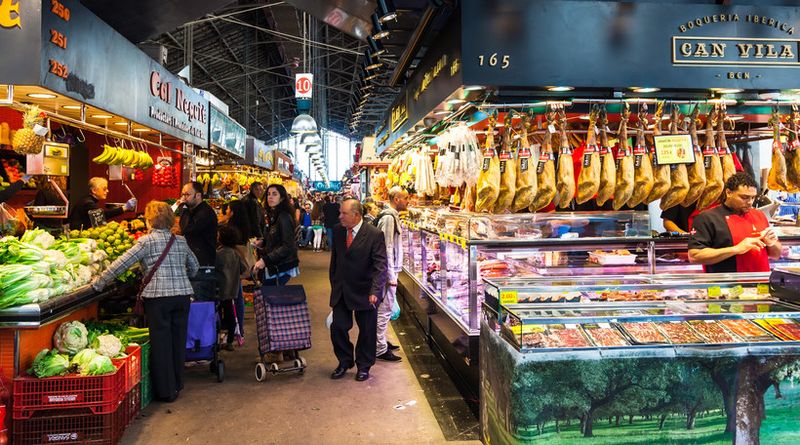 4. Eixample District
For those travelers who enjoy fine dining over market food, the Eixample District is where you want to be based. Alkimia is a Michelin star restaurant that is popular with tourists and as a result it is very hard to get a table here! The complex Spanish classics with a modern twist that come out of this kitchen are worth the price tag for people who enjoy this particular type of cuisine.
3. Gothic Quarter
This beautiful neighborhood most accurately exemplifies the Roman past in Barcelona; the Gothic remnants are evident in the intricate architecture and historic significance found all over the neighborhood. Being one of the most historic parts of Barcelona it is a popular spot with tourists and thus restaurants and food choices here are in abundance. While often geared to tourists, like the Las Ramblas, you can still find some local cafes if you venture off the main arterial streets and squares. Stay away from restaurants urging you inside and instead wander a bit longer to find the local Spanish hot spots!
2. Gracia District
A vibrant and popular district, the Gracia is a great neighbourhood for people who fancy delicious street food and local vendors. Bars and cafes are more common than upscale restaurants and here is where you can find ethnic restaurants serving more than just Spanish food. Momos is an Asian restaurant that is very different than others in the area; the chef serves cuisine from all over Asia, but in tapas form, which is kind of fun!
1. Barceloneta
Being in the neighborhood along the beach, you are constantly navigating in and amongst tourists and locals (watch your purse!). Since there is a much more cosmopolitan, tourist driven lifestyle present in this area, the bars and cafes are constantly overflowing with travelers, but you come for the atmosphere more than anything else in Barceloneta.  Obviously the beach is the main draw, and so there are plenty of open air restaurants that dot the boardwalk. The lifestyle is relaxed and vibrant and you can definitely find some delicious seafood dishes here.  The drinks are a staple here though!  If seafood isn't your thing, try one of the many local snacks available at the little stands, like homemade pastries and delicious sandwich bites. It is a true party environment where you can relax and enjoy the Mediterranean sun!