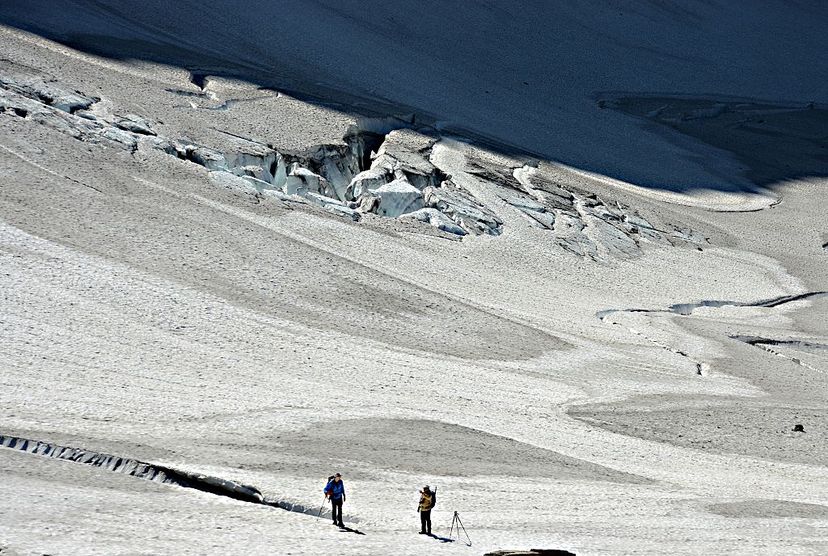 Hike Over 740 Miles of Trails
Called the "Crown of the Continent" by early enthusiasts, Glacier National Park has been a destination for nature lovers since the earliest days of the National Park Service. In olden times, visitors would travel by rail, then make a multi-day trip on horseback just to witness the region's dramatic landscape of age-old peaks, pristine boreal forests, and alpine lakes. From the 1910s, they were met with the rustic comfort of Swiss-style chalets, now counted among the park's historic landmarks.
Climate change means that there are fewer glaciers in Glacier National Park than there once were, but that doesn't mean that winters there are especially mild. In fact, deep snows often close sections of the park's main artery, Going-to-the-Sun Road, during winter months. But just because the road's partially closed doesn't mean that the park is dormant — quite to the contrary. Winter activities at Glacier National Park include some of the best snowshoeing and cross-country skiing in the region.
Summer months open the park's famous backcountry, which is home to more than 700 miles of hiking trails, to travelers from near and far. Visitors from neighboring Waterton Lakes National Park can cross into Glacier at Goat Haunt – the two parks together constitute the world's first International Peace Park, founded in 1932.
Far-flung regions like Two Medicine and Many Glacier beckon to adventurers in search of pristine wilderness and unparalleled wildlife viewing opportunities. But you don't have to trek too far off the beaten path to take in the park's resplendent beauty. Ample visitor services make exploring Glacier National Park easy: Boat tours explore lakes, rangers guide hikes, and shuttle buses provide access to Sun Road's many attractions.
Activities in Glacier National Park
Hiking
Glacier National Park has more than 700 miles of hiking trails that run through its extensive backcountry. It is one of the most popular hiking destinations in the National Parks system. Popular routes include sections of the Continental Divide and Pacific Northwest scenic trails that run through the park. Various downloadable trail maps are available on the park's website.
Naturally, one would expect to find year-round snow at any place that includes "glacier" in its name. Due to climate change, only 25 of the estimated 150 glaciers once active in the park remain (a number that is expected to dwindle even further in the coming decades), but epic snowfalls are still the norm. In one famous incident, eight inches of snow fell in Glacier's high country one night in August 2005, forcing a partial evacuation of the backcountry.
While such incidents are rare, packed snow commonly remains on many higher-elevation trails into June or even July. It's important for prospective backpackers to check conditions before hitting the trailhead. Plan on stopping by a visitor center for recent updates as well.
Camping
If you are planning on camping in the backcountry, you will need to apply for a permit. Glacier National Park publishes a backcountry guide to help visitors plan their journeys in the wilderness, complete with permit information, maps, and important details about bears and other hazards.
For visitors who aren't looking to rough it too hard, the National Park Service maintains 13 campgrounds with more than 1,000 campsites. Campground status can be checked online. Reservations can be made for St. Mary, Fish Creek, and Apgar campsites.
Historic Boat Tours
Historic boat cruises on Glacier National Park's large lakes — Many Glacier, Two Medicine, Rising Sun, and Lake McDonald – offer visitors an alternative way to venture deep into the park. The cruises take place on wooden boats, some of which have been in continuous operation since the 1920s. The park offers guided hikes as an accompanying activity to the boat tours at certain locations.
Fly Fishing
If Montana is a fly fisherman's paradise, then Glacier National Park's waters are a little slice of heaven. Although the Park Service has closed some lakes and waterways to anglers for conservation reasons, catch limits where fishing is permitted can be quite generous. For example, anglers can take home up to 20 brook trout from all park waters, and there is no possession limit on lake trout in waters west of the Continental Divide.
In addition to being a time-honored outdoor sport, regulated fishing is actually healthy for the park's ecosystems. Check the park's website for park-wide and site-specific rules for fishermen. Local tour companies book single- and multi-day fishing trips in the park.
Winter Recreation
Unlike some National Parks, Glacier does not allow snowmobiling. But there are plenty of winter activities for visitors to partake in. Snowshoeing and cross-country skiing are great ways to explore the park's interior during the winter months, even if road access is somewhat limited due to snowfall. The park service maintains a fantastic interactive guide to cross-country skiing trails in Glacier National Park.
Downhill skiing in the backcountry is also fairly popular among the region's adventure-seekers. Be sure to check the avalanche report for current conditions, bring the right gear, and strongly consider booking a guide.
Visiting Glacier National Park
Seasons, Fees, Permits & Reservations
Glacier National Park is open all year, but seasonal weather has a strong impact on what services and activities are available to visitors. Snow is a constant consideration for travelers and park rangers alike. But while snowfall does lead to road closures, especially along the alpine sections of Going-to-the-Sun Road, portions of the park's main thoroughfare remain open year-round.
Popular winter activities include snowshoeing and cross-country skiing, while backpacking and hiking are a major draw during the summer. Fall colors set against the park's dramatic peaks make for excellent photo opportunities.
Standard entrance fees vary by season. Entry for automobiles is $25 in the summer (May 1 – October 31) and $15 in the winter (November 1 – April 30). Single-entry fees for individuals arriving on foot, bike, or motorcycle are $12 and $10 in the summer and winter, respectively. The fee is good for seven consecutive days. Check the park's website for additional information on special rates and fee-free days.
Permits are required for weddings and filming in Glacier National Park. Backcountry permits are required for all overnight stays in the park's wilderness. Most campgrounds in the park are available on a first-come, first-serve basis, but reservations can be made at Fish Creek, St. Mary, and Apgar group campsites.
Going-to-the-Sun Road
As far as scenic drives go, a tour of the 50-mile long Going-to-the-Sun Road in Glacier National Park's prime attraction. It is the only road in America to hold the dual distinction of being both a National Historic Landmark and a National Civil Engineering Landmark. Maintenance on the road is nearly continual, so it is important to check current conditions to account for any construction or weather-related delays.
The views of mountains and valleys from the road are second-to-none, but its narrow sections might make driving it somewhat of an unnerving experience for RV owners. Fortunately, shuttle buses provide a more relaxed, environmentally friendly touring option during the summer months. Buses are free and allow visitors to hop on or off anywhere along its route, including the ever-popular idyllic meadows of Logan Pass.
North Fork
This less-visited part of Glacier National Park is serviced by bumpy dirt roads that can slow down your travel time, but if you're looking for car-accessible peace and quiet, this is the place to go. The Bowman Lake campground is one of the park's most remote front-country sites and is a popular spot for fishing and canoeing. Lack of amenities makes for a more self-reliant outdoor experience. The region offers a variety of easy-to-moderate trails to hike but getting to the trailhead is often a trek in its own right.
Lake McDonald
Carved by glaciers during the last ice age, Lake McDonald sits in a broad, U-shaped valley replete with stunning views of snow-capped mountains and resplendent waterfalls. It's also home to the historic Lake McDonald Lodge, one of the park's surviving turn-of-the-century chalets. Built-in 1914, the lodge retains a lot of its rustic style, offering lakefront dining and a charming wooden verandah. The Lake McDonald area hosts a variety of ranger-led activities, as well as guided hiking and backpacking trips. Day hikes to Avalanche Lake and along the Trail of Cedars are popular excursions.
Wildlife in Glacier National Park
While many parks have sadly lost significant portions of their biodiversity — which in some cases has been restored through conservation efforts — many of Glacier National Park's native species have been allowed to continually thrive over time. The park was established relatively early, which extended protection to its native species. Plus, the park's abundant acreage is supplemented by adjacent Canadian wilderness.
Mountain Goat
Mountain goats — not to be confused with bighorn sheep — are a symbol of Glacier National Park. They are the largest mammals found in their habitat, subalpine and alpine meadows, tundra, and mountainsides with elevations up to 13,000 feet. Here they graze on grasses, shrubs, lichens, and coniferous trees. Mating season for these goats runs from late October through early December, during which males can be seen contesting each other in violent scuffles. Mountain goats may commonly be seen at Logan Pass, the highest elevation reachable by car in Glacier National Park.
Wolverine
Although it's not endangered, the solitary wolverine is somewhat of a rare sight in Glacier National Park. Chances are you're likely to smell this giant weasel before you ever see it. The wolverine's pungent musk, which it uses to mark territory, has earned it funny nicknames like "skunk bear." But a wolverine's ferocity is no laughing matter. These stocky, muscular predators have been known to take down prey many times their sizes, such as deer, caribou, and elk. In winter months, much of their diet is derived from carrion, which they dig for in frozen snowfields. Wolverines can be seen along the Highline Trail in the park.
Grizzly Bear
Glacier National Park is bear country. Along with the Canada lynx and the gray wolf, the grizzly bear is one of the few threatened or endangered species residing in Glacier National Park. There are also black bears in the park, and it is important to be able to tell the difference. Grizzly bears can be identified by their larger, dished-in faces and humps of heavy muscle above their shoulders. Their hair can have silver tips, which give them their grizzled appearance, but their base coloring can range from blond to nearly black.
The number one rule concerning bears in the wild is not to surprise them. Visitors can reduce their chances of a bear encounter by making noise and remaining alert. Do not approach bears.
History of Glacier National Park
Anyone who takes a trip to Glacier National Park can tell that it's a special place, but to the region's native peoples, the majestic peaks of the park are holy. Evidence of human habitation around the park dates back about 10,000 years, but by the time American settlers arrived in the 19th century, the land was primarily used by the Flathead and Blackfeet nations, which lived in the western and eastern sides of the present-day park, respectively. The Blackfeet in particular held strong beliefs about the mountains in the park's southeastern region, which they considered to be the "Backbone of the World."  Chief Mountain and the peaks at Two Medicine were traditional places visited during vision quests, rites of passage in which the celebrant spent a period of days fasting in the wilderness to help determine his place in society. The first westerners to visit the region were largely trappers that came searching for beaver pelts, followed by homesteaders and miners. Gradually, tourism interest in the region grew, due largely to the efforts of George Bird Grinnell, an explorer, and writer who would become the leading advocate for the establishment of a national park there. He wrote of the area's grandeur, dubbing it "The Crown of the Continent." Many would heed his call to the wild, coming by rail and horseback to witness its splendor. Glacier National Park was established in 1910. Investment in infrastructure was key to the growth and development of the park. Starting in the 1890s, the Great Northern Railroad promoted the region in an effort to increase the use of its new rail lines servicing this part of Montana. Operating through a subsidiary called the Glacier Park Company, it built numerous lodges and Swiss-style alpine chalets in the park during the 1910s. Three of those chalets are still in operation today and are listed as National Historic Landmarks. The Civilian Conservation Corps made significant contributions to the park's infrastructure as well, building campsites, trails and making much-needed improvements to important roads, including portions of the 51-mile Going-to-the-Sun Road — although that road was not totally paved until 1952.