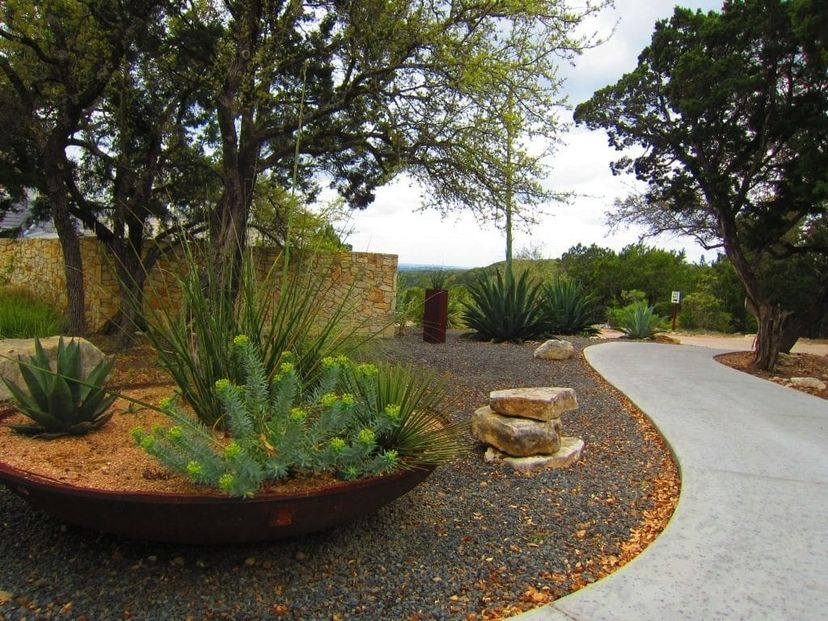 Sometimes, in the midst of my "normal" routine and life here in Austin, I still need to get away to find a little oasis of peace and tranquility. Call it recharging, centering, or just a little quality time with myself.
Thursday, as I headed out to a perfect local spot to do that — Travaasa Austin — I will readily admit I was in need of some quiet and calming. It's been a stressful couple of weeks for me. About two weeks ago, I had to put my beloved 13-year-old border collie and best friend to sleep. Then this past week, my mother was diagnosed with breast cancer. In the middle of all that, I've been trying to do a lot of work on my house and put it on the market for sale.
Physically and emotionally exhausting weeks.
So Thursday afternoon, after two full days of working hard on the house and trying not to worry about my mother, I left the city about three p.m. and drove through the gates of Travaasa, in the Hill Country of far West Austin, about 3:30. Immediately, I felt my stress levels lower and a calm return. Getting out of the car, simply breathing in the fresh air that carried scents of sage, lavender, and native wildflowers began to restore my balance.
Getting to my room, I immediately opened the window and patio door onto a vista that was only treetops. I rested for a while — much-needed — and then was further restored by a delicious dinner. Here they use seasonal, local ingredients to make some pretty inventive dishes; I had an amazing cannelloni stuffed with braised short rib meat, butternut squash, goat cheese, and Pomodoro sauce. Enjoying a Travaasa Sunset cocktail, the fireplace, and a book over a slow, easy dinner gave me the peace of mind I'd needed all week.
After a great night's sleep, I woke up ready for my day of recharging. First up was a 45-minute "yoga for the spine" class. It was full, about 10 students, in a serene glass-walled room overlooking the infinity pool and rolling hills beyond. Sara led us through a series of twists and backbends which felt phenomenal to my back. After class, I headed to Jean's Restaurant for a quick breakfast before my appointment at the spa.
One of Travaasa's signature spa treatments, and most popular, had been recommended to me. The Honey Bee Treatment and Massage was pretty special, I have to say. It was one of the best treatments I've ever had, starting with a honey and ginger oil used during a massage, and then pure natural honey being rubbed all over my back. After this was rubbed in for a while, my therapist Jason covered my back with hot towels while he worked on my legs. It felt heavenly. After flipping over, he applied a terrific-smelling mask to my face, left on while he worked on my arms and my legs some more. The whole thing felt amazing and smelled almost as good as it felt.
The afternoon activity that I chose is one of Travaasa's newest offerings, trail rides on horseback. Two other guests and I were met at the welcome center by Keith, who drove us across the road to the stables. The trails had just been created two weeks before, and Jody was our trail guide. After introducing me to Jasper, my horse, the four of us set off on what could not possibly have been a more perfect day for riding. The sun was shining, it was warm but not hot, and a cool breeze came blowing across the hills. We went up and down the hillside, with great views of Travaasa on the opposite hilltop, and forged small streams and tree branches. The horses were all gentle and very good to their riders. My only mishap was at the end when Jasper was supposed to go through the narrow gate that the wind had closed a little too much for his liking. He veered too far to the other side, the fence side, and caught my pant leg on the wire mesh, tearing it and giving me a scratch. But it wasn't his fault — he's a good horse, just a little spooked by the gate. It was a terrific ride and, almost as an auspicious sign of good luck, as we were crossing back to the barn there was a regal, beautiful peacock right on the path, watching us.
My night and day at Travaasa were exactly what I needed to rest and rejuvenate from the crazy few weeks I've had. Close to home, but feeling a world away. Ahhh, hopefully, I will carry this feeling with me for a few more days.