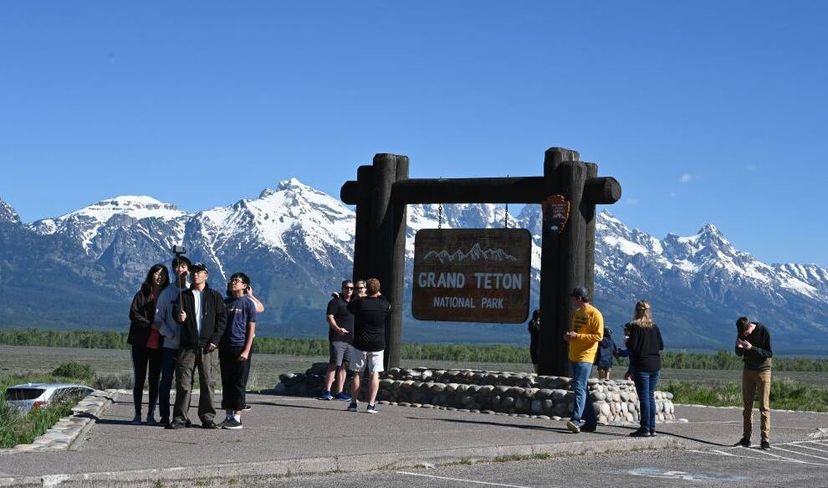 A Destination for Natural Beauty and Adventure
Grand Teton National Park was founded twice– first in 1929, with an area of 96,000 acres, and then again in 1950. The 1950 grant, which consolidated lands that had been issued by the presidential proclamation almost a decade earlier, expanded Grand Teton to a size of 310,000 acres. In a sense, the annexation made it a totally different park, incorporating ecosystems not totally protected by its previous incarnation.
Located just 10 miles south of Yellowstone National Park, Grand Teton National Park boasts a pleasing combination of majestic natural beauty and tourist-friendly convenience. The peaks of the 40-mile long Teton Range rise over pristine glacial lakes, presiding over wildflower-carpeted meadows, bubbling streams rich with trout, historic buildings dating from the heyday of the American West, and miles of hiking trails. It is also a prime location for viewing wildlife, including the trumpeter swan, moose, and bighorn sheep. Open all year, Grand Teton National park offers excellent climbing in Garnet Canyon and an extensive network of hiking trails during the summer, many of which are open to snowshoers and cross-country skiers once winter rolls around. And of course, some of the best downhill skiing in the world can be found in the nearby Jackson Hole Mountain Resort.
Activities in Grand Teton National Park
Fishing The waters of Grand Teton National Park offer excellent fishing for anglers. Its creeks and streams are excellent for fly fishing, and its plentiful lakes are accommodating for boat traffic. Species of game fish that are available for sportsmen include mountain whitefish, grayling, and several species of trout. Ice fishing is a popular winter activity in the park. Bear in mind that Grand Teton's waterways are regulated under Wyoming law, and in some cases have special rules that apply, particularly with regards to the use of fish as bait. A license is required to fish in the park, and catch limits must be respected. If you plan on fishing on a boat, make sure to clean it so as to avoid spreading pathogens and non-native species that can harm the park's ecosystem. Several concessioners are licensed to host commercial fishing trips in Grand Teton National Park. Day Hikes, Biking, and Horseback Riding Grand Teton National Park has 17 trailheads that provide access to numerous trails for day hiking across its 310,000 acres. These range from easy loops around Jenny Lake to strenuous ascents in excess of 4,000 feet at Teton Canyon. Hikers should come prepared for the park's high altitude, rugged (and sometimes, downright rough) terrain, sudden changes in weather, and potential bear activity. Some trails are open all year, making them ideal for snowshoeing and cross-country skiing during winter. In the summer, Grand Teton's high-elevation meadows bloom with a colorful blanket of wildflowers. Biking is another popular activity at Grand Teton, taking place seasonally in the park from April until early October, weather permitting. Guests are welcome to cycle on the more than 100 miles of paved roadway in the park and the adjoining John D. Rockefeller, Jr., Memorial Parkway, which connects Grand Teton to Yellowstone's West Thumb area. Bikes are not allowed on trails or in backcountry areas. However, many trails are open to stock animals, such as horses, mules, and llamas. That's right, llamas. There are five backcountry horse camps in Grand Teton National Park: north fork of Garnet Canyon, Death Canyon, south fork of Cascade Canyon, Paintbrush Canyon below Holly Lake, and Berry Creek near Hechtman Creek. These five sites are the only places where visitors can camp with stock in the park. Reservation fees and regulations apply. Some authorized companies offer horseback rides within the park. Backcountry Camping Backcountry camping in Grand Teton National Park is incredibly popular. In order to protect its trails and ecosystems, the park must limit the number of backcountry visitors it allows per day. The park allows advanced reservations for one-third of its available permits and offers the rest on a first-come-first-served basis at the Colter Bay and Craig Thomas visitor centers. A fee of $25 applies to successful reservations. Unlike some national parks, visitors can camp anywhere in the backcountry zone, but using previously established campsites is strongly encouraged. The use of appropriate bear-resistant food canisters is a critical part of bear safety in the backcountry. Mountaineering No separate permits are required for mountaineering, but climbers looking to camp — even up on the rock face — must have a backcountry permit. One of the most popular ascents in the park is Grand Teton itself; Garnet Canyon is another popular place for climbing. Wildlife Viewing Grand Teton National Park is teeming with abundant wildlife, including 300 species of birds and dozens of mammals, big and small. Visitors can book ranger-led nature hikes, take a guided viewing tour with a third-party company, or take to the trails and observe animals on their own. Just be sure to give animals a lot of room when observing them. Remain at least 300 feet away from animals at all times. Visiting Grand Teton National Park Seasons, Fees, and Reservations Grand Teton National Park is open all year, but its activities are subject to change depending on the season. Standard park entry, which is good for seven days, is $25 per vehicle, $20 per motorcycle, or $12 per single hiker or cyclist. Check the park's website for details on user fees and special passes. Reservations are required for overnight stays in the park's backcountry. Winters in the park are cold, and snowfall can be very heavy, so access to the backcountry during this season is limited. Park roads can close suddenly due to snow, and even those that remain open can present hazardous, icy conditions. With the exception of the Craig Thomas center in Moose, all visitor information centers close for the season beginning in early October. That being said, winter at Grand Teton is almost inexplicably beautiful and very peaceful. Visitors can enjoy the pristine winter scenery while exploring the park on cross-country skis on a ranger-led snowshoe walk. Visiting Grand Teton in the summer is pretty easy since many of the park's campgrounds and scenic spots are accessible by car. Snow generally melts off by June, opening trails to hikers and backcountry campers. Alpine hikes in mid-summer are often complemented by the presence of ubiquitous wildflowers. For resplendent fall colors, head to Grand Teton National Park in late September to catch the blazing reds and golden yellows of cottonwoods and aspens. Be on the lookout for bull moose and elk, who will be sparring for mates at this time. Historic Buildings Summer is also an excellent time to check out the numerous historic structures in the park, like its early dude ranches and homesteads. Head to Mormon Row on the southeastern edge of the park and snap a picture of the Moulton Barn, the most photographed barn in America. Spoiler alert: it's the mountains of the Teton Range behind the barn that is most impressive. Many historic buildings in Grand Teton pre-date the founding of the park. Many are past, present, and future projects of the Western Center for Historic Preservation, but the Triangle X Ranch — which remains open all year — still operates, hosting a variety of Western-themed activities for visitors. Various types of lodging — from campgrounds to cabins — are available in the park. There's even a full-service hotel at Jackson Lake Lodge. Visitor Centers Grand Teton National Park has numerous visitor centers offering different kinds of information for travelers. Drop into the Flagg Ranch information station (located near Yellowstone's southern entrance) for a bookstore and general information about Greater Yellowstone and the John D. Rockefeller, Jr., Memorial Highway. The Laurance S. Rockefeller Preserve Center offers a series of features designed to enhance visitors' experiences in the preserve, including unique sensory exhibits and ranger-guided walks and talks. The Colter Bay visitor center has a craft museum, and the Jenny Lake ranger station is a must-visit for anyone considering a trip to Grand Teton's backcountry. Wildlife in Grand Teton National Park Trumpeter Swan While Grand Teton National Park is home to ospreys, bald and golden eagles, and hundreds of other bird species, it's also notable as a year-round residence for trumpeter swans. These swans, which mate for life, are the largest waterfowl in the world, weighing in at 20 – 30 pounds. During winter months, the swans inhabit waterways kept unfrozen by thermal waters in the Greater Yellowstone area, subsisting on aquatic vegetation. Historically, these isolated environs kept the population of swans that wintered high in the mountains safe from the hunting that had severely diminished their numbers elsewhere in the United States; by the early 1900s, the swans had nearly been hunted to extinction in North America and faced further threats due to the lead poisoning of their habitats. Conservation efforts in the 20th century have helped the swans bounce back overall, but the flocks that nest in the area of Grand Teton still only account for about 300 adults. You'd think that relatively low number would make trumpeter swan pairs a rare sight, but they can be found in Grand Teton at Christian Pond, Two Ocean Lake, Oxbow Bend, Swan Lake, and on Flat Creek in the National Elk Refuge. Visitors should take care not to disturb the swans' habitat, remaining on trails and admiring them from a distance of 100 yards. Shiras Moose Typically found near waterways, lakes, and ponds, where they can be observed eating buds of willow and other trees, moose are the largest members of the deer family. However, the Shiras moose, a subspecies found in Grand Teton and other Rocky Mountain states, is the smallest of all moose. It is also known as the Yellowstone or Wyoming moose. Unlike their cousins, elk and mule deer (also commonly found in Grand Teton), moose are solitary animals and do not form herds. Male moose, called bulls, grow broad, flat antlers that they use to spar with other males during mating season. Spot them from the roads and trails around Colter Bay, or in the Willow Flats, an extensive freshwater marsh between the bay and Jackson Lake Dam. Rocky Mountain Bighorn Sheep Bighorn sheep are uncommonly sighted in Grand Teton National Park, due mainly to the fact that they inhabit remote alpine regions that are not commonly frequented by visitors — unless they're avid mountaineers. But should you be lucky enough to discover a herd of bighorn sheep in mating season, you might witness a dramatic display of head butting between competing rams. Beaver Beavers are abundant in Grand Teton National Park and can be observed in various lakes, ponds, and waterways, including Oxbow Bend, Colter Bay, and the Snake River. Like moose, beavers have a taste for willow buds, so they're a common sight in the Willow Flats marshlands. It was a demand for beaver pelts that originally brought trappers westward, encouraging further exploration of the Rockies, Grand Teton and Yellowstone included. Unfortunately, beavers were so aggressively trapped that by the mid-19th century, they were eliminated from many of their original habitats. Fortunately, trap-and-transfer and habitat conservation policies restored the animals' numbers by the 1940s. History of Grand Teton National Park The Long and Winding Road to Parkhood While its neighbor to the north, world-famous Yellowstone, took only two years to gain its status as a national park, Grand Teton's road to preservation was bumpy, windy, and scenic to say the least. Consolidated via a series of political maneuvers, including legislation, presidential proclamations, and a generous grant of land from the Rockefeller family, the process of establishing the park as it is today took more than 20 years. In fact, local interests that viewed park establishment as an encroachment on individual freedoms nearly dashed hopes of Grand Teton seeing fruition. Originally, legislators thought to merely extend Yellowstone's borders to include Grand Teton. This approach quickly gained opposition among ranchers, businessmen in nearby Jackson Hole, who feared a loss of grazing lands and losses to park concessioner monopolies, respectively. Ironically, the measure even alienated area National Forest Service personnel, who thought that the expansion of Yellowstone might deprive them of their jurisdiction. The bill that would have united the parks died on the Senate floor. Eventually, the prospect of commercial development — particularly proposals to dam the outlets of several important lakes in the region — forced a degree of consensus between park advocates, ranchers, and local small businessmen. The latter would rather see some degree of federal protection than have the area's way of life disrupted by modernization, although they were not explicitly in favor of creating a national park. Instead, these interests sought to find a private buyer for a sizable portion of land in the area that would be set aside as a kind of monument to the Western way of life, with "traditional hunting, grazing, and dude-ranching activities." In 1929 President Coolidge signed a bill setting aside 96,000 acres of land as Grand Teton National Park. This land included the Teton Range and six glacial lakes at the mountains' bases but did not constitute an entire ecosystem. The search for a buyer continued, eventually attracting the interest of John D. Rockefeller, Jr., who formed the Snake River Land Company and sought to purchase an additional 35,000 acres. This aggressive acquisition did not sit well with the locals and caused even more of a furor when it was revealed that Rockefeller intended to gift his new holdings to the United States government. After holding the land for 15 years — during which his company and the National Parks Service were sued — Rockefeller became impatient with the government's inaction. In a letter to President Franklin Delano Roosevelt, Rockefeller threatened to put his land for sale on the open market if a way forward was not found. In response, FDR set aside 221,000 acres (including Rockefeller's donation) as Jackson Hole National Monument by presidential proclamation. This tactical move allowed the President to plow through congressional obstacles. In 1950, Jackson Hole National Monument and the original 1929 parcel of 96,000 acres were combined to form Grand Teton National Park as we know it today. Native American History As with Yellowstone, human inhabitation of the Grand Teton region dates back at least 11,000 years. Tribes that are known to have hunted game and gathered provisions in the area include the Shoshone, Nez Perce, Bannock, Blackfoot, Crow, Flathead, and Gros Ventre. These people predominantly camped near the lakes and rivers on the northern edge of the park, where they roasted camas root in underground pits.