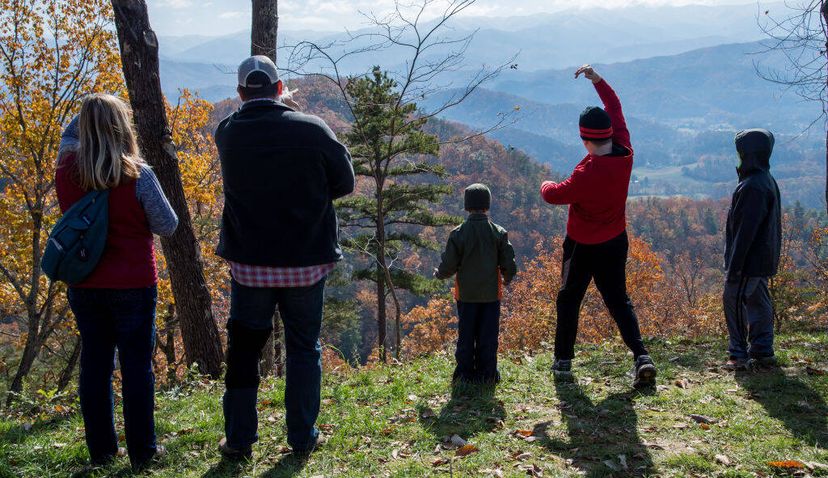 America's Most Visited National Park
Great Smoky Mountains National Park is the most visited park in the system, hosting more than 9 million visitors a year. Unlike most national parks, entry to the park is free. Its surrounding communities depend heavily on the park, which is the lynchpin of the region's tourism economy.
Named for the prevalence of fog, which appears to rise as if from smokestacks when viewed at a distance, the park is one of the rainiest habitats in the United States, racking up more yearly precipitation anywhere in the country outside of the Pacific Northwest and Alaska. That fact, combined with its steep elevation gradients, makes for an abundance of waterfalls. The park's ample rainfall and dense deciduous forestation — particularly at lower elevations — mean that Great Smoky Mountains National Park is also an excellent destination for fall foliage viewing. About 36 percent of the park is covered in old-growth forest that predates the European settlement of North America.
From scenic vistas to historic buildings, much of the park is accessible by car, and its modern campsites provide amenities such as running water in addition to parking for recreational vehicles. Still, the park's extensive backcountry, which includes more than 70 miles of the Appalachian Trail, offers visitors plenty of opportunities to "rough it."
Activities in Great Smoky Mountains National Park
Camping
Camping is a time-honored activity at many national parks, but visitors to Great Smoky Mountains National Park have ample opportunity to camp out in their recreational vehicles. So-called front-country camping might not exactly be roughing it — the park's 10 modernized campsites feature amenities like cold running water and flush toilets, and three of them (Cades Cove, Smokemont, Elkmont) come equipped with five-amp electrical hookups — but it makes the great outdoors accessible and hassle-free. Select sites may be reserved online ahead of time. Visitors should review the important regulations that apply to front-country and group campsites. Picnicking pavilions are also available.
Backcountry
The Great Smoky Mountains backcountry is a natural choice for visitors looking to get in touch with their wild side. A system of shelters and designated campsites provides accommodation to backcountry campers. Free permits are required for all backcountry camping in the park, and reservations are required for all shelters and select campsites. Reservations can be made up to one month in advance.
Because of the reservation system, prospective campers should be prepared to outline their entire trip with the backcountry office. This accounts for the availability of sites and helps the park keep track of how many people are in the backcountry at a given time. Travelers should check conditions before their trip, and must abide by all backcountry regulations, or face fines of up to $5,000 per violation. Activities such as hunting, defacing or cutting trees, and bathing with soap in streams are explicitly prohibited.
Fly Fishing
With more than 2,100 miles of streams within its borders, Great Smoky Mountain National Park has a reputation for great fishing. Healthy trout activity and challenging fishing terrain draw veteran fly fishers from far and wide. The park's trout population includes native brook trout as well as brown and rainbow trout, which have been introduced to the region. Fishing is permitted all year in open waters, but anglers must possess a valid license and respect catch counts: 5 trout or smallmouth bass (any combination of species) and 20 rock bass.
Horseback Riding
Horseback riding and other horse-drawn recreational activities like hayrides, carriage, and wagon rides are available in Great Smoky Mountain National Park through several concession stables from mid-March through late November. Guided horse rides last about 45 minutes and are priced from $30 per person. Ranger-led hayrides are also offered through the Cades Cove Riding Stables.
Bicycling
Since Great Smoky Mountain National Park is very car-friendly, biking can be a little hazardous. Narrow roads and steep inclines add to the challenge as well. The 11-mile Cades Cove Loop Road is the best option in the park for road cyclists. There aren't any designated mountain biking trails in the park, but the Gatlinburg and Oconaluftee River trails are open to bikes. Mountain bikers in search of additional terrain should check out nearby national parks and recreation areas, like Nantahala National Forest.
Visiting Great Smoky Mountains National Park
Historic Districts
Great Smoky Mountains National Park is a UNESCO World Heritage site and maintains several historic districts, each with its own story to tell. Cades Cove — Visitors can explore the well-preserved homesteads at Cades Cove. A hotbed of abolitionist activity during the Civil War era, the area was later notorious for producing high-quality moonshine under Prohibition. The latter was vehemently opposed by local Baptists, who factor heavily in the region's cultural history.
Elkmont Historic District, like many of the notable settlements in the Great Smokies, started out as an Appalachian pioneer community. However, it would find a second life as a resort for Knoxville-area nature lovers that escaped to the mountains to hunt and fish. The Appalachian Club was the hub of the resort, which also contained a number of cottages and a hotel, the Wonderland. All of these were all bought up during the 1920s and 1930s as the land was acquired to create the park. Although the Wonderland Hotel collapsed in 2005, the Appalachian Clubhouse and some cottages remain and are listed on the National Register of Historic Places.
Located in the Oconaluftee district, the Mountain Farm Museum is a collection of historic structures transplanted from around the region that is intended to recreate the feel of a typical Appalachian pioneer farm. Since the buildings have been removed from their original locations, they aren't eligible to be on the register of historic places, but the park maintains them to the same degree.
Scenic Hiking Trails
Mount Le Conte, the third-highest mountain in the park, is a popular destination for hikers, many of whom trek the Alum Cave Trail to the summit. An 11-mile round trip that departs from a trailhead on Newfound Gap Road, the trail gains about 500 feet in elevation and includes many scenic overlooks along the way. Chimney Tops, known for its double-humped peaks, is another favorite among visitors because it's relatively short (only 4 miles round trip) yet offers a bit of a challenge, rising a sharp 900 feet in its last mile. It's a good workout with a minimal time investment, and the views can be spectacular. Experienced hikers and backpackers will enjoy traversing the more than 70 miles of the Appalachian Trail that run through the park.
Fall color hikes are also popular in Great Smoky Mountains National Park. The moderately strenuous 5.4-mile roundtrip loop to Rainbow Falls in the Roaring Fork district provides numerous photo opportunities. The park's many waterfalls are must-visit sightseeing during any season.
Auto Touring
Hiking is an incredibly popular activity in Great Smoky Mountains National Park, but many of its scenic vistas and lookouts can be reached by car as well. With 384 miles of road to explore, the park is incredibly accessible. Visitors can drive the one-way paved road to Roaring Fork, a district of pioneer cabins. Peak season is usually mid-summer and weekends in October when the park explodes with brilliant fall colors. During these times, the park suggests exploring off-the-beaten-path areas to beat the crowds.
Aside from congestion, the popularity of auto touring in the park has had some negative effects on its environment; In 2004 a National Parks Conservation Association report stated that the park had 150 poor air quality days between 1999 and 2003. Although this averages out to only one day per month for the reporting period, it is the worst air quality record of all national parks. Impact on visitors includes limited visibility from some of the park's famous vistas, including the observation tower at Clingmans Dome, the highest point in the Great Smokies.
Wildlife in Great Smoky Mountains National Park
Black Bears
The American black bear is a well-known symbol of Great Smoky Mountain National Park, which is home to about 1,500 bears, a density of about two per square mile. Although its native range was once far greater, encroachment on the black bear's habitat now limits it to woodland areas. The Great Smokies are densely forested — more than 95 percent — making it a great home for bears. Black bears are avid climbers, often scaling trees to reach food. Smoky Mountain black bears are peculiar in that they often den in standing hollow trees.
However, since Great Smoky Mountain National Park is the most visited of all parks in the system, there's a lot of potential for human-bear incidents. Park staff combats this by setting stringent regulations designed to protect bears and visitors alike. This includes measures such as prohibiting visitors from feeding bears (and other wildlife), and requiring secure storage of food in campsites. Willfully approaching a bear in the park is illegal.
Great Horned Owl
More than 240 bird species have been sighted in Great Smoky Mountain National Park and about 120 of them are thought to breed within it. The great horned owl is a year-round resident of the park. Its preferred habitat is woodland adjacent to wide open fields, which facilitate hunting. The owl predominantly resides in "borrowed" nest sites in trees up to 70 feet high. If you're looking to spot a great horned owl, you're probably going to need some special equipment — these winged hunters are nocturnal.
White-Tailed Deer
Numbering around 6,000 animals, white-tailed deer are the most populous mammal in Great Smoky Mountain National Park. However, that can vary greatly due to factors such as natural predation from coyotes, bears, and bobcats, as well as overpopulation, which makes adequate food scarce. Visitors can see them in the open meadows of Cades Cove and the Cataloochee Valley.
Salamander
Some have called Great Smoky Mountain National Park the "salamander capital of the world," since it is home to 30 salamander species in five families, making the park one of the most diverse areas on Earth for this amphibian. This includes brightly colored black-chinned red salamanders as well as varieties of lungless salamanders — a subspecies that breathe through its skin — and giant hellbenders that can grow up to 29 inches long.
History of Great Smoky Mountains National Park
Great Smoky Mountains National Park has been named a UNESCO World Heritage Site and an International Biosphere Reserve, which testifies to its unique blend of cultural and natural history. The park was chartered by Congress in 1934 and dedicated by President Franklin Delano Roosevelt in 1940.
The Great Smokies, named for the fog that is prevalent in the area after its frequent rainfalls and in the morning, are part of one of the earth's oldest mountain ranges. The mountains' northeast-to-southwest made it ideal for species migrating to escape glaciation during the last ice age. Since the ice never reached the southern Appalachians during that era, the region has retained much of its biological diversity.
Human habitation of the Great Smoky Mountains dates back at least 9,000 years, evidenced by Paleo-Indian artifacts such as projectile weapons and tools. By the time European settlers arrived in the area, the mountains were a central homeland of the Cherokee, whose history in the region dates back at least 1,000 years. Part of the extensive Iroquois Nation, the Cherokee had permanent settlements that grew from hunting, agriculture, and trading, a matriarchal societal structure, and advanced, democratic political systems.
Encroaching American settlement ran afoul of the Cherokee, leading to conflict and eventual forced removal of the tribe at the behest of President Andrew Jackson's Indian Removal Act of 1830. This tragic episode, known as the Trail of Tears, expelled most of the Cherokee, as well as Seminole, Choctaw, and other native peoples from their homelands in the American southeast to what is present day Oklahoma.
White settlement of the area soon gave way to the destructive clear-cutting of timber in the area's forest. Local residents, the federal government, and private citizens rallied to raise awareness of conservation in the area and purchase land to be set aside as a national park. John D. Rockefeller, Jr. donated $5 million towards land acquisition. Yet, progress proceeded piecemeal as homesteaders, miners, and loggers were evicted from the area. Many homesteads and Appalachian mountain farms survive to this day, preserved by the park as historic sites.
Great Smoky Mountains National Park was a major site of Depression-era programs by the Civilian Conservation Corps and the Works Progress Administration, whose workers built trails, fire watchtowers and made infrastructure improvements to the park.