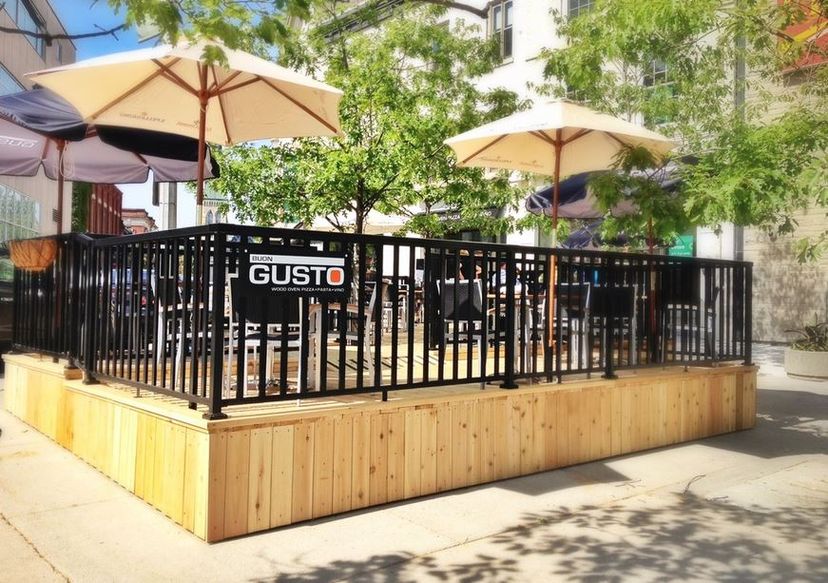 As Canadians we know that summer can sometimes be short and sweet (or sometimes just plain short) so it's important to get out there and enjoy this beautiful season we wait patiently for all year long. One of the favorite ways to do this is to kick back, relax and enjoy a beverage and a bite to eat on an outdoor patio. Luckily, there are quite a few to choose from in the city of Guelph, but some definitely rise above others in terms of location and ambiance. To help you pick carefully, here is our list of the 12 best patios in Guelph:
12. Borealis
Any south-ender knows the options for patios in this part of Guelph consist mostly of the typical parking lot patios. Borealis does a little better with their spacious patio that's surrounded by perfectly manicured landscaping and sun umbrellas which almost make you forget you're actually on one of the city's busiest roads.
2
11. The Shakespeare Arms
It's easy to forget about this traditional British pub since it's somewhat tucked away behind the Harvard plaza, but that's one of the best parts about the patio at ' Shakey's'. The sunny patio is tucked around side of the building away from the hustle and noise of the usually busy plaza parking lot.
3
10. Boston Pizza
Ok we know that putting a chain restaurant on this list might have you outraged but hear us out. The Boston Pizza patio in the north end of town has 2 great things going for it; it's the only patio in town that has TV's so you don't have to miss any live sports action, and it's also heated (because as Canadians we know summer isn't always 'warm').
4
9. Sip Club
This one is definitely a hidden gem…literally. Sip Club's fun and fresh patio is relatively new as it was only build about 2 years ago. It sits in the back alley behind the club downtown which might sound off-putting but on warm summer nights this is the place to be, as it's filled with twinkle lights, great music and people having a great time.
5
8. Buon Gusto
This upscale italian eatery made excellent use of the sidewalk space in  downtown's St. Georges Square, though it wasn't easy. The patio's geometric shape angles it's way around the existing trees which provide both shade and natural beauty making this a perfect spot to sip some vino in the summer.
6
7. Symposium Cafe
Like we mentioned before, a good patio can be hard to find the further you move away from the downtown core, however Symposium Cafe actually has a pretty great one. Since the restaurant is tucked way back from the busyness of Stone Road, the side patio is refreshingly calm, quiet and surrounded by lush trees.
7
6. Jimmy Jazz
The regulars at the Jimmy Jazz aren't going to be happy with us for leaking this secret, they're happy to keep this patio gem to themselves! From the front this downtown dive bar looks pretty regular, but outback they're hiding an amazing back alley patio that hosts some of the best party nights around. Just don't tell them we told you so.
8
5. The Woolwich Arrow
Affectionately known by locals as ' the Wooly', this downtown pub has an admittedly small patio but it's not the size that counts. If you're lucky enough to get a table on this secluded patio you're almost guaranteed a great time amongst the vines and foliage that surround it during the summer. The locally sourced food and wide selection of craft beers on tap can't hurt either.
9
4. The Albion Hotel
There aren't many places in the city of Guelph that can boast a double patio… but The Albion Hotel downtown certainly can. Their patio has you covered whatever the weather with a bottom level that's protected from the elements by the second storey patio. During the summer you'll find the sun-worshipers basking above while the shade-seekers relax on the cooler lower level.
10
3. Baker Street Station
Tucked away on a one-way street downtown you'll find Baker Street Station, a modern pub that lives in a historic 2-storey building. Here you'll find a small front patio on the lower level and a charming wrap-around veranda on the second storey. You'll also find an extensive list of craft-brewed beers and innovative pub snacks to go with them.
11
2. La Cucina
Sometimes a great patio isn't always just about the drinks. Ok, it usually is… but if you're looking for amazing fine dining in a beautiful patio setting, La Cucina has you covered. Their second storey terrace known as Il Terrazzo is the perfect place for a romantic date night with its twinkling lights, exposed stone and crawling vines.
12
1. Bread Bar
Earth to Table: Bread Bar (or just Bread Bar to the locals) has a food philosophy of using the best ingredients the earth has to offer in each season. During the Spring/Summer seasons you can enjoy their awesome patio surrounded by old trees and backing onto the Eramosa River; it's an ambiance that can easily be described as Guelph's most serene patio setting.