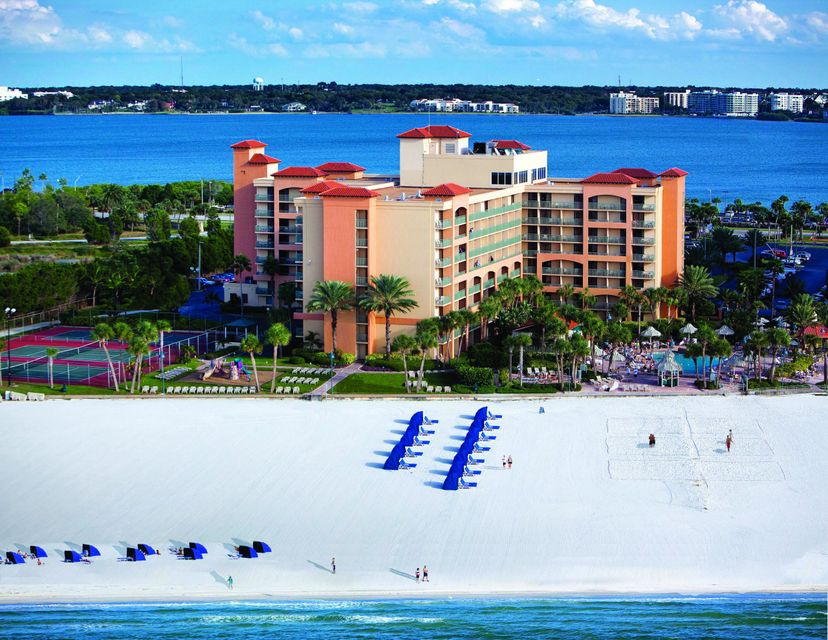 Widely regarded as one of the best beaches in the country and recently named the Best Beach in Florida by USA Today, Clearwater Beach is the perfect tropical escape right in your own backyard. Located on 10 acres of pristine beachfront on the Gulf of Mexico, the Sheraton Sand Key Resort is the perfect place for relaxation, family fun, or even a romantic getaway.
Escape to the Island
One of the unique features setting this resort apart from others in the area is the location on Sand Key, which despite being connected by an elevated roadway is actually its own island. It's this location that greatly contributes to a sense of rest and relaxation at the Sheraton Sand Key Resort as you enjoy the private beachfront away from the noise and crowds of the main beach area.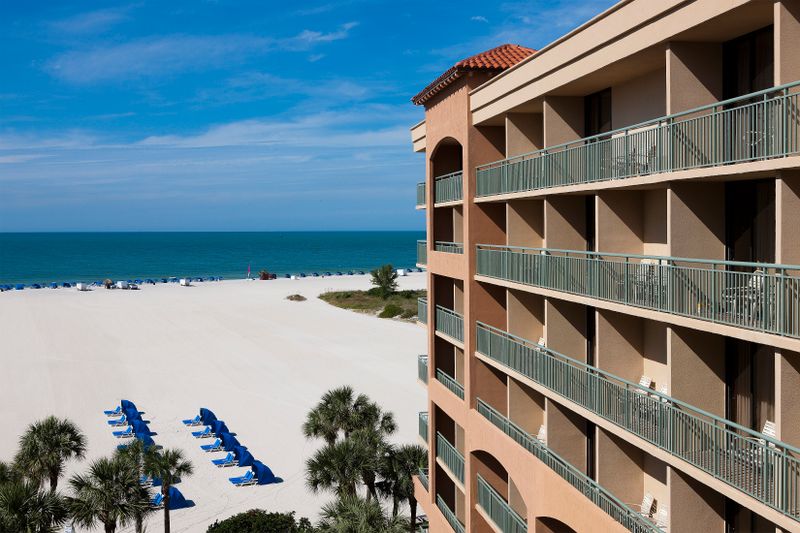 Amenities
The Sheraton Sand Key offers all the amenities you need to enjoy a great time on the Gulf coast. In addition to the 10 acres of private beach front property, the resort also has an outdoor swimming pool and Jacuzzi with amazing ocean views so it's possible to watch one of the famous Gulf Coast sunsets without leaving the pool. For even more relaxation, the resorts on-site spa offers services including deep tissue massage, aromatherapy, salt treatments and facials. Fitness is important to many, even while on vacation and the resort offers many options for exercise including beach runs/walks, a state of the art fitness center with modern equipment and ocean views, outdoor tennis courts and the exciting new sport of beach tennis. Don't worry if you forget a few things when packing; SeaGrapes Apparel and BlueWater Provisions located near the resort lobby have everything you need including drinks, snacks, clothing, toiletries and distinctive gifts and souvenirs.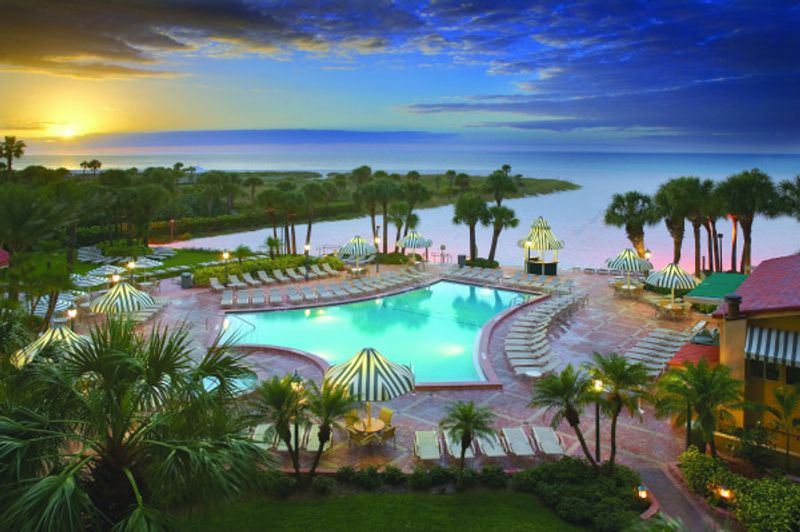 Rooms
You won't find the typical faded beach hotel rooms here. This resort features 390 smoke free rooms, many with views of the Gulf of Mexico and Intracoastal Waterway. All rooms are clean, spacious and inviting with new modern furniture and ultra-comfortable beds and linens. Each room has its own private balcony to enjoy warm sunny days or the beautiful coastal sunsets from the comfort of your own room. Guestrooms also include all the amenities you would expect of the Sheraton brand like flat screen tv's with cable and in-room movies, deluxe bath amenities, wired and wireless internet and coffee making facilities featuring Starbucks coffee and Tazo teas. After long days on the beach or by the pool it's nice to know you have a comfortable place to relax and unwind.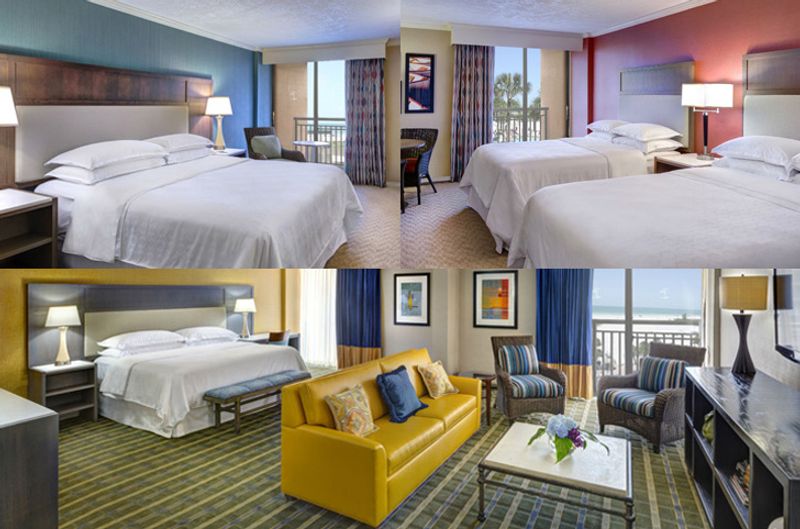 Hospitality
From the moment you arrive at the doors of the Sheraton Sand Key Resort you'll feel welcomed by their world-class hospitality. The staff here are friendly, kind and willing to go above and beyond to make your stay here memorable. Even just passing in the hallway, they always take the opportunity to greet guests with a smile. From the General Manager to the housekeeping crew, many staff have been a part of this organization for years and enjoy forming relationships with the repeat guests they see return year after year. The result is an atmosphere where you not only feel welcomed but valued as a guest.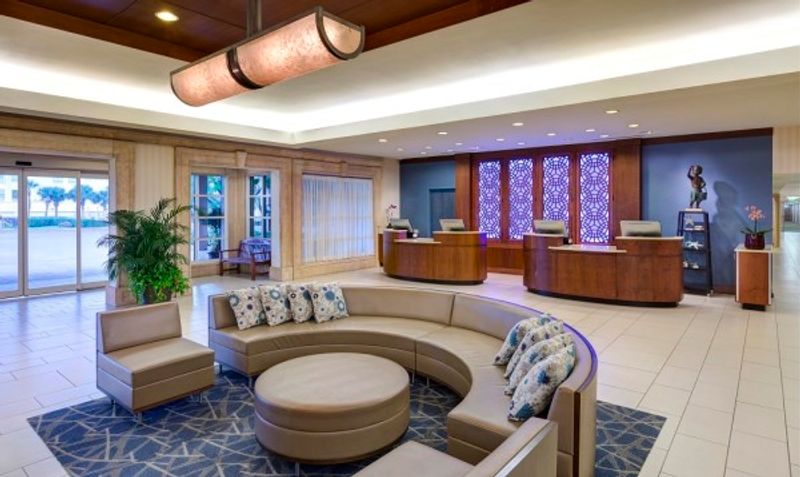 Dining
Prepare for a delicious dining experience without even having to leave the property. Sheraton Sand Key Resort has several options to suit all your dining needs. While enjoying time at the pool visit Slo Joe's Turtle Bar for refreshing tropical cocktails or the Poolside Café for snacks and refreshments. For casual American fare, visit Island Grill offering a casual family friendly menu daily from 11am-5pm. If you're looking for sports, a full bar and some great pub snacks and small plates, the Mainstay Tavern is the perfect place to enjoy some casual pints or a relaxing glass of wine in the evenings. For an exquisite meal prepared by one of the area's most reputable chefs, Rusty's Bistro in the lobby offers a full buffet breakfast each morning which includes creative specials like apple stuffed pancakes. For dinner, the Bistro also serves some of the best and most creative Floridian cuisine in the area including seafood offerings like a unique take on calamari and fresh local fish. Everything at Rusty's Bistro is innovative, flavorful and prepared with finesse.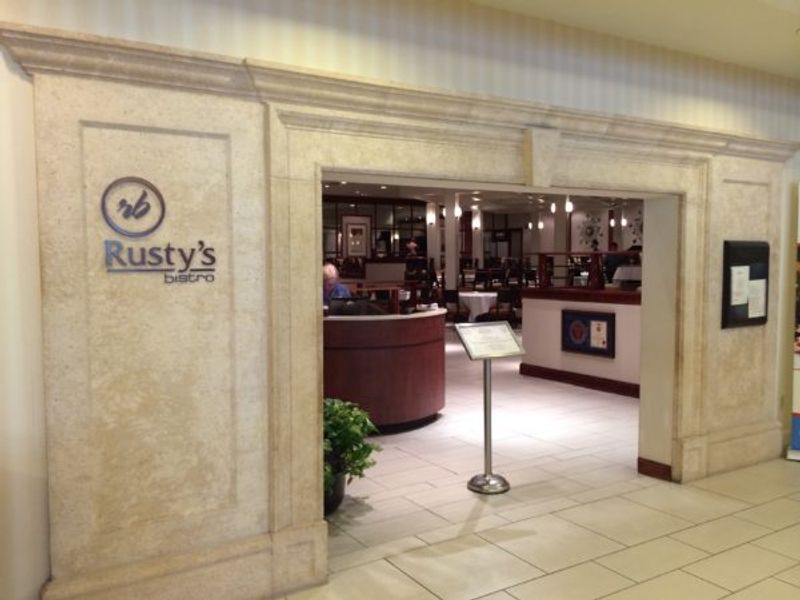 Nearby
While the resort itself has lots of activities to offer, there are tons of great activities nearby. If you want to check out all the action and excitement of Clearwater's main beach area, it's only a short trolley or cab ride away. At the main beach you'll find Pier 60; THE destination to enjoy sunset parties on the beach, bars and restaurants, beach shops and many fishing charters and dolphin watching cruises. Animal lovers won't want to miss visiting the Clearwater Marine Aquarium, located only a 10 minute drive from the Sheraton Sand Key Resort. This is not your typical aquarium as the focus here is on marine life rescue and rehabilitation but you may recognize the aquarium's famous dolphin; Winter from Disney's Dolphin Tale movies.
Get Away Today
From picture perfect sunsets to exciting animal encounters, Clearwater Beach is your premier destination for fun on Florida's Gulf Coast and the Sheraton Sand Key resort provides the ideal accommodation for a perfect vacation. Come visit the Sheraton to experience world-class hospitality, idyllic ocean views and vibrant local cuisine and you'll soon see why after one visit, guest just keep coming back for more.