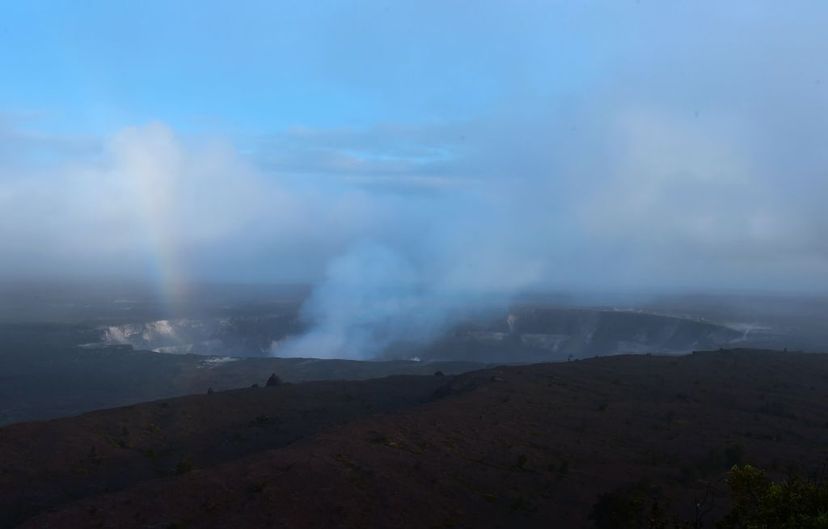 Experience Active the Active Volcanic Landscape of Mauna Loa and Kilauea
Five volcanoes make up the Big Island of Hawaii, and Hawaii Volcanoes National Park protects two of them — Mauna Loa and Kilauea. These volcanoes are among the world's most active and have occupied a special place in Hawaiian culture since the first Polynesians migrated to the islands, hundreds of years ago.
Today their predominantly non-violent eruptions, which ooze slow waves of lava far more often than they explode, are of particular interest to volcanologists. But at Hawaii Volcanoes National Park, even everyday visitors can get very close to the action. The Jaggar Museum offers an enclosed viewing room that overlooks the Kilauea Caldera, and scenic drives like Chain of Craters Road provide opportunities to witness active lava flows, depending on conditions.
But even if you're not into checking out the business end of a volcano, there are plenty of hiking and biking trails to explore in the park. Lush rain forests, wild beaches, arid lava flats, and even alpine tundra can be found within the park's boundaries. Keep your eyes peeled for native endangered species like Nene, Hawaiian petrels, and hawksbill sea turtles. Cultural events are often held in or near the park's visitor center.
Activities in Hawaii Volcanoes National Park
Hiking and Backpacking
With about 330,000 acres to explore, there's a lot of ground to cover in Hawaii Volcanoes National Park. From shorelines to rain forests to mountains, the park's diverse terrain offers interesting, scenic hikes for travelers of all skill levels.
Overnight backcountry hikes require free permits that can be picked up at the Visitor Emergency Operations Center. Hike through native grasslands to the coconut-tree shaded beaches of Halape, and you might catch a glimpse of sea turtle hatchlings scrambling to the ocean. Or, ascend Mauna Loa's lofty heights — but be prepared to deal with hazards like variable temperatures and altitude sickness.
Day hiking is far less taxing, but visitors should be aware of air quality, weather, and road conditions all the same. When in doubt, ask a ranger.
Scenic Drives
Driving in Hawaii Volcanoes National Park is an easy way to get an overview of the park's ever-changing landscape. But you should be wary of how the very natural features that make this park so special may affect your trip. In the past, earthquakes and volcanic activity have closed or even destroyed parts of roads, trails, and other areas in the park. For example, a magnitude 6.6 quake collapsed a section of Crater Rim Drive in 1983. Although that part of the road is no longer open to cars, it is now an accessible footpath called the Earthquake Trail.
In 2008, a new vent opened in Halema'uma'u Crater, forcing another section of the road to be closed due to the release of poisonous sulfur dioxide gas. The winding Chain of Craters Road stretches 23 miles along the East Rift section of the park. It too has seen its share of activity, with sections being covered by lava flow from numerous Kilauea eruptions. The road runs along the coastline and through rain forests, and grants amazing views of active volcanic sites like Puu Oo, plumes from lava tubes, pit craters, and lava flats.
Bike the Volcanoes
There are a variety of bike trails around Hawaii Volcanoes National Park. Some follow sections of scenic routes on Crater Rim Drive and Chain of Craters Road, while others cut down dirt paths through rain forests and lava flats. Many of the trails around the visitor center are short, easy, and good for families with kids, but a few truly challenging rides await seasoned cyclists elsewhere in the park. "Summit to Sea" is a day-long, 36-mile roundtrip ride from the summit of Kilauea to the Holei Sea Arch. Another strenuous route popular with veteran bikes is the trial that ascends Mauna Loa. The loop climbs 2,600 feet over 11.5 miles of history roadway.
In addition to the normal precautions that cyclists should take when sharing the road with cars, biking in this national park comes with the separate caveat of negotiating hazards like poisonous fumes and potential wildfire. It's a good idea to check in with a ranger before committing to any long bike trips.
Visiting Hawaii Volcanoes National Park
Seasons, Fees, and Permits
Hawaii Volcanoes National Park is open all year round, but the Kahuku section of the park is only open on weekends from 9 a.m. until 3 p.m. It is also closed every first Saturday of the month. Standard entry for the park costs $10 per car or $5 per individual entering by foot, bicycle or motorcycle, and is good for seven consecutive days. A $25 tri-park pass entitles the bearer to unlimited entries at Puuhonua o Honaunau, Haleakala National Park, and Hawaii Volcanoes National Park. Permits are required for overnight stays in the park's backcountry and must be picked up in person at the backcountry office at the Visitor Emergency Operations Center.
Campgrounds and Lodging
No reservations are required for Namakanipaio and Kulanaokuaiki campgrounds, the park's two drive-up campsites. Spaces are available on a first-come, first-serve basis, and no additional fee is charged. The historic Volcano House and Namakanipaio Cabins do require reservations, but at the time of writing, these were closed for seismic retrofitting and fire-protection upgrades. Backcountry campgrounds can get pretty rustic — some don't have water or shelter of any kind. It's a smart idea to check in with a ranger to get the most up-to-date information on current conditions before starting any sojourn to the backcountry.
Kilauea Visitor Center & Jaggar Museum
The Kilauea Visitor Center is the first stop for most of Hawaii Volcanoes National Park's 2.6 million yearly visitors. The center provides an overview of the park's historic and natural features and hosts special events related to Hawaiian culture. It is open daily from 7:45 a.m. to 5:00 p.m. and is adjacent to an art museum that highlights work from local craftsmen and artists. The Jaggar Museum is devoted to exhibitions about volcanology and provides an excellent, indoor overlook of the Kilauea caldera.
Volcanoes and Volcano Safety
Hawaii Volcanoes National Park is home to two of the five volcanoes on the Big Island, and both of them are active.
In fact, Kilauea is one of the most active volcanoes in the world. Naturally, this presents unparalleled educational opportunities, including firsthand views of lava flows and exploration of a volcanically shaped landscape. But a heightened degree of caution is something that every visitor to the park should bring with them.
Volcanic eruptions can happen at any time, and even at a distance, fumes and other fallout — such as pumice, cinder, and volcanic glass — can be very harmful to visitors. Gas, in particular, can collect in areas with active vents and be quite hazardous. Be sure to review the park's air quality monitor before visiting, and stay upwind of any vents.
When hiking, make sure to stay on marked trails, and don't hike after dark, especially on lava flows. Vegetation and cinders can hide deep holes in the ground. In a volcanic landscape, such depressions are common and usually hidden under a thin crust. Avoid hiking over holes, loose rock and lava crust. When hiking on flows, make sure to wear sturdy footwear and light hiking pants — falling on lava rock is like falling on broken glass. Stay upslope of any active lava flows.
Wildlife in Hawaii Volcanoes National Park
The Hawaiian Islands are the most geographically isolated archipelago in the world, which has given rise to some incredible species over time. Endemic species include carnivorous caterpillars, giant dragonflies, and bizarrely marked happy-face spiders, but the island chain is known for more than just its weird bugs. Sadly, habitat encroachment and invasive species, such as goats introduced by settlers in the 1850s, have increased the vulnerability of some of Hawaii's native wildlife. Below are some of the endangered species that reside in Hawaii Volcanoes National Park.
Hawaiian Petrel
Native Hawaiians call this gray petrel 'u'au for its  "haunting, nocturnal call," which has become somewhat of a rarity, even in the national park. Subsisting primarily on squid, the petrel is very tied to the sea and only returns to the islands to nest in rock crevices and burrows during the subtropical spring from March to October. Its presence has been dwindling since the settlement of the islands introduced new predators — such as feral cats, which prey upon chicks — and diseases. Visitors can still see them in the summit area of Mauna Loa in the park.
Nene
Hawaiian geese, also known as nene, were once incredibly common throughout the Hawaiian Islands. However, by the mid-1940s their number had been reduced to only 30 animals, due primarily to the introduction of new predators. Fortunately, the geese have been successfully reintroduced to Hawaii Volcanoes National Park following a successful captive breeding campaign in the 1970s. Nene are known for the distinctive diagonal stripes that decorate their long necks, and for their feet, which are only slightly webbed — specially adapted for walking on the rough ground like lava plains.
Hawksbill Turtle
The hatching saga of the hawksbill sea turtle has been well-documented by conservationists and visitors alike. Undercover of night, the mother turtle comes ashore to dig a nest with her flippers, where she deposits about 150 eggs that incubate under the sand for two months. Then, all at once, the young turtles hatch and dig themselves out, heading for the ocean as fast as their flippers can carry them.
At Hawaii Volcanoes National Park, this drama plays out on protected beaches at Halape, Apua Point, and Keauhou. The turtles remain endangered due to predation and poaching — their shells are valued as components in jewelry and sold illegally around the world. Visitors can help protect turtles by not camping on the beaches, refraining from lighting campfires, and cleaning up food scraps so as not to attract predators like feral cats and mongoose.