There are awful things going on in Nicaragua right now. A resistance uprising has met with violence from President Daniel Ortega's force, and citizens are lying dead in the streets. The stories and images I am seeing from that country break my heart, because it's one of my favorite places in Latin America — a beautiful country, full of beautiful people, that has already seen more than its share of war and violence.
In the midst of all this, there is an organization trying to create a better future for Nicaragua's children, by providing a bilingual school on the island of Ometepe. A twin volcanic island cluster that sits in the middle of Lake Nicaragua, La Isla Ometepe is home to Ometepe Bilingual School, which provides free bilingual elementary education with small class size, nutritious meals, environmental stewardship and a nurturing environment to the children here. They currently serve 86 children, who all attend tuition-free.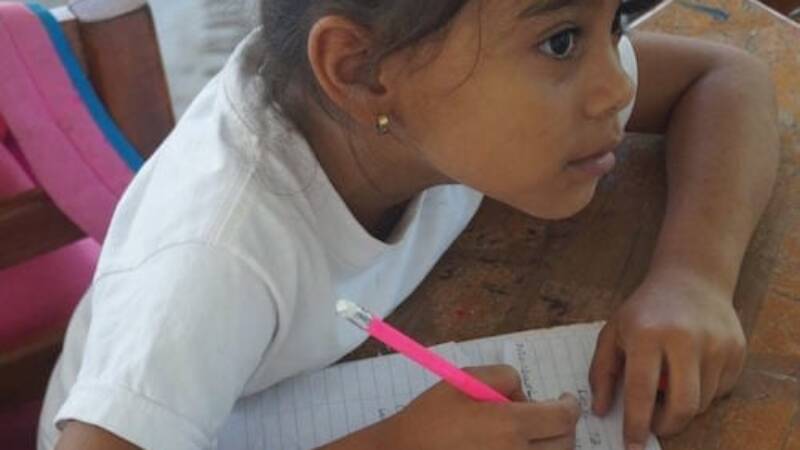 The school is largely supported by Hacienda Merida, a small hotel on Ometepe that donates its profits to keep the school running. Since the riots that started in April have worsened, tourism has gone down and has seriously impacted the hotel's ability to support the school.  Reservations were cancelled including high school and college groups, tour operators, and independent travelers. Many of these groups visit annually. These were dollars the hotel had calculated in budgeting for the school—dollars essential to paying teachers and keeping the school open.
I received an email plea this morning, and it was an answer to me in helping to support a country, place and people that I love. (Read my post here about visiting Ometepe in 2012). I immediately made a donation to the school, as a way to support them in this time of need. I want to share some of their plight and plea, below, in the hopes that other people may be moved to help out — even just sharing this post is a great help!
Because our students' families live in poverty, we cannot appeal to them to help keep their children's school afloat. They do what they can by contributing a small amount of the cost of lunch and school uniforms. We believe that the immediate and longer-term solution to sustaining the school financially will come from expanding our support team of international individuals and groups financially committed to the school.

With an uncertain political future in Nicaragua, we are not confident that we will attract tourists to stay in the hotel, visit the school, donate, and volunteer.  That will leave the school in need of $23345.23 to pay our teachers' salaries and benefits for the remainder of the 2018 school year.

After 61 days of unrest, the situation has deteriorated even further. Block roads in different cities have us without gas and some basic food products. The government is not providing food for the students' lunch anymore.

We know that good governance is linked to a system that operates on democratic principles that create a peaceful, supportive environment for its citizens. When a government professes to be working democratically, but in effect creates an oligarchy that cares little about the populace, the result is disastrous. This is how we are living today in Nicaragua.

Clearly, the present problems in Nicaragua have direct links to the poverty and lack of education that are pervasive in the majority of the population. Ometepe Bilingual School exists to help educate the next generation of Nicaraguans and equip them for further education, critical thinking, and vocation that will give them and the country a better future.

Please join us, our teachers, and other friends of Ometepe Bilingual School in making this possible for our children.

We appreciate your support.

Sincerely,
Ometepe Bilingual School Families

Click here to donate!