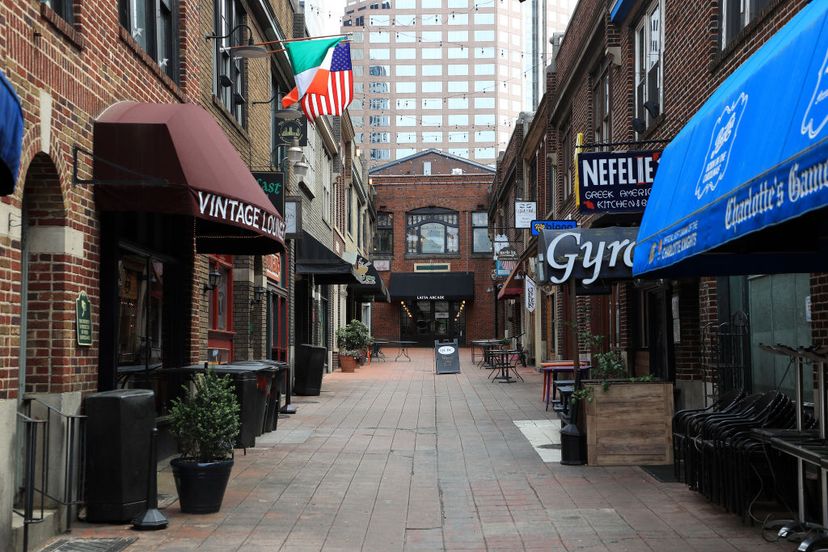 The Hickory Metro restaurant landscape is rich in long-tenured offerings, but creative culinary prospectors regularly mine new gems for the region's diners. Unique new additions to Hickory's menu since 2015 breathe life into abandoned spaces to serve up choices for restaurant-goers of all tastes and budgets.
Fourk rekindled a stylish restaurant inside a site centrally located near neighborhoods surrounding Hickory's downtown and Viewmont areas. Unexpected ingredients and combinations make the menu's familiar American fare enticingly new. Portions are ample – entrees large enough to share on date night – and prices are comparable to Hickory's other "upscale" options. Booths await romantic diners or business-minded professionals, and there's enough space for group functions. A 10-foot tall water feature secludes a bar area where tenders earn praise for their advice on creative specialty drinks. Outdoor patio space welcomes during warm weather months, especially on "Mondays with a twist" when food and appetizer specials make the restaurant a destination for the after-work crowd. The restaurant's position among Hickory's locally owned restaurant fold makes it a destination worth exploring. Fourk's attention to detail, fresh flavorful menu offerings, and friendly staff make it a place you'll visit again.
Situated in downtown Hickory's busy Union Square, The Fresh Depot relies on fresh and organic ingredients often sourced as locally as the city's nearby farmer's market. Soups, salads, and sandwiches make this gastropub an affordable new downtown lunch option during the daily mid-day schedule. For the evening hours, a dinner menu is loaded with modestly priced entrees not found in neighboring dining options, including bison dogs, elk burgers, and other meat and vegetable selections. An on-site bakery overflows with fresh-baked bread and rolls, and the dessert cooler is filled with cakes and cupcakes alongside ever-present saucer-sized cinnamon rolls. Stop in and pick up a fresh-baked surprise from the front-of-the-house that's usually open even between lunch and dinner schedules. Expect to find the owner and executive chef on-site, often coaching new culinary school graduates forging food service careers. Nestled inside the home of many failed restaurants, The Food Depot's reliance on local produce – for both menu and staff – make it a venture that earns the diner support needed to give it a permanent place in downtown Hickory.
House of Nom Nom replaces an abandoned sandwich shop with one-of-a-kind Asian fusion cuisine that combines American favorites with Pacific Rim flavors. The menu of burgers, wings, sandwiches, and salads is quickly prepared while diners wait in the small dining room or on the patio. Unique ingredients made on site, such as Korean Kimchi, guarantee that lunches and dinners are always fresh. Try a bubble tea smoothie – a Nom Nom hallmark that combines fruit smoothies with fruit jelly flavor balls. Centrally located in Hickory's largest shopping district, House of Nom Nom offers both a perfect respite from the crowded mall and a great dinner choice ahead of movie night at the nearby theater. Family-owned and operated, Nom Nom's friendly staff works hard to inspire first-time visitors to become regular guests in the house. Darken the doorway once and diners quickly discover why a growing Hickory fan base loves to call Nom Nom home.
Wholesale renovations to a site in Hickory's restaurant row and commercial retail district created the city's newest sports bar and grill. Situated near I-40, Kickback Jack's is a convenient stop for passing motorists and a popular choice for regional residents. With a menu standard to the bar and grill restaurant scene, Kickback Jack's doesn't aim for surprises, and affordably priced familiar favorites help it score crowds – especially on the weekends. The bar boasts an enormous craft and domestic beer selection, as well as daily drink specials, and a large heated patio allows outdoor fun all year. Stop in on Wednesday night to show off your karaoke skills. High-definition TVs spreading wall-to-wall and sports memorabilia hanging from the rafters make this a great environment for the big game, while the restaurant's quick service of universal menu items means it is a safe bet for any lunch or dinner.