Indonesia is the largest archipelago in the world, consisting of over 18,000 islands with 6,000 of them inhabited. 240 million people live in Indonesia making it the fourth most populated country in the world and the largest in Southeast Asia.
Java is Indonesia's fifth-largest island and is the most populated island in the world, but don't let that put you off from traveling across the so call heartland of Indonesia.
This vast island is an adventure traveler's idea of paradise, with over 100 volcanoes, major national parks, and ancient temples it truly is an adventure playground, and while the island is overpopulated there are still plenty of unspoiled places to explore and amazing scenery to enjoy across Java.
Volcanoes
If you're wanting to get up close and personal with a volcano and get to walk around the rim of a crater then head to the capital of West Java, Bandung. The popular tourist city is surrounded by mountainous terrain and volcanoes, to the north of the city, the volcano Tangkuban Perahu looms over the sprawling city of Bandung.
The still-active volcano has three craters, the largest 'Kawah Ratu' lies at 2,084m and last erupted in 1969. Head up to the rim of the crater, where you will have amazing views of the surrounding area and of course down into the magical volcanic crater. You can literally spend hours at Tangkuban Perahu exploring 'Kawah Ratu' and the nearby cave system, or you could just sit and marvel at this majestic volcano.
National Parks
There are an incredible 12 national parks located around the island of Java, one of them is even a UNESCO World Heritage site. Ujung Kulon National Park is located on the western-most tip of Java and includes the volcanic islands of Krakatoa. The national park contains the largest lowland rainforests in Java and is home to an extensive range of flora and fauna, which includes the rarest animal on earth, the Java one-horned rhinoceros.
The easiest way to get in and around the national park is with the help of a guide, they know the best places to camp, find water, and spot animals. One of the more popular treks in the three-day walk along the stunning coastline between Taman Jaya village and Tanjung Layar.
Ancient Temples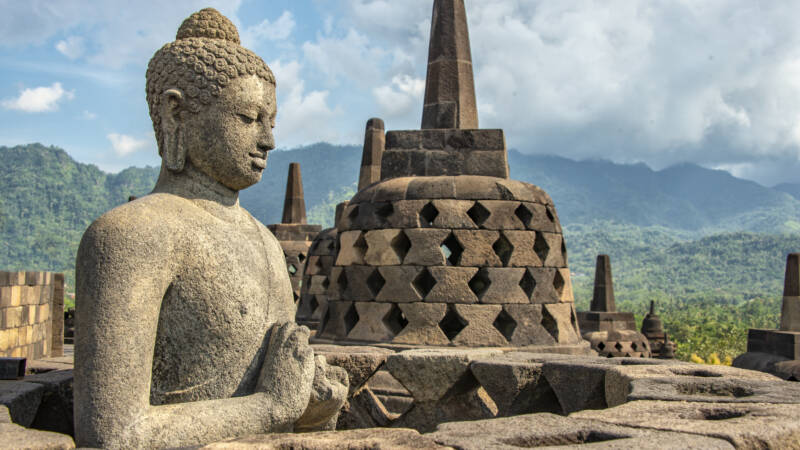 Borobudur, a UNESCO World Heritage Site is a Buddist temple complex in central Java, dating all the way back to the 8th century. Borobudur is the largest Buddist monument on earth, also one of the greatest. Visitors to Borobudur are taken back by the vast size of the ancient temple complex and with the stunning backdrop of active volcanoes with plumes of smoke rising from the craters, you can see why Borobudur is one of the top highlights when visiting Java. The ancient temple lies in the Kedu Plain, between four volcanoes, close to the city of Yogyakarta.