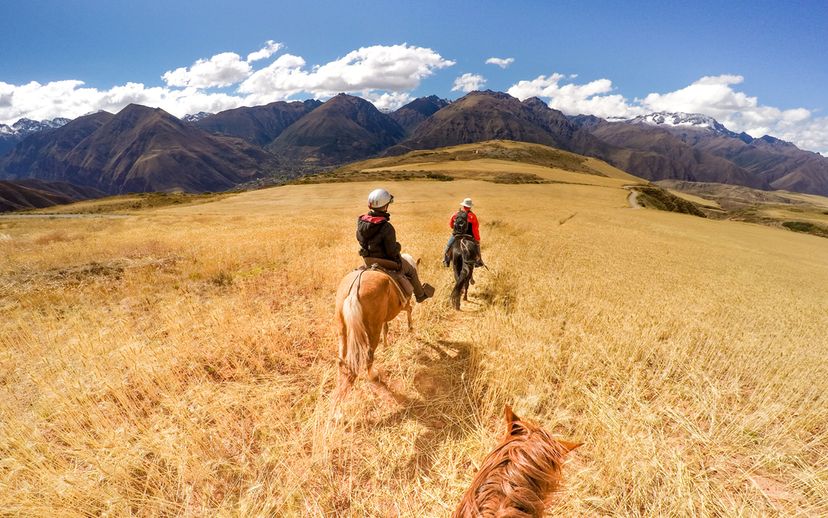 Grab your lasso because it's time to head out on the trail, American cowboy style. From the giant canyons of Arizona and Utah to the rolling hills and meadows of Vermont and Northern California, witness the diverse countryside and mountain ranges of the US on 10 of the most popular horseback riding trails. As day turns to evening on the horizon, saddle up and ride out into the sunset like an old-fashioned cowboy from the Wild West.
10. Arizona
Like John Wayne and Burt Lancaster, the heroes of your favorite Westerns, saddle up and head out into the sunset on a sturdy, reliable quarter horse for a gallop into the Wild West. With expert horse handlers as your guide, get ready for an unforgettable ride into the Canyon de Chelly of Arizona, the largest sandstone canyon in the US. Crossing over bubbling streams and past small forests and olive trees along the trail, you'll reach Spider Rock, an 800-foot sandstone spire that will make you feel like a dwarf. Riders of all levels can gear up at Totsonii Ranch, a Navajo-themed horseback-riding outfit headed by top Western-style horse experts. With decades of experience in horse handling and knowledge of the canyon trails, you'll be in good hands while you explore the dramatic canyons of Arizona.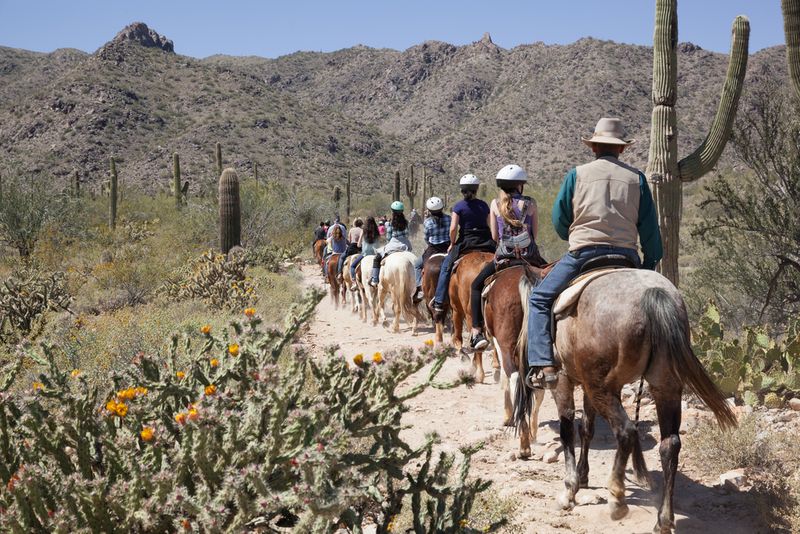 9. Vermont
At the Icelandic Horse Farm in Waitsfield, Vermont, you'll get the chance to ride an Icelandic Horse, a breed known for its sturdiness, stable footing, and pleasant temperament. That way, even the novice rider can relax and enjoy the beautiful scenery of Mad River Valley, an ideal spot for countryside gallops. A popular spot for winter sports and mountain trekking, the valley is as peaceful or thrilling as you want it. On horseback, you can gallop through the grassy meadow or walk through the picturesque landscape of the Green Mountains. The horse farm is open year-round, so you have the option of experiencing the fresh greenery of springtime, the warm lazy days of summer, or the brilliant foliage and crisp air of autumn. After a day of trail riding, head to their Mad River Inn, an 1860s era Victorian estate situated at the horse farm.
8. Utah
Head to Utah for an exploration of the jagged rock spires and otherworldly rock formations of Bryce Canyon National Park, a favorite spot for cross-country horseback riding adventures. Follow expert cowboy guides as they take you through canyons that have evolved over thousands of years. In this rugged terrain, let the sure-footed, hardworking quarter horse do all the work while you discover the fascinating natural wonders of Utah. Using Bryce Canyon Lodge as your base, the trail starts at Sunrise Point and leads into the vast canyon on a 2-hour ride. While a cowboy leads the way, you'll get the lowdown on the history and geology of this magnificent canyon. Once you reach the floor of the canyon, the trail loops around to take you back up the rim for unforgettable views of Bristle Cone Pines Trees and the haunting Wall of Windows.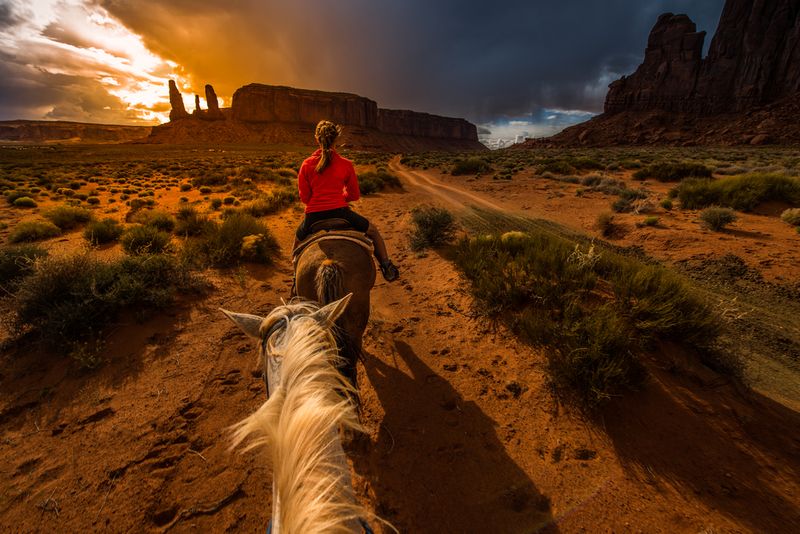 7. Alaska
For even more rugged and exotic trail rides, head to Seward, Alaska, where local guides from Bardy's Trail Rides will take you on treks through forests and rivers surrounded by snow-capped peaks that fill the horizon. You'll even get the chance to gallop along a rocky deserted Alaskan beach. Considered to be one of Alaska's wild frontiers, get lost in a world of pristine fresh air, the cleanest water in the country, and a variety of wildlife like nesting bald eagles and migrating whale sightings. You'll also discover the old town of Seward that took quite a beating in the great earthquake of 1964. Then, the trail leads to the shore of the bay lined with wildflowers, a lovely setting for a seaside stroll on horseback. Because of the rough terrain, this region of Alaska is only accessible by horseback, making Seward a perfect spot for an afternoon trail ride.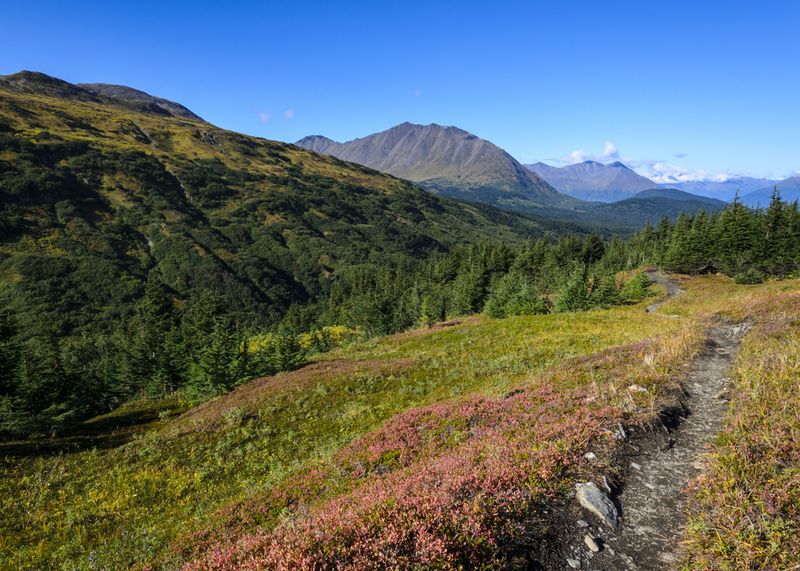 6. North Carolina
With 80 miles of equestrian trails that wind through ancient woodlands of the Appalachians, Asheville, North Carolina is a horseback-riding wonderland filled with afternoon trail rides through some of the country's most breathtaking landscapes. Along the way, trail guides will take you on a tour of the Biltmore's magnificent 250-room French Renaissance-style chateau, a rare architectural marvel situated in the heart of the Appalachian countryside. Even better, splurge on one of their luxury suites at the Biltmore Estate, a grand, swanky base camp for rest and relaxation in between glorious days of cross-country mountain trail rides. For the more serious equestrian, head to the nearby Equestrian Center for a special riding excursion to the West Range, a section of the Appalachians known for its mountain vistas, waterfalls, and beautiful rivers.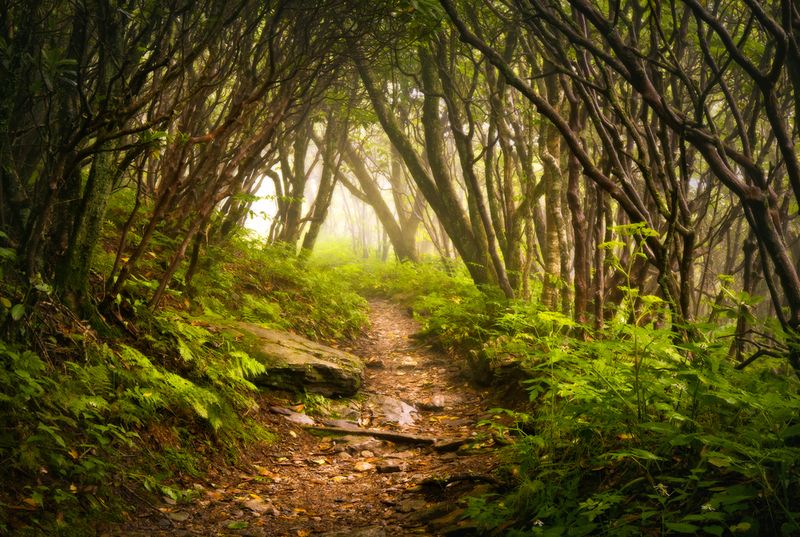 5. Colorado
Saddle up on a reliable, smooth-gaited horse and head out into the mountains of the San Juan National Forest just outside of the Old West town of Durango, Colorado. A favorite trail ride in the region gives riders a chance to explore the sub-alpine forest that winds through mountain paths carpeted with wildflowers. Then, the trail leads to a spot high above the timberline where you can witness the vast horizon all the way to New Mexico. For the more experienced rider, a five-hour trek to the Hermosa Cliffs is a spectacular trail that leads to elevated parks, old-growth Alpine forests, and incredible vistas of nearby Needles, La Plata mountain range, and Electra Lake. The ride starts at Elbert Creek and ascends 1,000 feet in elevation, making you feel on top of the world.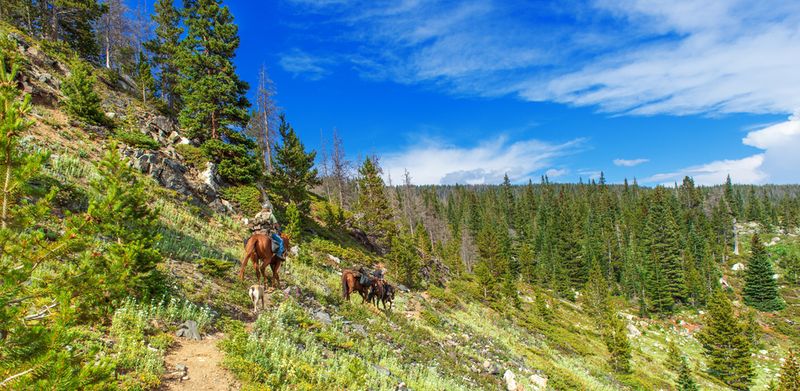 4. California
Follow in the tradition of 19th century Native Americans and pioneering ranchers who lived in the fertile countryside of Napa Valley, California. Saddle up at Triple Creek Horse Outfit and let experienced trail guides take you through the lovely golden meadows and past lush vineyards of Northern California wine country. One of the most thrilling trails is the one leading to the summit of Bald Mountain where on a clear day, you can see San Francisco's Golden Gate Bridge in a breathtaking panorama. The area also has horse riding trails throughout Jack London State Historic Park in Sonoma's famed Valley of the Moon. With some of the finest riding trails in the world, brace yourself for an incredible ride through massive redwoods, oak woodlands, and the rolling hills of vast vineyards.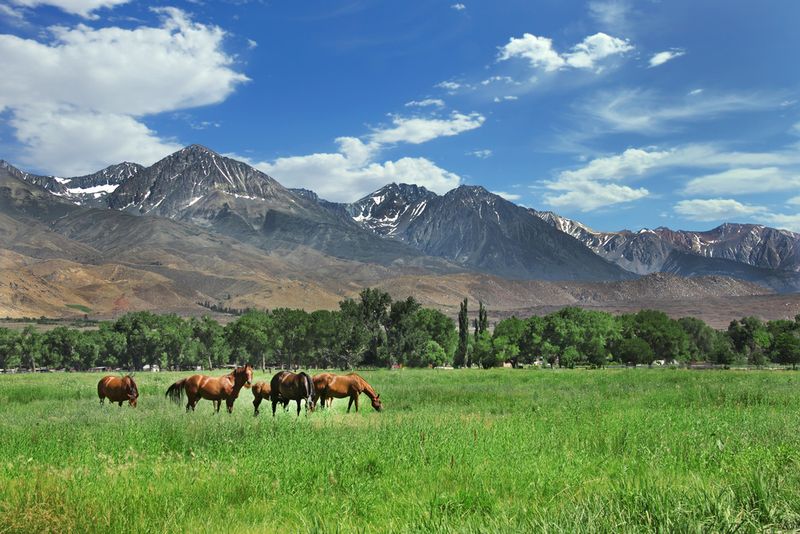 3. Kentucky
With its world-famous Kentucky Derby and long tradition of horse breeding and training, Kentucky is a great place to discover the Bluegrass Region near Lexington. At Big Red Stables in Harrodsburg, Derby fans and serious equestrians can saddle up on a revered Tennessee walking horse, a breed known for its unique four-beat running walk, one of the smoothest gaits, as well as its calm disposition and elegant appearance. At this family farm, a one hour drive from Lexington, get ready to explore the trails passing through verdant, expansive grasslands, surrounding forests, and fertile horse country dotted with old-fashioned red barns and stables. There are also excellent riding trails in Kentucky's Appalachians, including the Mary Ingle Trail system in Yatesville Lake State Park, which surrounds a 2,300-acre mountain reservoir and contains 20 miles of scenic trails.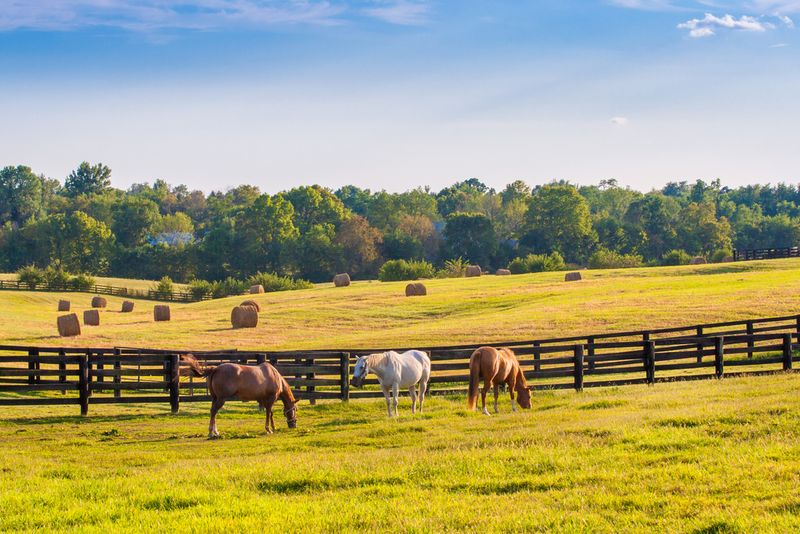 2. Arkansas
Surrounded by three lakes, two rivers, and old-growth pine forests, Buffalo River National Park in Eureka Springs, Arkansas is full of scenic trails perfect for an afternoon ride through the countryside. Before heading out on the trail, saddle up with horse ranchers at Rockin Z Ranch, a horse stable and inn nestled in the heart of the Northwest Ozark Mountains. The ranch offers visitors comfortable accommodations and warm hospitality at their large log cabins plus guided trail rides through 780-acres of wooded hills. They also have ranch-raised horses, which are ideal for beginners because of their obedient and calm demeanor. Also close by is Withrow Springs State Park, also in the Ozarks, an incredible place to explore the great natural wonders of Arkansas on horseback. And if you really want to up the ante on childhood fantasies, sleep in a tree house floating atop tree canopies at Treehouse Cottages.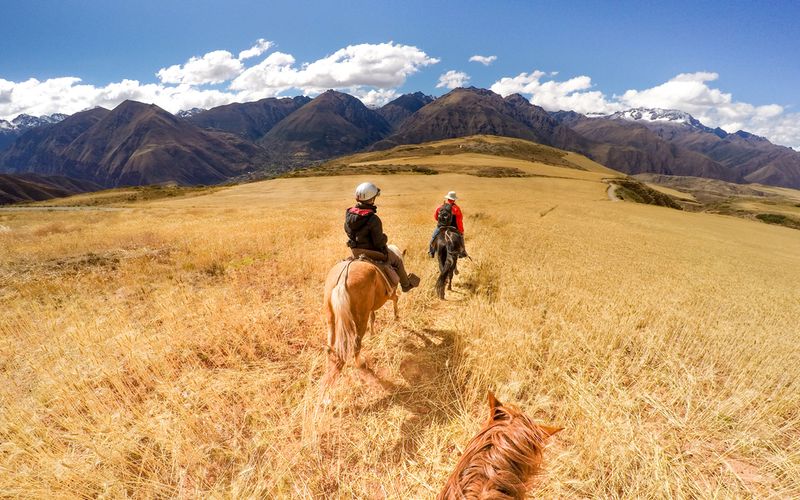 1. Hawaii
From the Big Island of Hawaii, head to Na'alapa Stables for a horseback riding adventure through the lush, verdant landscape of Kahua Ranch, a working cattle and sheep ranch with 12,000 acres perfect for open-range riding against the breathtaking backdrop of North Kohala. The nearby Waipi'o Valley also has excellent trails through lush tropical rainforests, pristine freshwater streams, and magnificent waterfalls. The stables also provide riders with well-trained and sturdy-footed Waipi'o breed Hawaiin horses, so riders of any level can enjoy the spectacular scenery with ease and comfort. Meaning "land of curving water," Waipi'o Valley is an enchanting emerald landscape that rivals the paradise of Eden. In Hawaii, horse lovers have the chance of a lifetime to combine their love of riding with amazing natural wonders of the Big Island.