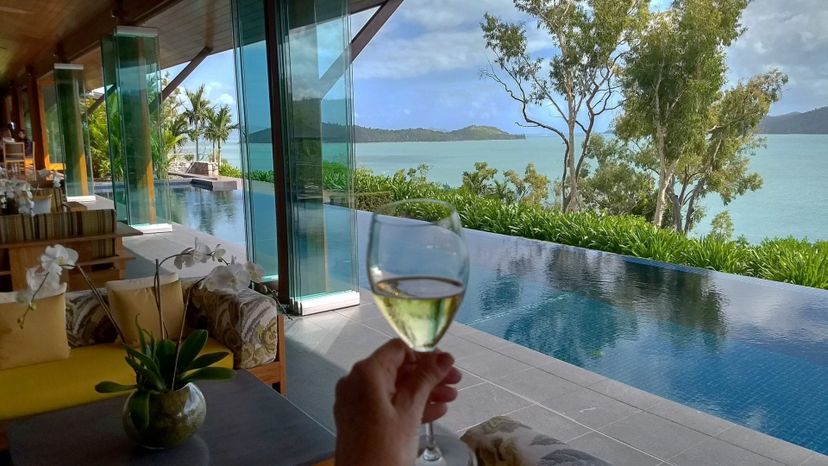 There's hardly a more magical island resort location than Qualia, at Australia's Great Barrier Reef in the Whitsunday Islands.
The Great Barrier Reef is the biggest single structure made from living organisms on the planet, so large that it can be seen from outer space. The world's largest coral reef system, the Great Barrier Reef is made up of more than 2,900 individual reefs and 900 islands, stretching for over 1,400 miles off the coast of Australia.
Whitsunday Islands
After spending 10 days in Sydney and Brisbane last April, I headed north in Queensland for the reef. Starting with a week in Cairns, I then flew to a very special place of pristine beauty, removed from the mainland and traffic and busyness and stress. The Whitsunday Islands are still somewhat of a less-traveled reef destination for international tourists to Australia, though the Aussies themselves know very well what a gem they are.
This stunningly beautiful chain of 74 islands, mostly uninhabited national park islands, is a completely different experience for visiting the Great Barrier Reef. Located in the heart of the reef on the Queensland coast, four islands offer a variety of resort accommodation, all with fringing coral reefs at their doorstep. I took an hour flight from Cairns to Hamilton Island, to arrive at Qualia Resort — which I soon discovered for myself as a true treasure.
The largest of the inhabited Whitsunday Islands, Hamilton Island makes a great base for exploring the Great Barrier Reef. It's surrounded by a kaleidoscope of pristine beaches, coral and marine life. Situated atop a bluff with amazing views across the island and water, Qualia Resort is luxury and privacy all the way. From the beautiful main building with open-air living space and restaurant surrounding an infinity-edge pool overlooking the ocean, to the private villas and personal electric buggy you're assigned to explore the resort and island, this peaceful oasis is the perfect spot to melt any stress away and have a complete unplug, relax and recharge experience.
Qualia Resort
I spent the first day doing nothing but enjoying the pool, spa and my villa at Qualia, driving my buggy around to see the island. My villa was incredible, warm with rich woods and fresh, light colors; and all villas enjoy stunning views over the ocean and islands.
Take a tour with me of my villa in the video below:
First was an amazing massage in the extensive spa, a sanctuary where you can relax in blissful reverie. Placed at the heart of the resort and is perfectly situated to catch the soft sea breezes and tranquillity of the beautiful surroundings, making it the ideal place to unwind. Here they take an indigenous approach to treatments, to create individual 'you time' through a collection of deeper sensory experiences.
After driving my buggy around Hamilton Island and some lunch, later that evening I set out, with some other Qualia guests, on a sunset cruise with delicious snacks and champagne — the perfect way to toast the end of a gorgeous day on Hamilton Island!
Cruising Whitsundays and Barrier Reef
The next day after a delicious breakfast on my private balcony, I was transported down to the ferry pier to hop aboard a Cruise Whitsundays boat for an all-day tour of the Great Barrier Reef. A two-hour high-speed ferry ride took us to Hardy Reef (pictured at the top of this story), where I was able to go scuba diving and snorkeling around the reef and its amazing array of life.
Click here to read more about my experiences snorkeling and diving the Great Barrier Reef!
Luxurious comfort and serenity at Qualia Resort
At the end of each day, it was pure delight to come "home" to the comforts and peaceful beauty of my Qualia villa. The property is spread out across a large property, with bungalows offering privacy along with pavilions for lounging, a library, two pools, direct beach access, and a plethora of amenities. Qualia's harmonious design is the work of Australian architect Chris Beckingham, whose philosophy was to create a luxurious Australian retreat that stimulates the senses and draws the outside in. The resulting design combines a unique sense of space, openness and harmony. Set amongst native Eucalypts, each pavilion has been handcrafted from the finest imported and local timber and stone, with interior fabrics and patterns inspired by nature.
Dining was exquisite, with Executive Chef – Doug Innes-Will creating produce-driven Modern Australian cuisine, that's as beautiful to look at as it is to eat.
My stay in the Whitsundays was made so much more magical at Qualia, and the entire experience is one I highly recommend to anyone wanting to visit the Great Barrier Reef or Australian coastal area.
Details:
Qualia Resort
20 Whitsunday Boulevard
Hamilton Island
Queensland 4803
Telephone: 1300 780 959 or 866 202 2590 (Toll free USA)
Email: reservations@qualia.com.au
Website: www.qualia.com.au