Eating healthy foods has always been a priority of mine. Mainly because I love food and cooking, and I love a variety when I cook – a lot of veggies, grains, meats, fruits…anything I'll try! When I became pregnant, I know I needed to pay attention to everything I ate and take certain things in moderation.
I want to make sure I get a variety of foods for optimal nutrients for my growing babe! Thankfully, I have a great midwife who provided me with necessary food options, and I found a lot of pregnancy books which include healthy eating and recipes, and are more on the "green living" side of things. I have listed some of what I have found to be the best during pregnancy to keep my health and energy up. 
A great diet during pregnancy should be filled with proteins, vitamin rich vegetables and fruits, healthy fats and complex carbohydrates and of course, lots of H2O. There are many healthy ways to eat no matter what your agenda is!
A lot of OB's and midwives will also recommend a prenatal vitamin for you to take daily or a few times a week. I personally have been using a vegan plant based prenatal vitamin with plenty of folate. I chose this because it has the most simple ingredients I can understand without fillers and at a decent price. Folate is a B-vitamin that is naturally found in a variety of foods, mostly dark, leafy vegetables, oranges, and nuts and beans, and has been recommended for pregnant women to get plenty of. Folic acid is a synthetic form of folate, that is not naturally found in food, but used in supplements. 
Protein
Here are some protein rich foods I have enjoyed a lot this pregnancy – 
Wild caught salmon – which also has great healthy omega fats,

Beef sirloin steaks – cubed and seared with potatoes/rice and veggies. Or whole sirloin steaks sliced. I use grass fed beef.

Pork tenderloin,

Raw nuts and trail mixes,

Fruit and nut energy chews with protein,

Kefir drink and honey greek yogurt, sometimes with fruit and granola.

Beans and lentils- making meat, rice, bean and veggie stews or dishes. I love great northern beans, black beans and any kind of lentil.
Vegetables 
I love veggies of all kinds, these are my personal favorites that I have been craving and cooking a lot this pregnancy – 
Beets – I love to cube red and golden beats, drizzle with olive oil, sea salt and fresh rosemary, and roast in the oven. I eat them as a side dish or even drop in my salads.

Spinach – fresh in a salad, or sautéed with mushrooms, garlic and onions has been a favorite.

Basil (making a lot of pesto!)

Sweet bell peppers – raw in my salads, or with my favorite ginger soy stir fry with chicken, or in homemade coconut curry,

Arugula and spring mix salads with dried fruits, raw chopped veggies, walnuts, goat cheese and either homemade lemon or Italian vinaigrette,

Broccoli – steamed or sautéed with other veggies, it's limitless!

Cilantro and parsley for sauces, tacos, pastas.

Lightly sautéed kale with parmesan & garlic or a sweet cranberry sauce has been my go-to.

Spaghetti squash, roasted with just parmesan and garlic, or tossed with gouda, tomatoes, garlic, spinach and mushrooms. 

Avocados – I enjoy some good mashed avocado with lemon on toast, sliced on a sandwich, or guacamole. Avocado is a great way to get healthy fats.
Fruits
I have craved fruits non-stop for both of my pregnancies, 8 years apart. I think I am mainly craving sugar in any form, and also being pregnant in the heat of the Texas summer, there is nothing better than snacking on my favorites – juicy cantaloupe, mangoes, watermelons, apples, oranges and raspberries! 
I started juicing watermelons after always having too much left over, and after a little research, I have found watermelon to be especially beneficial for pregnant women. Eating or juicing watermelon has helped me with my nausea in the beginning of pregnancy, and then my acid reflux and heartburn later on into my second and third trimester. And of course, we know watermelon has a high water content, which can help with any swelling and muscle cramps that happens to most all of us pregnant women, especially at the end. I have been experiencing so much muscle cramping this time around and healthy fluids and water has been a staple for easing that pain. 
Grains
Complex carbohydrates are important as well, they contain essential vitamins, minerals and fiber your body needs and your developing baby needs. Sticking with 100% whole grains is best to get the most nutrition from grains. I've been choosing whole honey wheat bread, quinoa, brown rice, steel cut oats, and whole wheat pasta as much as I can. Adding different grains to your diet can create so many different recipes. I got sick of oatmeal, so I made some oat bars with leftover steel cut oats I had sitting in my kitchen. You can mix bananas, blueberries, honey, and tons of other ingredients with oats and bake on a flat pan, and then cut into squares to make bars. Super easy and great for snacking or when I've been super tired in the morning and need to eat right away.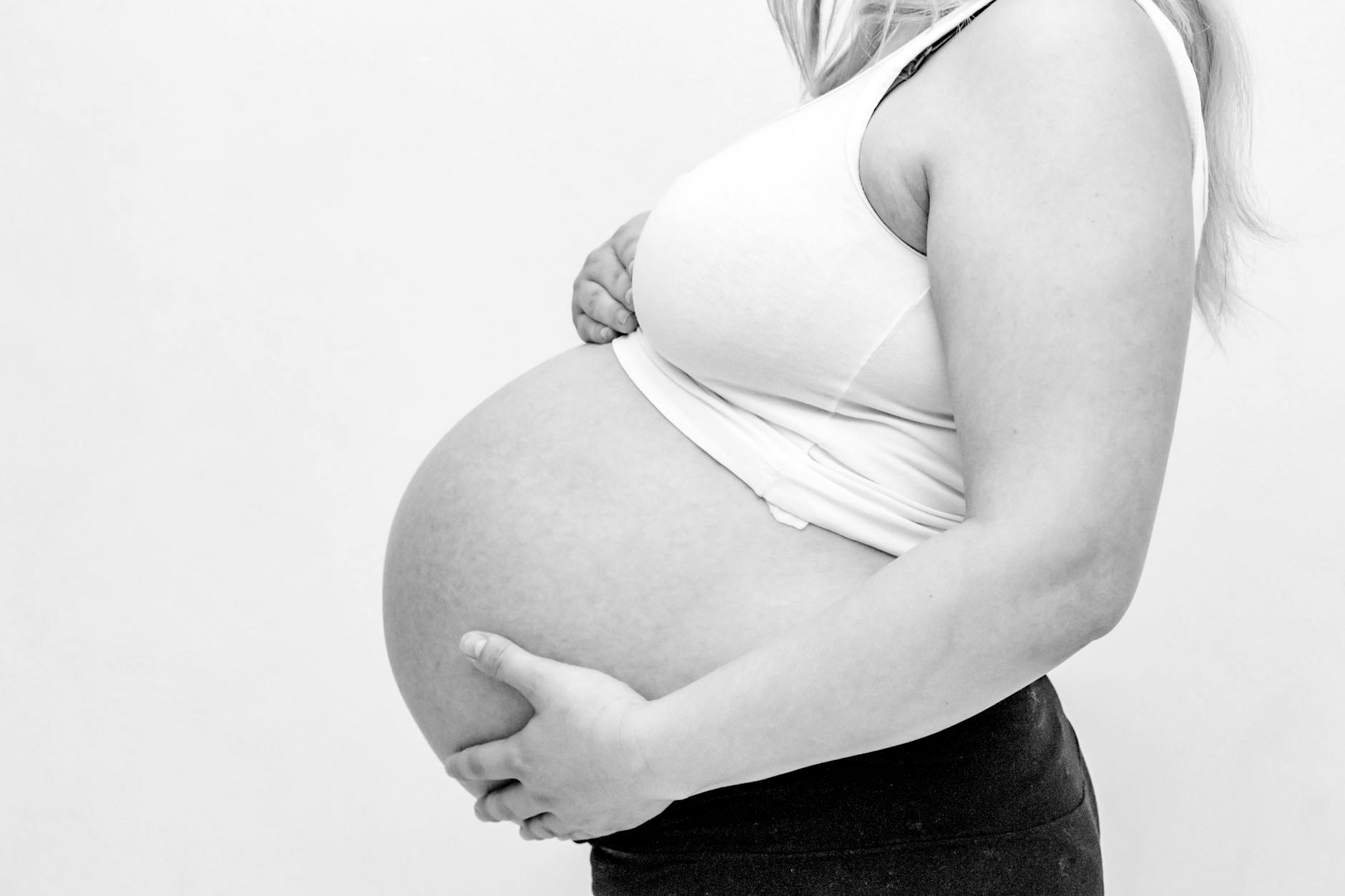 Balancing your cravings
I guess you could call me more of a "crunchy" mom. Especially when I've been pregnant and when my son was a baby and toddler, I was always reading ingredients, watching what I would feed him and allow him to have. But, I will say that I do love to indulge and think moderation is key for anything. Sometimes succumbing to a guilty pleasure will make you feel a little better and that is perfectly okay.
If you are eating healthy and sticking to primarily eating foods like I've listed above, then I say cave in to your cravings of ice cream, a cup of coffee, or your favorite candy every once in awhile. I certainly have several times during my pregnancy! Of course, always advise your OB or midwife if you have certain precautions for your pregnancy.
Overall, eating colorful, vitamin rich foods has helped me keep up with energy over the summer and I believe has been a huge part of having a balanced, healthy pregnancy.