Tidy Home expert Alice Robertson shares her top hacks for creating a fabulous office in a small space.
Do you need a spot to study and work in your home, but you're living in a home that's on the smaller size? No worries! We've got you covered with these super easy small home office tips that will make completing this project so much easier on you and your limited space.
Create a Plan That Includes Creating More Space
Your home office plan needs to include finding ways to squeeze your new workspace into an ideal area of your place. Decluttering is a key step here, but also make sure you have somewhere to store the things you're not sure what to do with. It may be smart to invest in a short-term storage unit, so you can give yourself time to make a comfortable decision. It's not a lot to add to your home office budget, and it will give you much more space to work on your other home office plans. If this is your first office setup, think about how you will use the space and also where the best location is for your focus.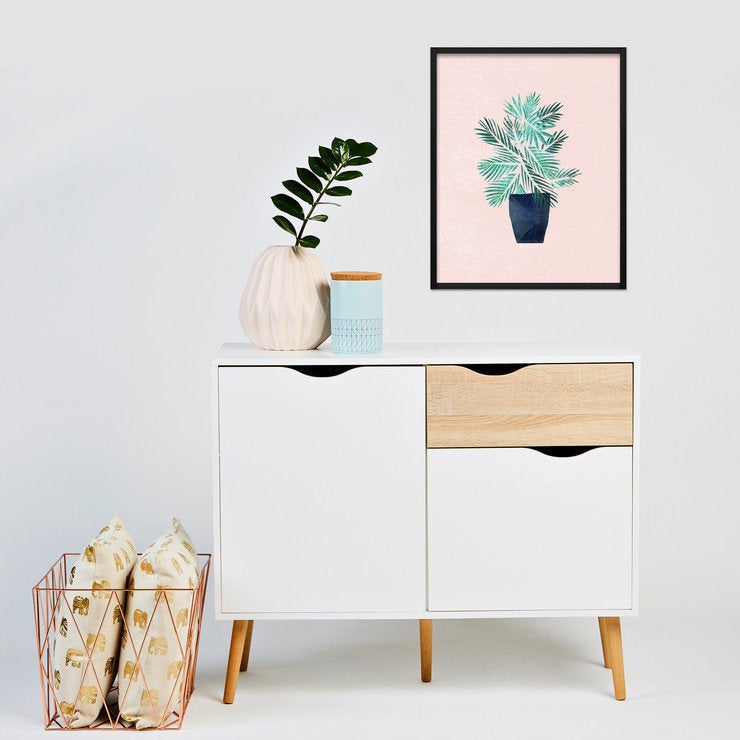 Balance Your Project Budget Before You Begin Building
Creating a little workspace in your home can take some effort, but it can also be a lot of fun. That's not necessarily a bad thing, but if you get too caught up in the excitement, you could end up overspending on your project. So, as you come up with a plan for your space, work in a total you are comfortable spending on your new office.
There are some things on the list that may be optional, especially if you do not have a ton of space. Others, however, such as a comfy chair and solid computer, are absolutely vital to any office setup. Factor those top needs into your overall budget and know that you can always save on other office furniture and decor. Decor may seem like a splurge, but decking out your space will make you actually want to spend time in it. Shop with budget-friendly decor spots so you can save on sprucing things up.
Invest in Home and Office Essentials That Can Do Double Duty
When you are working an office into tighter spaces, you may need to think outside the box for your furniture. In a studio apartment or a tiny house, it's ideal to have every item in your home serve a variety of purposes. In your office, for example, that could mean looking for a foldable laptop desk (you can find options on Amazon starting at around $100) so you can clear out more space when you need it. You could also think about getting furniture and storage solutions for other areas of your home that are designed for smaller spaces. Shelves can give you more storage for papers and books while also dividing your home office from the rest of your living space. You can also look for seating that can be easily moved so you can make more room for your home workspace when needed.
Make Sure the Tech in Your Small Home Office Is Mobile
You've got the space cleared out and the furniture all picked out. Now you just need some basic pieces of tech to get your swanky new office up and running. Instead of choosing a bulky desktop though, think about opting for tech you can easily take with you. You can find lightweight laptops (some for as low as $500, though those prices do quickly escalate) that will be easier to fit into a smaller home office, while also letting you take your work to other spaces, like your local coffee shop. These smaller laptops may also be easier to fit into your budget. A reliable internet connection is also crucial in any home or office. A mobile hotspot device may be the most compact and mobile way to stay connected.
Creating a home office that's smaller doesn't have to mean creating one that does not make you happy. You can easily find space in your home and set up a stylish, functional office that you will be overjoyed to spend time in!
---
Feature Photo Credit: Unsplash
As an Amazon Associate I earn from qualifying purchases