When we first started planning our trip to Everest base camp, we both were continuously on Google searching how to prepare for a trek to Everest base camp. We had loads of questions regarding trekking to Everest base camp like, how hard is it? How fit do you have to be? Is it dangerous? What is the accommodation like? What kind of gear do you need? Do you need a guide/porter?
And while we found answers to the majority of our questions we had to find and read numerous websites and blog posts to get the information. Our aim for this post is to provide you answers to all the questions we had, plus more. Which in turn, we hope, will help you plan and prepare your trip to Everest base camp.
When's the best time to go?
You can actually trek to Everest Base Camp during any time of the year but it's not always easy going and can be very difficult to reach. During the winter months of January and February, the temperatures can drop to way below freezing, with snow covering the higher ground. The majority of lodges also close down higher up so it can be difficult to find accommodation. It is also advisable not to trek during the monsoon season of June to September the trails can become impassable due to landslides and rock falls, it's also not nice trekking in torrential downpours.
The best times to trek to Everest base camp are during the months of March to April and October to around the middle of December. From March through to the end of April, usually by late morning the clouds start to roll in and the snow cover on the mountains is minimal, but it's the time when climbers descend on Base Camp to attempt to summit Everest, so the trails are full of trekkers and climbers.
October until late December can be a great time to trek to Base Camp, the skies are usually clear offering amazing views of the freshly, snow covered mountains. Towards the end of November into December, the trails become less crowded which can make your trek more enjoyable, but the nights become cold, frequently dropping into minus figures.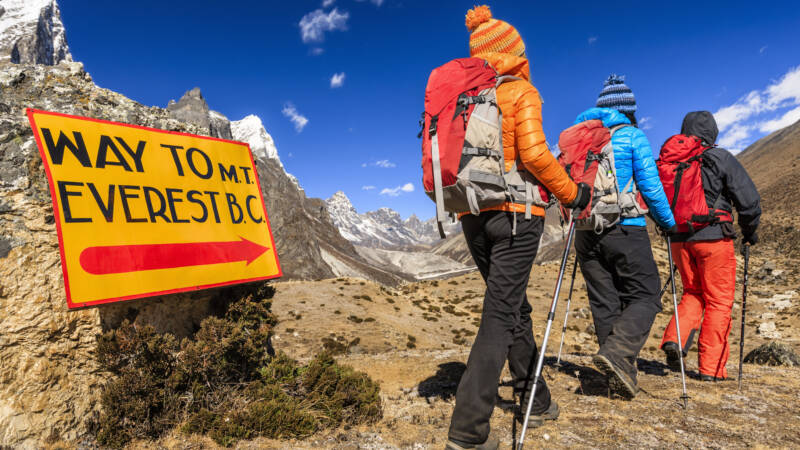 How fit do you really need to be?
The fitter you are the easier it will be, but that doesn't mean you've got to be super fit. We would put both of us into the category of an average fitness. A couple months before we left the U.K we use to run 5K twice a week and tried to go on a long walk every weekend. But to be honest, unless you live in a mountainous region it will be hard to get the type of training you need to prepare for Everest base camp. As our guide told us, as long as you take it slow and steady and listen to your body you'll be fine.
How much does it cost?
This also depends on how you decide to go about it. If you decide to trek independently you will spend on average between $20 to €30 a day on food and accommodation, plus any snacks you may want to buy during the day. Depending on your negotiating skills the majority of lodges will actually let you stay for free of a few $ as long as you eat your meals at the lodge. If you take the independent trekking route you will also have to arrange and pay for transport to and from the domestic terminal at Kathmandu airport, flights to Lukla which cost $148 one way (unless you plan to trek from Jiri or Shivalaya, which will add a further 8 days on to your trek) plus your TIMS card and the Sagarmatha National Park entrance fees which costs $20 and $32 respectively.
Another option is to contact a local trekking agency in Kathmandu and get the trek tailored to your liking. After much thought, we decided against trekking independently and arranged for Nepal Hiking Adventure to arrange the flights and permits and provide us just with a guide but no porter. Depending on the guide's experience you can expect to pay between $20 – $35 a day, beforehand make sure you spend some time getting to know them. You will be spending 2 weeks trekking with the guide so it's good to get on together. The price of a porter can range between $10 – $20 a day. This option provides a happy medium between the cost of trekking independently and going with a group tour.
Which leads us to the last option which is the group tour. There are literally hundreds of international and local companies offering group tours to Everest Base Camp, you could arrive in Kathmandu and book onto a group tour leaving in the next couple days or larger international companies like G Adventures offer online booking. The positives of joining a group tour are, that everything is arranged for you, all you have to do is get yourself to Kathmandu. You will also get to meet and trek with a group of 10 -12 people from all over the world, giving you a chance to make new and possibly life long friends.
The downside of group tours is that in our opinion you have no control, everything is arranged from the trekking itinerary to each lodge you will stay at. You will also overpay, sometimes by $600 compared to going with local trekking agencies or independently.
What is the accommodation like?
If luxury accommodation is your thing then maybe this trek isn't for you, the accommodation along the trail is very basic but comfy. Each tea house has a number of rooms, usually consisting of two single beds with one pillow and blanket, a shared bedside table and a few coat hooks, and that's it. The walls are consist of thin plywood/chipboard, so you will hear what your neighbours are up to, so bring earplugs. At the start of the trail in Phakding and Namche it is possible to find rooms with an ensuite toilet but the majority of the time it will be shared toilets. Hot showers are available but it will cost you and once you're above a certain height once you're wet, it's hard to get warm again. But don't be put off, overall the tea houses are well maintained, clean and comfy.
What kind of trekking gear do I need?
This is completely down to the choice of the person doing the trek, you could spend a fortune on all the different gear you may need for the trek to base camp but you can also get by with the bare basics. We are in the middle of putting an Everest Base Camp packing list together and will link it here once it's finished. But for now, we have highlighted the three most important things you must have on your trek, without these the trek to Everest base camp will become a lot harder and uncomfortable, but still not impossible.
1 x Thermal Jacket – This can be hired in almost every other shop in Thamel for around 100 rupees (£0.75) a day. You can also buy them for a good price depending on your bartering skills. Just don't expect them to last much longer than the trek.
1 x Sleeping Bag – Again unless you want to carry the extra weight while travelling to Nepal you can hire a sleeping bag once in Thamel for around 100 rupees (£0.75). If you are travelling in winter you need to get at least a three season bag to stay warm.
1 x Hiking Boots/Shoes – This is one item that shouldn't be overlooked and worth spending money on. You will be walking on average 5-6 hours a day, so you need to look after your feet. Make sure your boots are comfy and well broken in before attempting the trek, you don't want to make it harder for yourself by getting blisters along the way.
What permits and documents do I need?
To trek to Everest base camp you will need to get a TIMS Card, you will need to provide the dates of your planned trek, an itinerary and contact number. You will also need a copy of your passport and provide two passport sized photos. If you're trekking as an organised group or through a trekking agency they will take care of this and it should be included in the price. If you are an individual trekker you will need to go to the Nepal Tourism Board office in Kathmandu or Pokhara and apply for one yourself.
You will also need to pay the Sagamartha National Park entrance fee, this can be paid for at the entry point on the trail in Monjo or beforehand in Kathmandu at the Tourist Service Centre. For more information please visit the website here www.welcomenepal.com.
It is also advisable to contact your countries embassy upon arrival to Nepal, to let them know of your planned trekking dates and route. It's also a good idea to carry a copy of your insurance details and emergency numbers.
How to prevent and deal with altitude sickness?
Altitude sickness or acute mountain sickness can affect anyone, you could be the fittest person on earth but still succumb to the effects of altitude, no one knows when it will happen or at what altitude and if you are unfortunate to get altitude sickness the only way to recover is to descend back down to lower altitudes. Minor symptoms of altitude sickness are headaches, loss of appetite and insomnia, most people will experience at least one or all of these symptoms, we had all three at some points of the trek. Severe symptoms include shortness of breath, at rest, severe headaches, vomiting and diarrhea, dizziness, coughing, retinal hemorrhage and Edema. But while some of the symptoms sound terrifying very few trekkers get severe altitude sickness on the trek to Everest base camp, there are steps to try and prevent altitude sickness and reduce your risks.
While booking or planning your trip to Everest Base Camp make sure the itinerary includes at least two acclimatization days. Depending on the route you take the acclimatization days are usually day 3 at Namche and day 6 at Dingboche. These acclimatization days are essential for your body to acclimatize to the change in altitude helping your chances to a successful and safe ascent. Once you reach 3,000m you should not increase the altitude at which you sleep by more than 300 – 400m a night. It's advised to climb high and sleep low, so for example when you land in Lukla to begin your trek your first night will be in Phakding which is 200m below your starting point.
Drink plenty of water, you need to drink between 3 – 4 litres every day to keep you hydrated, trekking at altitude can dehydrate you very quickly due to less moisture being in the air and water vapor evaporating from your lungs at a higher rate.
Take it slow, the slower you go the better. It's not a race to the top, take your time and let your body adjust. There is also a host of drugs you can buy that will help prevent/cover up symptoms of altitude sickness but we are not in a position to recommend this.
What is the food like on the trek, and how easy is it to get water?
From our experience, the food got worse the higher we went. Tengboche and below the food was actually quite nice, meat was available but we stuck with vegetarian food for the duration of the trek. Everything in the mountains has to be carried up so we didn't really want to risk eating meat that it could have been not refrigerated for 2/3 days.
The types of dishes you'll expect to see are along the lines of veg noodles, noodle soups, all types of cooked eggs, Dal Bhat which is the mainstay of Nepalese food, they eat it 2/3 times a day, every day. You should definitely try it, we loved it. Fried rice, veg fried rice, and pizzas, which we heard weren't so good. The breakfast menu was quite good, you could have tea, coffee, toast, porridge, fruit, muesli and fried potatoes and eggs. Dom is quite a fussy eater and he managed to find plenty of food he enjoyed.
As for getting water on the trek, bottled water is readily available and can be bought almost everywhere, but it's expensive. The cheapest we saw was 100 rupees and the most expensive at Gorak Shep was 400 rupees, compared with 20 rupees in Kathmandu. The prices rise the higher you go which is understandable but we thought this was pushing it a bit too much. To save money on buying water either buy iodine or water purification tablets in Kathmandu and ask the lodge to fill your water bottle each time. Or the other option is to get a water purification system, we used a Steri Pen Adventurer Opti which worked fine and we didn't get ill once.
Can you connect to the internet while trekking?
Yes, but the majority of the time it will cost you. All the lodges have WiFi but you've got to pay for it, and the higher you go the more expensive it is. At Dingboche, we paid 500 rupees for unlimited WiFi but in the evenings the signal usually goes. The only two places we found free WiFi was the Foot Rest Lodge in Namche and the Namche bakery.
Upon arrival to Nepal, we bought a 5GB Ncell sim card at the airport and we received 3G signal all the way up to Tengboche before we lost it and then reappeared at Gorak Shep and base camp.
How long does the trek take?
The typical Everest base camp trek where you fly in and out of Lukla, trek to base camp and back safely takes 13 days, which includes two acclimatisation days that are a must. Please don't attempt the trek without including these days. If you decide to walk in from Jiri or Shivala you can add a further 8 days to your trek.
There are of course other options which you can add on to your Everest base camp trek, such as Cho la pass and Gokyo lakes, Ama Dablam base camp and even climbing island peak.
Should I book a group tour or can I trek independently?
This is something only you can decide and is down to personal choice and cost. Both have positives and negatives, with a group it gives you a chance to make good friends with people from all over the world, everything is arranged for you, so all you've got to do really is turn up and walk. If you don't like your own company then this would ideally be the best option.
Trekking independently gives you a lot more freedom to stop as much as you want, decided which lodges you want to stay at and extend your trip if wanted. Unless your trekking in the off season your never be lonely on the trail and will have plenty of people to chat to once you've arrived at the lodge. Trekking independently can be dangerous and if possible it's always best to find another person to walk with, the Himalayas can be a dangerous place and you wouldn't want to be on your own if you get into an accident or suddenly become ill.
Other treks in Nepal
The majority of trekkers heading to Nepal go for the Everest Base Camp trek, but the country has so much more to offer, trekking wise than just Everest. Another popular trek is the Annapurna circuit which we are yet to do, if interested and want to find out more, then check out this great post by The Common Wanderer – Read this before hiking the Annapurna Circuit: 21 essential things to know.
We hope you have found the above information helpful, and hopefully, would have answered some questions on how to prepare for a trek to Everest base camp. If you are planning to go and have any other questions, comment below and we will do our best to answer them for you.