A fresh New Year is upon us, and with it comes an array of innovations across multiple consumer product categories and sectors—from audio to beauty, fashion and self-care to security-minded hardware—and much in between. With reports citing that 2019 will be a pivotal year for consumer technology, here's a look at some noteworthy travel-enhancing solutions that are keen on making an indelible impact on our lives and journeys this New Year and beyond.
Rowkin True Wireless Earbuds (www.Rowkin.com)

True wireless headphones from Rowkin are a perfect gift or get for the New Year, for pretty much anyone and any occasion. The Ascent Charge+ model features an ergonomic fit primed for security and comfort. Constructed with a premium mylar diaphragm driver as well as an acoustic cavity, these earbuds produce dynamic sound and impactful bass with the benefit of touch controls. The case is Qi-compatible for wireless charging (comes with a Qi wireless charger in the box) while also doubling as a power bank to keep your other devices charged courtesy of USB-C rapid charging. The Ascent Charge+ also features a mobile app for locating your earbuds and personalizing your sound profile. The Ascent Micro model also has many similar features to the Ascent Charge+ but is even more compact for easy portability! While small, the Ascent Micro charging case keeps your earbuds charged for up to 17+ hours.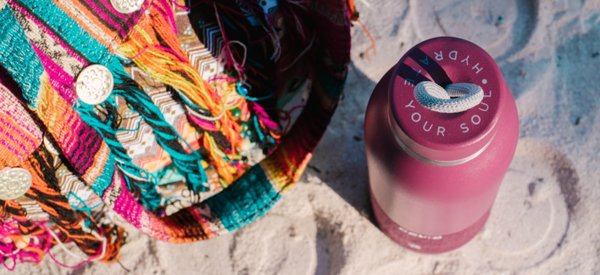 USA-designed Aquio water bottles with detachable Bluetooth speaker, powered by iHomeAudio, are manufactured with high-quality stainless steel that is also notably BPA-free. Available in four fashionable colors–midnight, seafoam, merlot and blush–it is an ideal hydration bottle for those who lead an active lifestyle and love taking their music with them on-the-go.  Aquio's removable speaker is powerful, IP67-rated waterproof, sand-proof and features designer weather-resistant premium woven acoustic fabric. Its rechargeable battery provides up to six hours of wireless audio playback time.  The 16-ounce bottle, designed to fit all cup holders, is double wall steel-insulated maintaining temperatures up to 14-hours for hot liquids and a full 24-hours for cold.  Aquio's mission is to reduce the world's reliance on disposable plastic water bottles by making reusable bottles fun and fashionable.
Owl Cam Automobile Security Camera (www.Amazon.com)

Owl Cam is a first-of-its-kind device combining video security with an instant emergency response service to assist in the event of an automotive accident or other security or emergency situation. Owl Cam sits on your vehicle's dashboard, capturing 24-hour footage with real time updates sent directly to your smartphone. Doubling as a travel buddy, Owl Cam also makes it easy to download and save high-definition photos and videos of the funny and meaningful moments or breathtaking views throughout your road trips. Features include dual-facing HD cameras, 4G LTE, Wi-Fi, Bluetooth, and GPS, instant video access from anywhere from your smartphone, a 14-day video loop, voice capture and naming, anti-theft floodlights and also the assurance that your videos are 100% private: only you can see, share, or delete them.
Ellie Fashion-Tech Activewear Subscription Box (www.Ellie.com)

Ellie.com offers monthly activewear subscriptions allowing members to liven up their fitness routines with one of three featured outfits from top-quality activewear brands like Marika, Bally Total Fitness, Balance Collection and Zobha. Clothing that Ellie.com offers, like Marika Activewear specifically, integrates the latest in fashion technology and best raw materials to create apparel that looks as good as it feels. Through an extensive patent portfolio, clothing Ellie and Marika offers push the boundaries of innovation. This includes Elasta-Tight–comfortable, shape-enhancing fabrics that sculpt the body in all the right places; Dry-Wik–technologies that separate sweat from fabric, promoting quick evaporation; and Shape Tek–a power-mesh system with a superior stretch designed to create a natural and slimming appearance. Affordably-priced and effortlessly chic, Ellie's subscription box pricing starts at just $40 per month for a quality and stylish 3 piece outfit, including a legging, sports bra and seasonal tops ranging from tanks, tees, hoodies and lightweight jackets. For an additional $10, select the 5-piece option and get two fun fitness accessories to compliment a pre-styled 3-piece outfit. If you can't get enough of the Marika activewear gear, that particular brand is carried by over 10,000 leading retailers across America. Their fashionable & affordable lifestyle wardrobe includes timeless staples alongside strappy details, bold colors and trendy prints with all garments created with comfort and fit in mind.
iStorage diskAshur² Portable Encrypted Hard Drive (www.Amazon.com)

iStorage's range of ultra-secure PIN authenticated hardware encrypted HDD/SSD and USB drives are the perfect solution to keep data secure and protected—even while on-the-go. Use it for when you need to store movies, games, or if you just need to transfer photos from that fabulous vacation.  The diskAshur² is the ultimate encrypted hard drive for storing precious data, such as family photos and videos. Once you set your unique PIN code, everything it contains will be safe from prying eyes. They're great for storing family and work documents without the fear of the data getting lost or stolen. iStorage, an award winning and trusted global leader of PIN authenticated, hardware encrypted portable data storage devices, launched this new line of diskAshur² solid state drives and its USB 3.1 the diskAshur² hard drive all featuring Enhanced Dual Generating Encryption (EDGE) technology, making them THE most secure data storage drives available on the market. EDGE™ Security employs built-in physical protection mechanisms designed to defend against external tamper, bypass laser attacks and fault injections. In short, without the PIN, there's no way in! Plus with the HDD available in capacity options from 500GB to 5TB, there will be plenty of space for all the family's needs. With software free set up and operation, the diskAshur² HDD is platform/device independent, so it works across all operating systems including all versions of MS Windows, macOS, Linux, Android, Chrome, Thin Clients, Zero Clients and embedded systems. In fact, the drives will work on any device with a USB port.
Reportedly a celebrity and salon-stylist favorite, the breakthrough StyleCraft Shmedium travel flat iron is a first-of-its-kind device. Its palm-sized making it perfect for travel, plus it has plates that are longer than most standard flat irons for easier, faster styling. Also well-designed, it protects and conditions the hair while it smooths, shines and defrizzes—all simultaneously. Shmedium can be used every day, including at the office or gym for touch-ups, and has universal voltage for series travel. The device features Tri-Plex Fusion (TPF) technology to revitalize and restore hair from the inside-out, as well as a unique ceramic complex for mega doses of negative ions to close and seal the cuticle. Plus, it has advanced Tourmaline infusion emitting 20 times more negative ions than traditional tools for a silky and shiny result. Also cause-conscious, a portion of the profits are donated to Art in Action—a non-profit organization benefitting children.
While there are many teeth whitening products out there on the vast marketplace, items from bright on from SmileDirectClub is uniquely different because it is professional grade quality for a fraction of the cost, starting under $30. There are two different variations within this new whitening line: whitening pens, and the whitening pens paired with an LED accelerator light. The bright on pen has reportedly been proven to work faster than the leading whitening strips and is formulated with the same enamel-safe whitening agent used by dentists. The LED accelerator light can add a boost to your treatment, helping you get your brightest smile in a shorter amount of time. Prices range from $29-$49 for whitening pens, $49 for the LED accelerator light, and just $79 for the full whitening kit.  The entire process makes it even easier for people to feel confident in their smiles, without breaking the bank. Bright on also highlights SmileDirectClub's larger mission to increase access to orthodontic care, because it gives people the ability to own their smile and feel confident throughout life's most memorable moments.
Neutrogena's Skin360 is an at-home, dermatologist-grade skin analysis tool that demystifies skincare by tracking skin health both above and below the surface for tailored skincare advice. The Skin360 app it interfaces with leverages Neutrogena's wealth of scientific research to analyze your personal results. The tool provides scores for pores, lines, wrinkles, offering an overall Skin360 Score that helps form a personalized daily product regimen to keep your skin healthier and happier. When purchasing products with the Skin360 app, users can also get 25 percent off and free shipping from the web site for two years.
iHome Zenergy Aroma Bluetooth Therapy Speaker (www.iHomeAudio.com)

Create a calming environment throughout your home with the combination of light, sound and aroma therapy. iHome's iZABT50 Zenergy Bluetooth Speaker features six different sound therapy tracks designed to calm you mind, lower your breathing and heart rate and prepare your body for sleep. You can also select from seven different 115 Lux, full-color light therapy modes designed to align your circadian rhythm at night and improve your mood throughout the day. iHome's Zenergy Aroma Bluetooth Therapy Speaker features two audio sources: built-in sound therapy and Bluetooth wireless audio streaming from your mobile device. It also includes aromatherapy to help create a calming environment with the use of essential oils (initial 5ml lavender supply in the box), with absolutely no water needed.
Nod Premium is a new baby sleep coaching app from Rest Devices, with users reportedly confirming that, within a few weeks, both parents and their babies consistently got an additional two hours of sleep per night. The new AI technology incorporated in the app was created in partnership with 60 of the world's leading sleep experts. Nod's machine-learning platform evaluates parents' existing bedtime routines for their baby, and then creates a customized plan to optimize each child's sleep experience based on clinically-validated behavioral techniques. So this is a great solution to help parents and babies sleep easier in the New Year.
Quell Neurotech Chronic Pain Reliever (www.QuellRelief.com)

For those that suffer through life, and their travels, in constant discomfort, Quell is a 100% drug-free wearable device for a wide range of chronic pain conditions, using prescription-strength nerve stimulation technology to help soothe your struggle. Quell's powerful, patented neurotechnology sends neural pulses to the brain, triggering your body's natural pain blockers to relieve chronic pain in the feet, legs and low back. And since everyone's pain is unique, the Quell Relief app makes it easy to personalize therapy to your needs. After you calibrate Quell, you can start and stop therapy, adjust intensity, and track activity, sleep and pain from the app. Quell is the only over-the-counter electrical nerve stimulation device that is FDA cleared for both day and night use (24/7), so you can experience pain relief while you're active or asleep. In a published study, 81 percent of Quell users reported improvement in their chronic pain after 60 days of use. Nerve stimulation, such as Quell, can reportedly have widespread effects that provide pain relief beyond the site of stimulation providing even greater relief.  Quell also comes with a 60-day money back guarantee!
~~~
***Some or all of the accommodations(s), experience(s), item(s) and/or service(s) detailed above may have been provided at no cost or sponsored to accommodate this review, but all opinions expressed are entirely those of Merilee Kern and have not been influenced in any way.***
As an Amazon Associate I earn from qualifying purchases