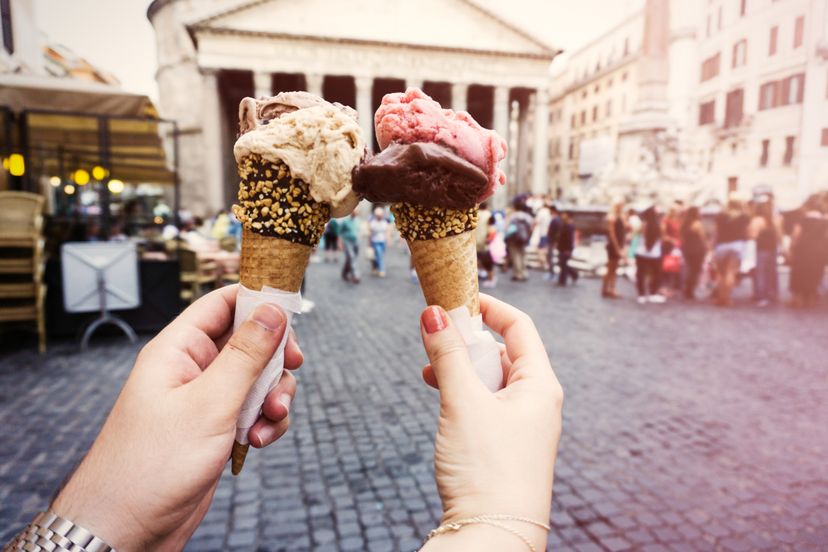 When you think of street food, Italy doesn't usually come to mind. Italian cuisine is more commonly thought of as extravagant meals, with multiple courses. While this is true, Italy is also home to some of the most delicious street food you need to try. Italian vendors are masters at making fast and delicious food from the best quality ingredients. This results in fresh, flavorful food offerings you can enjoy while you wander the beautiful streets of Italy. From the best Italian pizza to deep-fried seafood served in a paper cone, here are the best street foods in Italy you don't want to miss! 
Piada 
Piada, also known as Piadina, is a popular Italian flatbread sandwich. It's a specialty of the Emilia-Romagna region, located between the Apennine mountains and the Adriatic sea. Recipes for Piadas have been passed down for generations and in some cases are reinterpreted with modern techniques. When you find yourself in the Emilia-Romagna region, do not miss your chance to try one fresh from the hot oven!
The thin, round flatbread is traditionally made with white flour and extra virgin olive oil. As soon as it's prepared it's immediately stuffed with cheese, cold cuts, and vegetables. Be sure to enjoy it right away to appreciate the aroma of the freshly baked bread. 
Porchetta
This succulent, savory boneless pork roast is seasoned with salt and herbs and roasted on a spit until perfection. It is often stuffed with garlic, rosemary, fennel, and other herbs. You can find Porchetta throughout Italy but it originates in Ariccia, a town in Rome. 
The typical way porchetta is served is sliced and piled on a crusty roll, making for one savory sandwich! That said, you can also often buy it by the kilo from a food truck. Either way, you do not want to miss your chance to try this delicious street food in Italy! 
Pesce Fritto Al Cono
Is there anything better than wandering the streets of Italy, eating fresh seafood out of a paper cone? We didn't think so. This awesome street food called Pesce Fritto Al Cono can be found in many Italian port towns. 
When they say fresh seafood they mean fresh. The catch of the day is brought in from the fishing boats each morning and vendors buy directly from them. The seafood is lightly battered and fried right in front of your eyes. Depending on the catch of the day you may be treated to a mixture of fish, shrimp, or squid. We highly recommend squeezing a little lemon on top for an extra kick and then enjoy eating it with your hands or the spear provided.
Zeppole
Zeppole are deep fried balls of dough that can be found literally everywhere in Italy, from bakeries to cafes to street fairs. They are said to have originated in Naples and Rome but nowadays every city and town has put their own unique twist on them. 
These mini beignets or donuts can be found filled with pastry cream, jelly, custard, and even a butter/honey mixture. They are usually topped with powdered sugar and range in consistency depending on where you get them. Even though many people rush to the bakeries to get these enticing treats, the best ones come from the food stalls. The vendors will pop them right out of the fryer into a paper bag and then they are passed to you. Be sure to enjoy these hot and fresh! 
Stigghiola
This Sicilian food specialty is mainly found on the streets of Palermo. If you're looking to try something unique be sure to give this a try. Stigghiola consists of intestines of a lamb, or sometimes a chicken that has been washed in water, seasoned with salt, skewered, and grilled. 
Other seasonings often include parsley, onion as well as other herbs. Further, you'll often find that the intestines are skewered around a leek. Don't worry, this particular street food is a lot tastier than it sounds! We suggest heading to an outdoor market after a few bottles of wine and indulging in this odd but otherwise delicious street food.
Panelle
Panelle may be the simplest of all Italian street foods but don't let that fool you, this food is both popular and delicious. If you like falafel you're going to love these golden fried chickpea fritters. They can be enjoyed alone or piled high in between a bun and served as a sandwich.
Many people like to enjoy this with a little lemon squeezed on top or with a sprinkle of pecorino romano (a salty Italian cheese). Even though Panelle has been known as a peasant's food or food for the poor man, both locals and tourists will line up at the street vendors just to try them!
Arancini
Arancini means "little oranges" in Italian but don't be surprised to find there is nothing fruity about these amazing rice balls. These golden-orange deep-fried rice balls are crispy on the outside and creamy on the inside. 
They originate from Sicily in the 10th century and are now a popular snack that you can find across Italy. These delicious rice balls are commonly stuffed with ground meat, cheese, and peas. Tourists often make the mistake of ordering just one rice ball. So do yourself a favor and order at least 2 or 3, with a side of tangy arrabbiata sauce, and prepare yourself for the perfect meal. Keep in mind, if you want the best you have to go to the original source and head to Sicily for true authentic arancini.
Lampredotto
If you find yourself in Florence, you need to try their famous local street food, Lampredotto. It starts with a cow's stomach and while that doesn't sound overly appetizing it is simmered in a delicious herb-infused tomato broth. Locals line up daily for this delicious food and if you ask them, they highly recommend you try it too.
Lampredotto can be enjoyed as a standalone on a plate but you can also have it served on a bun. If you opt for the sandwich, be sure to ask to have it dipped in the tomato broth and topped with salsa verde! 
Crema Fritta
Fried custard, do we really need to say more? Crema Fritta is actually thick custard cream that has been breaded and then deep-fried. This results in one of the most delicious street foods you have ever had. 
These deep-fried delights have a diamond shape and are best enjoyed when they come straight from the fryer. They're served in a paper cone so you can enjoy the delicious gooey treat while wandering the picturesque streets of Italy. Fair warning, you won't want just one of these amazing desserts!
Panzerotti
Panzerotti is kind of like a hot pocket only a lot better. This half-moon shaped pastry is similar to a calzone but with a lighter dough. A combination of cheese and tomatoes make up the filling of this delicious street treat. The pastry is then fried until it's perfectly golden and crispy.
Even though you can find panzerotti in every restaurant, and pretty much in every country, nothing beats eating this off a napkin from a street vendor in Italy. Look for the stall which has the longest line and head there. With a plethora of options for fillings, you will be devouring this cheesy parcel in no time.
Olive All'ascolana
These fried olives are a culinary signature in the Le Marche region, a region that lies between the Apennine Mountains and the Adriatic Sea. The green olives are stuffed with spiced ground meat, and sometimes parmesan cheese. Then they're lightly breaded and fried to golden perfection. 
The green olives that make up this remarkable tasting dish are actually only found in this region so be sure to head here to try one! They can be found in wine bars but the best ones are often found in a paper cone or bag, straight from the street vendors. You will be hard-pressed to find a snack this size that offers such great flavor.
Pani Ca Meusa
Pani Ca Meusa, known as a traditional Sicilian sandwich, is another unique food from the streets of Palermo. It is made up of chopped veal lung and spleen. In Palermo, you will find people lining up at every street corner to buy this delicious sandwich. 
If you can get past the fact that you are eating spleen and liver, these sandwiches are in fact quite tasty. The meat is tender, the grated caciocavallo cheese is amazing and the bread is both nutty and soft. Most people like to squeeze a little lemon on top for extra zest.