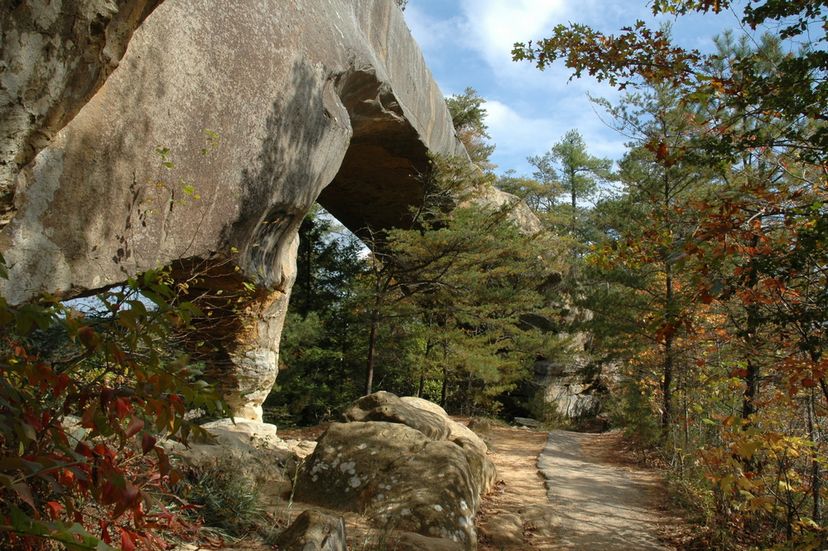 Kentucky is legendary for thoroughbred racehorses and bourbon, but anyone who has visited the Bluegrass State knows that its natural wonders are not to be missed.  Mother Nature has truly blessed Kentucky with a dazzling array of outdoor attractions, many of which are world renowned for their unique features.  From a truly mammoth cave and a 600-foot gorge where the world's best rock climbers test their skills, to a majestic waterfall that puts on a lunar light show seen nowhere else in the Western Hemisphere, Kentucky's natural wonders are, in a word, wonderful.
5. Lake Cumberland
With the majority of U.S.-made houseboats manufactured in counties surrounding Lake Cumberland, the majestic lake naturally is a great place to spend the night on the water. The 50,000-acre, deep-water lake offers seemingly countless secluded coves and fingers to anchor a houseboat away from the main channel, where skiing and tubing are popular. Much of the lake's meandering, 100-mile-long shoreline is heavily wooded and undeveloped, including soaring cliffs which create privacy that's hard to find on many recreational lakes. The clean, deep water teems with game fish to challenge anglers. Striped bass are especially popular, and guides know the hot spots that can yield stripers of over 50 pounds. A 22-pound walleye and 208-pound catfish also have been brought out of Lake Cumberland's waters, and trout fishing is productive near the mighty Wolf Creek Dam.  Historic Burnside Island is surrounded by the lake and features a golf course.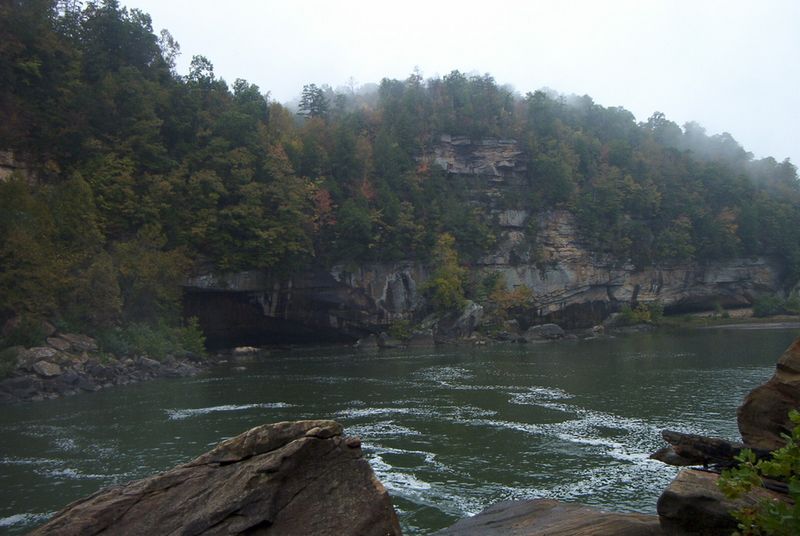 4. Big South Fork National Recreation Area
Situated on the Cumberland Plateau straddling the Kentucky and Tennessee border, Big South Fork National Recreation Area is where the folks who take their outdoor sports seriously go to get away from the crowds.  Its 125,000 acres of sandstone arches and high bluffs overlook the rollicking Big South Fork of the Cumberland River and several tributaries, where some of the best canoe and kayak whitewater east of the Mississippi River beckons. The river can be accessed at several spots, which yield runs of widely varying difficulty including a stretch of several Class III-IV drops in quick succession. Over 150 miles of maintained hiking trails lead to many spectacular views including the Grand Gap Loop that takes hearty hikers to a huge boulder some 500 feet above the rapids. Designated horse and mountain bike trails make those sports popular in this rugged and beautiful region.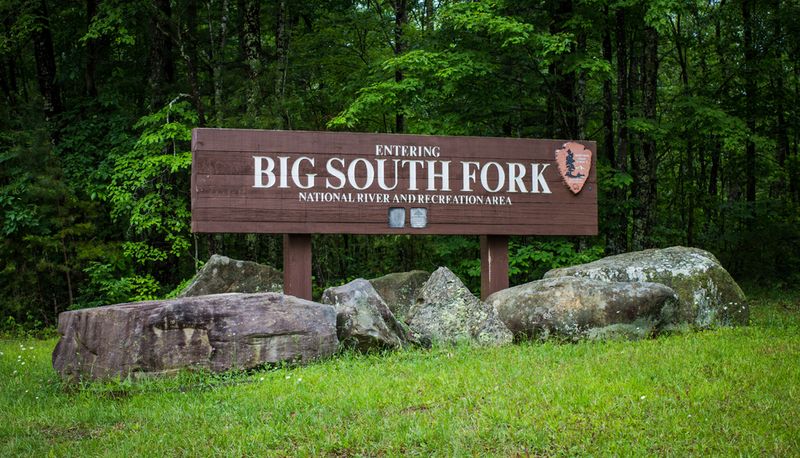 3. Red River Gorge Geological Area
Only an hour southeast of Lexington, the Red River Gorge Geological Area and adjacent Natural Bridge State Resort Park offer a world of outdoor adventures in an easily accessible wilderness setting.  They showcase the largest concentration of sandstone arches (over 100) east of Colorado including Natural Bridge, a 78-foot-long, mountaintop span overlooking the 600-foot-deep gorge and other unique rock formations nearby.  The area is a hiker's paradise with 80 miles of trails winding through the gorge and along the Red River, Kentucky's only designated Wild and Scenic River, where guides offer canoe and kayak excursions below the towering cliffs.  The gorge's pockmarked sandstone cliffs feature many natural handholds and overhangs that attract the world's top rock climbers.  It's possible to watch expert climbers in action or even take climbing lessons yourself.  Zip line tours, cycling, horseback riding and ATV excursions also are popular at the gorge.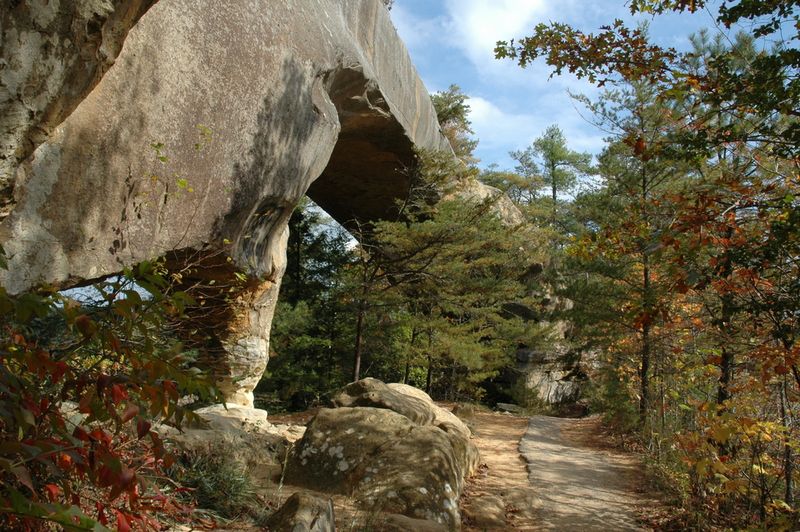 2. Cumberland Falls
Cumberland Falls is one of those amazing places that truly lives up to its 'world famous' billing.  Cascading 65 feet into the roaring Cumberland River in Southcentral Kentucky, the 'Niagara of the South' is one of only two waterfalls in the world (Africa's Victoria Falls is the other) where colorful moonbows can be seen on clear, moonlit nights.  Full moons are festive events at Cumberland Falls, where people from around the world can be seen perched in various vantage points, trying to capture the perfect photo of the exceedingly-rare moonbow.  Spectacular views are easily reached on both sides of the falls, where a network of hiking trails makes daytime adventures equally enjoyable.  Outfitters offer canoe, kayak and rafting trips on the scenic Cumberland both above and below the falls.  The state park surrounding Cumberland Falls features rustic cabins, camping, horseback riding and a historic lodge perched high above the river.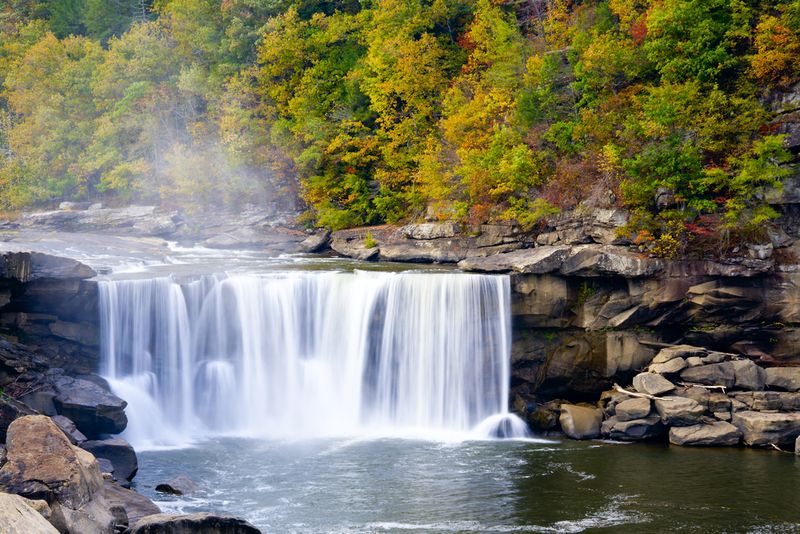 1. Mammoth Cave National Park
The world's longest known cave system with 400 miles explored, Mammoth Cave National Park is the granddaddy of underground attractions in the U.S. and among the most spectacular sites on the continent. Native Americans gathered minerals inside the cave up to 4,000 years ago, and tours have been conducted since 1816. The sheer size of the massive cavern is mind boggling, with narrow passages opening up to huge rooms and amazing stalagmite and stalactite formations.  Natural works of art like the aptly-named Cathedral Dome and Frozen Niagara are simply stunning, as are the total darkness and silence when your tour guide turns off the lights and asks everyone to be quiet. The national park in Southcentral Kentucky offers much more than cave tours, including over 80 miles of hiking, horseback and mountain biking trails, great fishing and canoe adventures on the gentle Green River that contains some 100 species of fish.