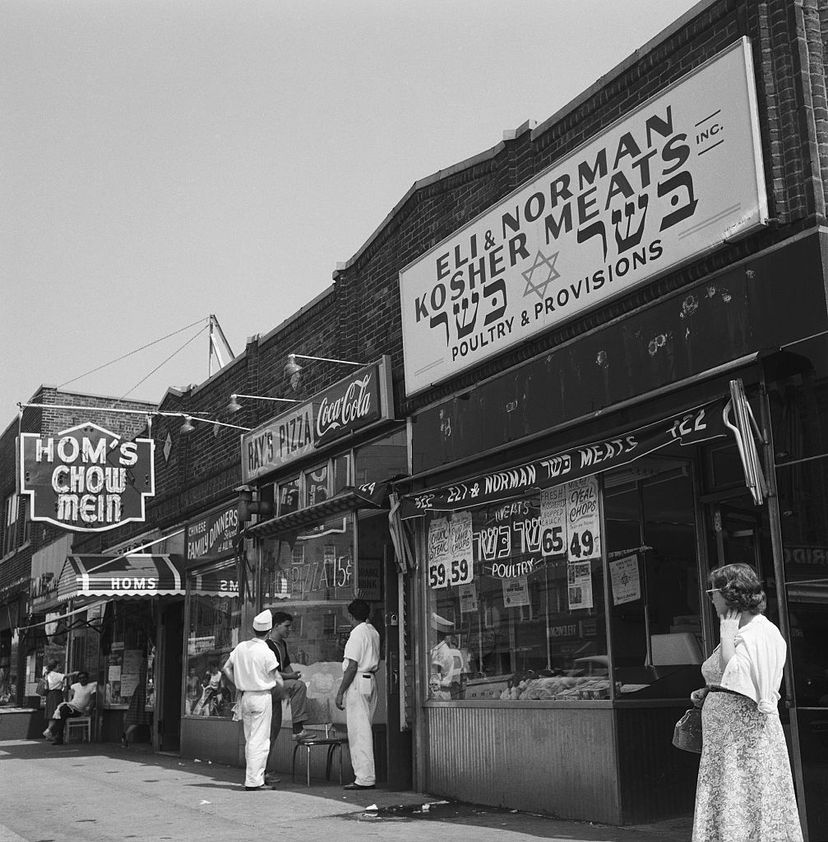 Brooklyn is one of the most historic boroughs in New York, and anyone looking for kosher menus will have no problem finding something they like. The area is full of diverse establishments that each prepare its food with the finest ingredients, preparation methods, and flavors. From Chinese food to Italian, to the Mediterranean and beyond, there's something for everyone eating kosher in Brooklyn, regardless of whether you're a traveler or local. Here are 10 kosher restaurants in Brooklyn.
Basil
Since opening in 2011, Basil has made itself known as one of the best kosher Italian restaurants in the city. This high-end bar and restaurant use simple and high-quality ingredients. Basil's open concept kitchen adds to the dining experience as customers get a full view of the energetic kitchen while they wait for their food. Taste test the wood oven pizzas such as wild mushroom, balkan pastry, kale, and fire or classic marinara. You could also stop by Basil for brunch and enjoy house specialties like the kabocha squash soup or truffle mac and cheese.
Nish Nush
Everything on the menu at Nish Nush is all-natural and vegetarian, in addition to kosher. Using family recipes from Israel, customers can enjoy traditional Mediterranean cuisine for brunch, lunch, and dinner. Everything is freshly made every day, including the hummus and falafel. You can enjoy a classic falafel or be more adventurous and try the red-hot chili falafel. Choose between a long list of great add-ons to your meal such as baba ganoush, labneh, and matbucha. There is also an extensive drink menu that has both a smoothie bar and homemade cold drinks. Nish Nush is the top-rated kosher restaurant in the area according to Tripadvisor reviews!
The Loft Steakhouse
As the name references, The Loft Steakhouse is a two-story loft with exposed brick and warm colors. It opened in 2009 and is run by Chef Boris Poleschuck, a true Brooklyn local and a former contestant on season six of Gordon Ramsey's cooking show Hell's Kitchen. The Loft Steakhouse defines its cuisine as classic American with an ethnic touch. This means you can find a little bit of everything on the menu from a barbecued beef burger, to pan-roasted Mediterranean bronzini, to blackened rib eye from the grill.
Carlos & Gabby's
It's not too often that you can find a kosher restaurant with Mexican food, but Carlos & Gabby's delivers just that! You can indulge in Mexican specialties like a beef chimichanga, tacos, chicken and chili enchiladas, burritos, and more. Forget about calories with delicious sides like chili cheese fries, onion rings, chili lime skewers, and mini shredded steak burritos. You won't be disappointed at this kosher restaurant in Brooklyn!
Buddha Bodai
Buddha Bodai has been the go-to vegetarian and kosher Chinese restaurant for locals since opening for business in 2004. Located in Chinatown, customers can expect food rich in flavor and with deep roots in China's culinary history. The place is run by Chef Dong who has been keeping customer tastebuds happy with vegetarian meals for over 45 years. There are so many menu items to choose from at Buddha Bodai, but consider some of the most popular choices such as the shrimp dumplings, sesame chicken, or triple mushroom pan noodles. Everything is vegetarian, including the dim sum, and is made with a variety of mock meat options.
Olympia Pita
If you're in the mood for middle eastern eats, pay a visit to Olympia Pita. The place is famous for its laffa bread and Israeli-style salads. Everything is kosher and guaranteed to taste authentic and flavorful. The menu features classic dishes such as shawarma, falafel, kebabs, and hot soups, along with specialty items like lamb chops, Yemenite soup, and grilled steaks.
Retro Grill
For some American favorites, look no further than Retro Grill. This kosher restaurant is nostalgically designed with vintage posters in an old-school diner setup. It's also a short walk to the seaside since it's located at the end of Coney Island Avenue. Feast your eyes on the Retro Grill menu which consists of all types of comfort food. Hot dogs, hamburgers, and sandwich specials can come with fries or crunchy salads on the side. There's also something for the kiddos, with a six ounce burger option and crispy chicken fingers.
Jay & Lloyd's Kosher Deli
Named after the owners who were born and raised in Brooklyn, Jay & Lloyd's delivers quality deli food. They've been friends since the age of four and wanted to carry on their family's food traditions that go as far back as three generations. You'll be ready to order as soon as you step through the door thanks to the aroma wafting through this deli. As one of the few kosher delis left in the area, customers have complimented Jay & Lloyd's for its authentic and melt-in-your-mouth menu items. The hot pastrami is smoked with schmaltz, while the corned beef and other meats are all cured in-house.
VSPOT
After a pair of brothers partnered up in 2006 to open VSPOT, the restaurant quickly grew to become one of the best places to eat plant-based food. The menu was tediously designed with Latin and Colombian style dishes such as empanadas, spicy buffalo strips, and lots more. Peruse the menu and check out the two for $9 tacos and quesadilla supreme that's loaded with chipotle refried beans and other mouth-watering flavors.
Bison & Bourbon
There's a lot to like about Bison & Bourbon. For starters, it's the largest kosher restaurant in the borough that has extensive food and drinks menu. The building itself has a cool ambiance because of its 1920s-era warehouse that was tastefully updated. To retain some of the building's history, the designers repurposed the original materials and all tables are made from the original pinewood the warehouse was built with. A dinner at this high-end steakhouse would be a treat for any meat lover. There are seven different steaks and chops to choose from, two of which are a 14 ounce smoked Delmonico and a 24-ounce prime rib aged steak. Make sure to leave room for dessert, since the menu is full of decadent favorites like a lava cake, sorbet, bison doughnuts, and more. Bison & Bourbon is one of the absolute best restaurants in Brooklyn, hands down.