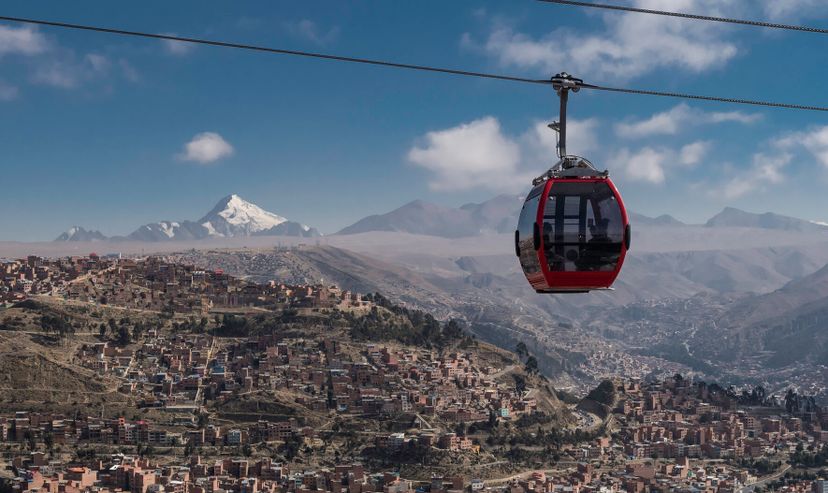 Exotic and chaotic, Bolivia's capital city in the clouds makes for an exciting trip for those looking for a bit of adventure. It's bustling and ever-changing, with new cable cars in the sky and boutique hotels popping up at an unprecedented rate. While the cost of living has risen somewhat in the past few years, today everything remains really inexpensive in La Paz, from accommodations to food and alcohol, which makes this destination a great place to visit if you're on a budget. To help you decide whether this is the vacation for you, we've rounded up answers to some of the most common questions about La Paz, Bolivia.
Where Is La Paz?
La Paz is located up in the mountains of Bolivia between the Amazon and the Andes, 11,800 feet above sea level. In fact, it's the highest capital city in the world! It sits in a bowl-like depression surrounded by the high Altiplano Mountains, the widest area of the Andes. This means that most visitors initially struggle with the thin air, so don't plan any high-energy activities for the first few days of your trip to avoid altitude sickness. You can also cope with the altitude of La Paz using some of these tips and tricks.
Despite being in the mountains, La Paz is easy to get to. Many flights are available that land directly at the city's airport, El Alto International. As a tourist, it's best to fly directly in, as road travel in the area (by car or bus) tends to be less safe due to a rise in car jackings.
Because of its location, La Paz's climate has a subtropical highland climate with generally cool with temperatures ranging from 28°F (2°C) to 60°F (16°C) and rarely dipping below 23°F (-5°C) or rising above 65°F (18°C). The temperature varies so little throughout the year, so there is not necessarily a "good" or "bad" time to time, weather-wise.
Is La Paz Safe?
This is a very frequently asked question for those considering visiting. It's not a secret that crime rates, especially drug-related crime, are very high in the country and La Paz is no different. Petty crime, like theft and pickpocketing, is high in the city, so keeping valuables out of sight (or just not bringing them!) is recommended. Unless you're actively seeking out the nightlife, it's best to remain indoors late in the evening, as this is a prime time to become a target of a mugging.
The number one travel tip for keeping safe is to use common sense. There are a couple of common scams that are used on tourists to be aware of and keep your eye out for. Don't withdraw money from an ATM at night (a common robbery situation), always take a cab from a reputable cab company, and be wary of strangers, as "express kidnappings" are on the rise, in which criminals take a foreigner hostage and drive them from ATM to ATM, forcing them to withdraw money.
While perhaps not the best location for your next family vacation, La Paz can make a beautiful destination for other travellers. Overall, opinions on whether Bolivia is safe enough for tourists vary, so to some degree, you will need to decide whether you feel comfortable. It's also important to check your government travel advisory before booking, and stay up to date with local news reports and media.
What To Do in La Paz
There are many unique attractions in La Paz. Here you can visit colorful markets, historical sites, 19th century churches, and precarious overlooks. Rather than hopping in a taxi or minibus to get around, explore the city using its expansive cable car system  – Bolivia's "Subway in the Sky". Transportation itself becomes an experience when you're riding high with a view of the city!
Many tourists visit The Witches Market or El Mercado de las Brujas, a popular outdoor market where local witch doctors have potions, medicinal plants, and dried animals for sale, like frogs and the llama fetuses the market is famous for (locals bury them under the foundations of their houses as a sacred offering). However, if this doesn't sound like your scene, there are plenty of other street markets where you can wander around, experience the culture, and buy some souvenirs.
One of the most popular attractions is the 40 mile, very steep Yungas Road – better known as The Death Road – which you hurtle down on a mountain bike. There are a number of tour companies that offer the trip, but our suggestion is Gravity Bolivia, which is known for its superior and as-safe-as-possible services. The incredible experience is one you won't forget and don't want to miss, despite the inherent risks.
There are two day trips that are really worth your time in La Paz Bolivia: the Valley of the Moon and Tiwanaku. Valle de la Luna, located 10 kilometers outside of the city, is a maze of giant formations made up of clay and sandstone created by erosion. The most breathtaking feature is the variation in colors due to the presence of different minerals, from light beige to dark red and purples. There are two tracks to walk through, which take 15 and 45 minutes respectively.
Tiwanaku was deemed a UNESCO World Heritage Site in 2000 and is an ancient archaeological site located 72 kilometers west of La Paz. The site remains a mystery, with unanswered questions of how, when, and by whom it was constructed. Book a guided tour of the ruins with a reputable tour company who will take care of your transportation and teach you about the rich history of the site.
La Paz, Bolivia is known for its nightlife, which some claim is the best in the world. If you enjoy an epic night out on the town, you'll be right at home here. If you're staying at a hostel, you'll likely be pregaming at the hostel bar – a common practice for backpackers. Plan to visit Diesel Nacional, a unique Steampunk themed cocktail bar located in the trendy neighborhood of Sopocachi. If you're looking for a more ritzy experience, head to Forum, a higher-end club where you can go to get a bit rowdy and dance the night away. You can check out some of the other party spots here.
Where To Eat in La Paz
Despite the city's poverty, there are many great restaurants in the city that offer a variety of cuisines for very good prices, especially if you're looking for lunchtime specials. Higher Ground Restaurant Cafe is rated the number one restaurant in all of La Paz, according to Tripadvisor, serving Australian-Bolivian fusion food with fresh ingredients and loads of flavor.
You also have to grab a seat at Gustu. Here, the award-winning head chef uses relatively unknown native ingredients to create exquisite new flavors. It's fine dining at a great price, and if you eat at no other restaurant while in the city, eat at Gustu!
Of course, you can't go to Bolivia and not eat its food! One of the best Bolivian restaurants in the city is Luciernagas, a cheap eats dinner spot with a serious handle on cooking up local flavor. It's owned by a husband and wife duo who offer outstanding service and true hospitality, in addition to the authentic dishes. Reviews rank it the #7 restaurant in all of La Paz on Tripadvisor!
If you've got the time, book a food tour (I do this in every new city I visit!) to enjoy a day local food and drink, and walking the city with a knowledgeable guide. Not only is it a great way to experience the cuisine, you'll likely learn a lot about the history and culture of La Paz.
Where To Stay in La Paz
There are many places to stay in La Paz, Bolivia, regardless of what you're looking for. The city is known for its nightlife, in part due to the many backpacker party hostels for travellers looking for a cheap homebase and an all-night party. If you like to party hard, check out Loki, which has extravagant amenities and prices starting at about $8 USD per night. If you prefer a quieter hostel experience, check out Onkel Inn, a bright, clean hostel known for having the nicest dorms in the city.
Other popular accommodations include Atix Hotel, a world-class luxury hotel decked out with furniture and art by Bolivian artists and a rooftop, glassed-in pool and bar with incredible views. Casa Grande and Stannum Boutique Hotel & Spa are two other excellent options, both with beautiful rooms, extravagant pools, and in-house restaurants with delicious menu offerings.