Lights, camera, action! The stars shine bright in the City of Angels. Unfortunately, most of us head to LA expecting to be tripping over celebs but they're often harder to find than needles in haystacks. That's why we've put together this list of some of the best LA nightclubs and celebrity hangouts to help you feel like an A-lister yourself. Celebrities are spotted frequently at these watering holes, which means no matter what vibe you're looking for, you can still find some familiar faces who want to share the same atmosphere. Hit up any of these joints and you're guaranteed a fabulous night on the town that might just turn into a star-studded affair.
7. Supperclub
Like the name implies, Supperclub is both a restaurant and a nightclub. The restaurant is only open on Saturdays but features a multi-course culinary spectacle, which includes humanely raised proteins and fresh veggies from a local garden. The nightclub, of course, is the main attraction (though you can still grab a meal), and the venue prides itself on being unpredictable: their tagline is "anything can happen." Notable appearances include Christina Milian, rapper T.I., Chris Brown and Lindsay Lohan. Oh, and they've hosted LA Fashion week.
6. Lure
One of Hollywood's newer venues, Lure has already made a splash with A-listers in the city. They host big-name EDM artists like Fedde Le Grand, Deorro, Alesso and Calvin Harris—acts that are bound to attract attention—as part of their Luresday series, with a show every Thursday night. If there's a big concert or music-related event in LA, you can almost bet the after-party will move to Lure: Paris Hilton, Will Smith, Jay-Z and Ariana Grande have all partied at the club, and that list is sure to grow as the club continues to book show-stopping performers and cultivate its reputation among LA's elite.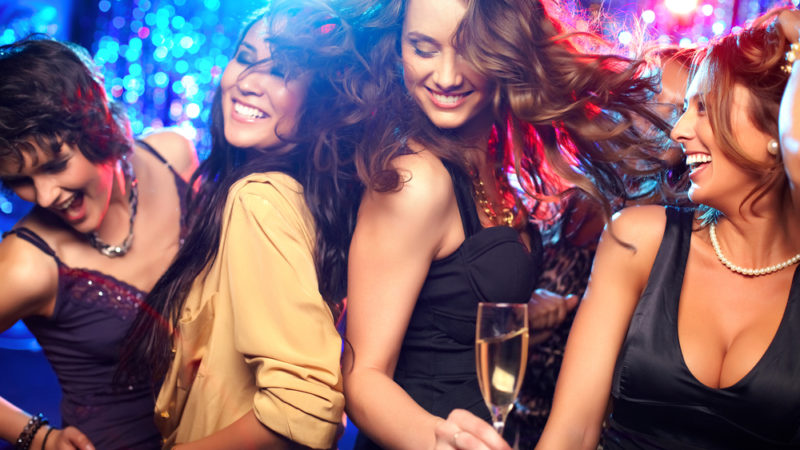 5. Boulevard3
Who can resist a nightclub on Sunset Boulevard—and one with such a reputation! Boulevard3 is renowned among celebrities and Angelenos alike. They host major parties every week with Boulevard3 Fridays and Saturdays, events that don't need creative names because that's all you need to know. Boasting a huge dance floor and professional dancers, Boulevard3 manages to maintain a fun, down-to-earth atmosphere. They also host a slew of events, which means everyone from Paris Hilton to Cheryl Burke to Jane Fonda have been spotted there. Other notables include Olivia Munn, Andy Serkis, Kelly Pickler and Jennifer Lopez.
4. Greystone Manor
Dinner and dancing anyone? One of LA's most exclusive clubs, Greystone Manor is the venue of choice for many A-listers and their entourages. The club boasts vaulting 20-foot ceilings, a private lounge and aerial performers who practice their routines to the sweet stylings of both local DJ sensations and special guests. Every night is party night at Greystone, with weekly events lined up for Friday, Saturday and Sunday, and hump day events to help you power through to the weekend. The club recently hosted a special VMA party with guest hosts Nicki Minaj and Jennifer Lopez, and the LA Kings celebrated their 2014 NHL championship win by partying at Greystone Manor.
3. Chateau Marmont
Relax with stars and local Angelenos alike in the classic Chateau Marmont bar. With a full menu, influenced by European sensibilities, the dimly lit lounge-like bar of the famed Chateau Marmont hotel is the perfect place to see some celebs—and be seen yourself. No matter who your idol is, you stand a chance of spotting them at this swanky bar; from Lady Gaga and the Jonas Brothers to legends like Elton John and Sting, Chateau Marmont has hosted them all. As an added bonus for this venue? Book yourself a luxurious room in the Chateau hotel and feel like a superstar too.
2. Bootsy Bellows
Who knows what celebrities want in a nightclub? Another celebrity, of course! The brainchild of David Arquette, Bootsy Bellows has quickly become a go-to for stars in LA. Burlesque and other impromptu live entertainment take place against a backdrop of 1960s art deco inspiration. The club boasts some impressive names on the guest list: Justin Bieber, Chris Evans, Snooki, Eva Longoria, Christina Milian, Chris Brown, Rita Ora, Adam Lambert and Bar Refaeli are just a few of the entries on what reads like a who's-who of Hollywood. Oh yeah, and Mr. Arquette himself is sometimes to be found whooping it up with guests.
1. Avalon
Avalon nightclub is nothing short of an establishment in LA and celebs know that. The club consistently manages to pull huge names to the DJ booth—and to the floor. Axwell, Paul Oakenfold, Cory Enemy and Sebjak are just a few of the DJs who've spun their records in the historic venue. The building's history is long and storied, beginning in the 1920s and stacked with musical landmarks, such as the Beatles' first West Coast performance in 1964. The club frequently holds special events too, which means the stars come out in droves: Taylor Lautner, Jennifer Lopez, Iggy Azalea, Charli XCX, Busta Rhymes, Luke Perry, Ashley Greene, Ne-Yo, Cynthia Nixon and Carmen Electra have all been spotted at the club.