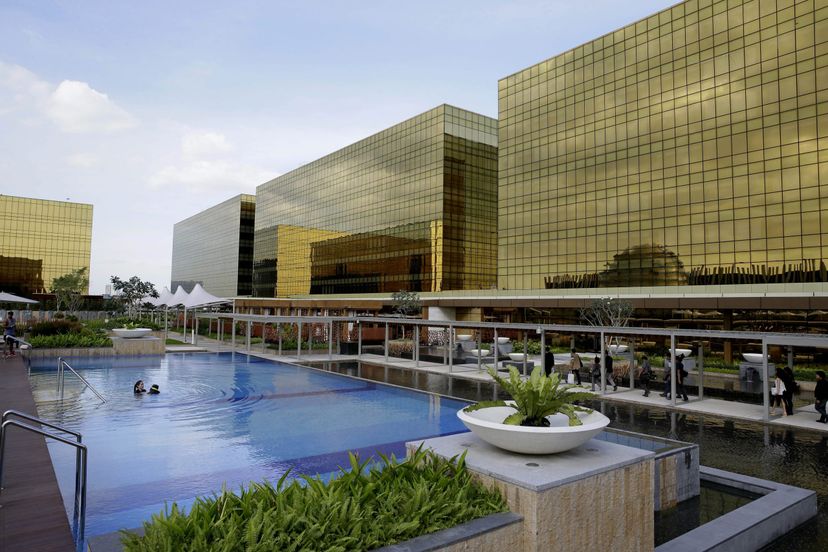 Move over Macau…take a hike Vegas…there's a new global gaming destination and it's growing at a rapid rate.
This past Monday, February 2nd marked the opening of a brand new 15 acre casino/resort complex called 'City of Dreams' in Manila, Philippines. The luxury complex features 6 shimmering golden towers surrounding a futuristic egg-shaped dome called the "Fortune Egg'" which houses 2 high end nightclubs, including one with faux-snakeskin accents and wild animal prints. Monday's opening celebrations were capped off by a musical performance from American R&B singer Ne-Yo and former Destiny's Child member Kelly Rowland.
The mega resort, which is a collaboration between Philippines richest man Henry Sy, Australian billionaire James Packer and Macau casino tycoon Stanley Ho, cost more than a billion dollars as this is the minimum investment required by the Philippine government in order to build a new casino. Located on Manila Bay, the resort hopes to draw in high rollers and gaming tourists from all over Asia and the rest of the world.
With a growth rate of more than 6% in 2014 it's clear the Philippines is one of the fastest growing economies in the world and it shows no signs of slowing down. The City of Dreams project is only the latest in a string of glamorous luxury casinos to open up here in recent years and with Manila's plans to rival the gaming scenes of world-class destinations like Macau and Las Vegas we can bet there will be more mega casinos to come.