The ever popular publisher of travel guides has come out with their 'Best of Travel 2016' guide which lists the best of the best for the next year of travel in all sorts of categories from best budget travel to best family travel experiences. If you've been planning ahead for next year's vacations here is the list of the best cities to visit in 2016 to get your imagination running wild. All cities were reportedly chosen for their "topicality, unique experiences and 'wow' factor".
10. Rome
Is there ever a year that it's not a good idea to visit Rome? We say no, and Lonely Planet agrees saying that the Eternal City "never goes out of fashion." But in 2016 there are a few special events happening in addition to the myriad of usual reasons why Rome deserves your time; for starters, Pope Francis has declared the coming year as The Year of Mercy, a global celebration which is sure to attract people to the city to celebrate their faith. The non-religious spotlight shines on Rome as well, the city is featured in the soon to be cinematic blockbusters Spectre -the latest installment in the 007 series and the upcoming remake of Ben Hur.
9. Nashville
Nashville aka 'Music City', has been synonymous with country for as far back as we can remember, and while the city will still meet these expectations of boots and spurs, it will also surprise you. Lonely Planet says that this Southern city is booming, thanks to a rapid gentrification by a new crop of residents attracted to the city's relatively low cost of living and expanding job opportunities. So you can still get your fix of country crooners on Broadway, but elsewhere you can enjoy new galleries, coffee shops, craft breweries and independent clothing retailers.
8. Manchester
Lonely Planet says that the #8 city on this list, Manchester is the "UK's cultural boomtown" so if you're at all interested in The Arts, you might want to take note of this former industrial city for your 2016 travel plans. The government has committed £78 million to build a new, multi-purpose arts space called 'The Factory'. The space will be home to a 2,200 seat theater and host the Manchester International Festival. There were several other openings this year including the re-opening of the Whitworth art gallery after a £15 million revamp, and the newly opened HOME multi-artform center. And let's not forget the stunning Central Library, the city's official public 'living room space.'
7. Fremantle
Anyone familiar with Australia knows that the West has been on the rise for years now, so it's not surprising to see the city of Fremantle make this year's list. This Western port town is situated on the Swan River, about 14 kilometers from the Western Australian capital of Perth. It's a far cry from Sydney, both in geography and in vibe, but don't underestimate 'Freo', because if you do you'll be missing out on a lively and thriving counterculture of hipster bars, live music rooms, craft breweries, alternative book stores, seafood shacks and beach buskers.
6. Mumbai
You may be thinking to yourself "India, booming? Really?" Well, yes. In fact, in 2016 India is predicted to overtake China as the fastest growing economy in the world. A fact that makes the city of Mumbai seem a little more worthy of its nickname 'Maximum City'. With rapid reinvestment of its wealth in development and expansion, you'll find everything in Mumbai is getting an upgrade. From the creation of a shiny new terminal at Chhatrapati Shivaji International Airport, to the new air-conditioned commuter monorail to old cotton mills finding new life as shopping centers, one thing is for sure, Mumbai will surprise and delight you in 2016.
5. Rotterdam
One look around at the landscape and scenery of Rotterdam tells you this city is cutting edge. Futuristic architecture and contemporary construction are on display everywhere including the Markthal Rotterdam, a public food hall and residence which opened in 2014 and still has people talking, or the Netherlands largest building; De Rotterdam. In 2016 we'll see the opening of the Museum Rotterdam inside the Rem Koolhaas-designed Timmerhuis building, this and a slew of new bars, restaurants and nightlife venues prove that life in Rotterdam is anything but ordinary.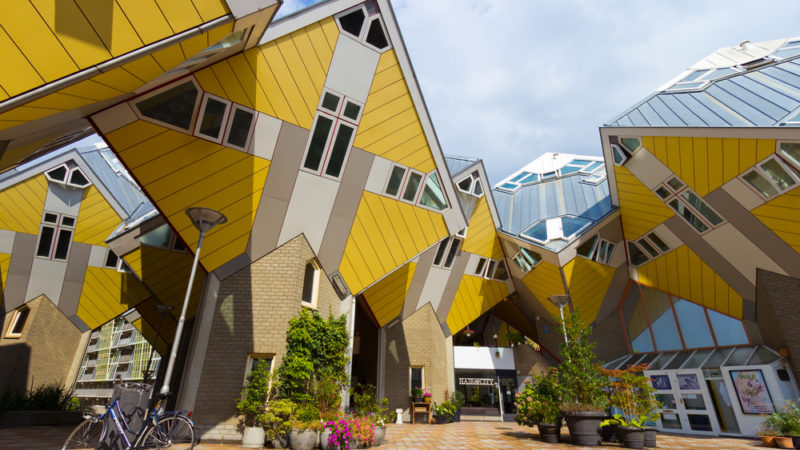 4. George Town
Malaysia hasn't exactly seen a lot of recognition for modern arts and culture and the city of George Town in Penang state is probably more well-known for its UNESCO World Heritage-listed streetscape than anything else. While any UNESCO designation is nothing to glaze over, Lonely Planet says it's not the only reason to head to George Town in 2016. It's a city that's setting the pace for modern arts and culture in the country and visitors can experience this while visiting the Hin Bus Depot Art Centre, a re-purposed formerly abandoned transportation hub or checking out the Urban Xchange: Crossing Over festival which features funky street art throughout the city.
3. Dublin
It's estimated that currently, 40% of the population of Dublin is under the age of 30. As such, the vibe of this city right now is one that's youthful, vibrant and on the rise. A stroll along the bustling banks of the River Liffey will convince you of this fact for sure. In 2016, the Irish capital will be celebrating the centenary of the 1916 Easter Rising -a brutal insurrection against British Rule that ultimately led to the formation of the Irish Republic. Lonely Planet says you can be sure that celebrations throughout the city will be loud and they will be long.
2. Quito
The #2 entry on this years top travel list is another city steeped in history and old world charm, after all the entire city of Quito, Ecuador is designated as a UNESCO World Heritage Site. This is a fact that many are already familiar with and has long been a reason to visit, but Lonely Planet says it might just be the addition of some new along with the old, that might convince you of its worth. Tourists who prefer things easier than the backpacking travel lifestyle will enjoy the city's new metro system which will open in 2016 as well as the refurbished train station and the shiny new airport. Everyone will enjoy the city's old town architecture and towering mountains that have had adventure-seekers heading here for years.
1.  Kotor
What's an up-and-coming travel list without at least one city that you've probably never heard of? Well Lonely Planet insists that this one is worthy of their #1 top city to visit in 2016 spot. Kotor is a secluded coastal city on Montenegro's Gulf of Kotor. According to Lonely Planet, it's amazingly beautiful from every angle and "is one of the most photogenic spots in all of Europe." That's certainly saying something considering the kind of places it's up against for that title. Unlike other coastal cities in the same region, the cruise ships haven't touched Kotor, leaving the city's maze of alleys, plazas and cafe's all for you. But don't say Lonely Planet didn't warn you, the cruisers will discover this piece of European paradise soon enough.