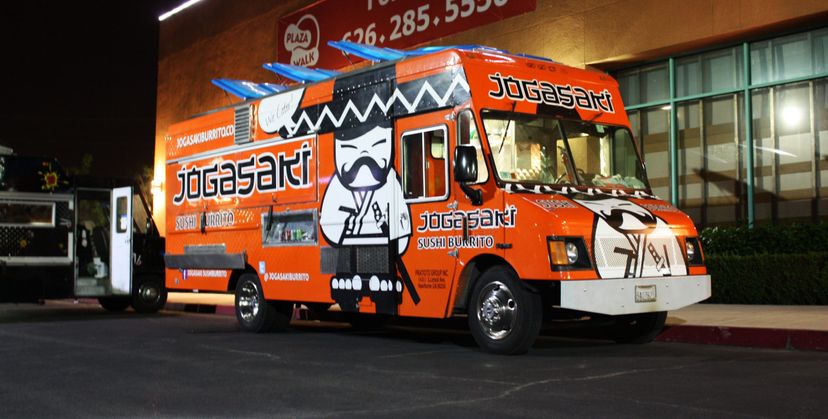 Los Angeles is the city that started the gourmet food truck revolution, built on the notion that mobile restaurants can offer up delicious and inspired cuisine to patrons who are on-the-go. In the last few years, new food trucks have been popping up all across Orange County, which means there's lots to choose from! With so many options, it can feel a bit overwhelming. Whether you're a tourist with a packed itinerary traveling through or an Angeleno looking to grab a quick bite, this handy guide will help you narrow down the field by highlighting the best of the mobile meals phenomenon.
7. Buttermilk Truck
Breakfast is the most important meal of the day and the purveyors of the incomparable Buttermilk Truck know that. Buttermilk Truck gained fame for their menu, which includes items red velvet chocolate chip pancakes, Hawaiian bread cinnamon French toast sticks, and hearty breakfast sandwiches. Though the LA truck is on hiatus, you can still get your hands on a little taste of what made Buttermilk Truck famous: the company is selling Red Velvet and new Ube (purple yam) pancake mixes that you can make right at home. We got the inside scoop and heard that there are plans to add more trucks in more locations in the future, meaning Buttermilk Truck will be back and better than ever!
6. The Grilled Cheese Truck
A comfort food classic meets culinary creativity with The Grilled Cheese Truck, which serves up just what the name implies: grilled cheese. Oh sure, you can get something simple, like your favorite cheese on French or wheat bread, and with 8 cheeses to choose from, you might be satisfied. But why stop there? Try one of The Grilled Cheese crew's tempting creations, like the Pretzel Melt or the Cheesy Mac and Rib. If you're feeling particularly inspired, you can create your own grilled cheese sandwich by picking your cheese(s) and any of the 17 additional toppings, then chow down on your masterpiece. Mmm!
5. Jogasaki Truck
Jogasaki Truck is a newer entry on the LA food truck scene, but it's one that's grabbed a lot of attention for their unique take on sushi. The adventurous will be delighted to try sushi "tacos," which are wrapped in soy paper or tortillas and make ample use of Mexican cuisine staples jalapeno, avocado and various spices. Nachos are also on the menu, as well as a few traditional maki choices for those who want to stick to the tried-and-true. They also have monthly specials, which are "limited time" menu items, so be sure to try them out while they're around!
4. Ragin Cajun on Wheels
The somewhat stereotypical name doesn't do this truck justice. After running a restaurant for 18 years, the Ragin Cajun team was invited to participate in Food Network's "The Great Food Truck Race." One good thing led to another, and the Ragin Cajun on Wheels now comes to you, bearing delicious Louisiana fare like gumbo and jambalaya. This truck is so popular that it's edged out the restaurant in profits, but if you're headed to Redondo Beach, you can still drop by the cafe or check out the on-site General Store.
3. Lobsta Truck
On the West Coast, but got a hankering for some East Coast grub? Trawl around the Chinatown area of LA and you'll come across Lobsta Truck, a New England-inspired roving eatery. They serve up rolls made with fresh crab and Maine lobster. They've also got clam chowder, lobster bisque and Cape Cod chips. Hosting a party or have some relatives heading in from the East? Impress them by getting the Lobsta Truck crew to cater and enjoy a traditional New England-style lobster bake. Good news for those of you not in LA or the OC: Lobsta Truck also has a San Fran schedule.
2. Fluff Ice
It's hot in Los Angeles so a mobile shaved ice truck is always welcome. Fluff Ice offers a plethora of flavors, from the tried-and-true classics to more exotic entries like Thai tea, taro and kiwi. Using a proprietary process that takes 8 hours to complete, Fluff Ice infuses flavor into ice blocks. When shaved, the result is a light and airy dessert, somewhat like cotton candy, packed with tongue-tingling flavor! Choose from the classics menu or get creative and make your own by adding all kinds of toppings: lychee jelly, mango pudding sprinkles, and gummy bears are just a few of the options.
1. Kogi Truck
The truck that started it all! Kogi Truck is the original LA food truck and given their menu, it's not hard to see why food trucks soon swept the city. Kogi Truck offers a mobile Korean BBQ experience with a decidedly Angeleno twist. Combining the great tastes of Korean cuisine and Tex-Mex, Kogi serves up tacos, burritos and quesadillas. Meat lovers will be happy to know that they can top up just about any menu item with an extra helping of chicken, pork or ribs. Kogi truck also offers classics like hot dogs and burgers for the less adventurous tastebuds. Oh, and did we mention you can grab a Sriracha bar for dessert?