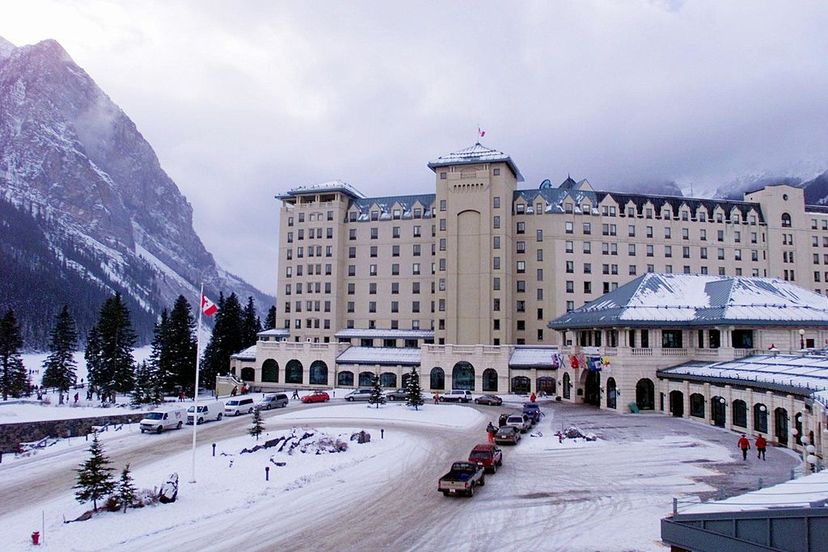 Canada boasts some of the most luxurious spa resorts in the world and many of them can be found across the country, coast to coast. These world-class resorts and spas offer luxurious amenities, fine dining, and the best relaxing and rejuvenating treatments. Whether you're looking for a relaxing getaway with friends, a partner, or looking to treat yourself here are the top luxury spa resorts in Canada that you need to visit. 
Four Seasons Resort and Residences Whistler (Vancouver, British Columbia)
If you enjoy exploring the wilderness, and love winter sports Whistler is the destination for you. This beautiful town located in Vancouver, B.C. boasts ample snowboarding, skiing, and snowing shoeing opportunities. But after a day of thrilling activities, you're going to need to kick back and relax. With that in mind, you should definitely book a stay at the Four Seasons Resort and Residences Whistler. The suites are furnished with beautiful wooden interiors, cozy gas fireplaces, fine linens, and breathtaking views of either snow-capped mountains, the courtyard, or the forest. You will also have your choice of fine dining or in-room dining options.
When you're ready to be pampered, head to the resort's spa and wellness center. There are plenty of packages and treatments to choose from and there is even a spa treatment tailored for kids! One of the spa's most popular treatments is the Four Season Whistler Treatment which features a Canadian-maple-syrup and brown-sugar scrub, a clay body wrap, and an Argan oil hair treatment complete with a full-body massage. This destination really has it all from fun activities and luxurious accommodations to relaxing treatments that the whole family will enjoy! 
Rock Water Secret Cove Resort (Sunshine Coast, British Columbia)
Rock Water Secret Cove Resort is no stranger to awards and has won multiple awards in past years, including best seaside hideaway, best unique luxury resort, and most romantic destination. This stunning resort is brimming with choices for accommodations including boardwalk tent house suites that feature a hydrotherapy tub with a view, rainforest shower, propane fireplace, and radiant floor heating. 
You can expect outstanding spa services regardless of the season. In the summer and early fall guests will enjoy outdoor massages that take place in tents perched on a bluff overlooking the ocean. In the winter the spa moves to a winter tent complete with a toasty fireplace and heated floors. Inside the lodge, guests will find facials and esthetics along the poolside. From fine dining, a breathtaking atmosphere, and massages in luxury tents, it's easy to see why this is one of the top spa resorts in Canada. 
Fairmont Banff Springs (Banff, Alberta)
Fairmont Banff Springs is located in the breathtaking Rocky Mountains in Banff, Alberta. This hotel steeps luxury and is known all over the world as the "castle in the mountains". The resort has been providing legendary hospitality for the past 125 years. It also offers year-round activities such as golf, skiing, and authentic local dining. 
The Willow Stream Spa is at the forefront of this hotel, offering guests a true European Spa that oozes with luxury. In the middle of the spa sits a beautiful mineral pool with pulsating waterfalls perfect for rejuvenating sore muscles and relaxing the mind. Other facilities include outdoor and indoor whirlpools, steam rooms, lounges, and spas. There are plenty of treatments to choose from such as mountain hot stone massages, mud wraps, deep salt scrubs, and more. For an added experience make sure to book one of the suites located in the peaceful turrets of the castle, complete with a spiral staircase leading up the bedroom. This suite boasts unparalleled views of the surrounding forests and mountain peaks.
Post Hotel & Spa (Lake Louise, Alberta)
The Post Hotel & Spa has been voted as Canada's favorite resort by Travel and Leisure many times in the past and it certainly lives up to its reputation. It's nestled in Lake Louise, Alberta, and boasts a breathtaking view of the Canadian Rockies. There are also plenty of accommodations to choose from such as room suites, cabins, and family lodging. You can expect fine furnishings, beautiful fireplaces, jetted tubs, and so much more. 
The Temple Mountain Spa is the highlight of this resort though, a soothing blissful place designed with health, wellness, beauty, and therapy in mind. There are plenty of treatments to choose from at affordable prices. Treatments include full body exfoliation, Swedish massages, flower and mud treatments, facials, and so much more. This resort is also known for having the best dining in the Lake Louise area. So go ahead and treat yourself in the beautiful dining room, surrounded by fresh flowers, towering pines, and the warmth of the fireplace.
Sparkling Hill Resort (Vernon, British Columbia)
Sparkling Hill Resort is nestled in the mountains, with an astounding 3.5 million crystals infused within the modern design. The stunning views of the Okanagan Valley can be seen from the luxury guest rooms and the incredible penthouse suites. A stay in the penthouse is a true luxury experience as they feature gas fireplaces, a personal sauna, crystal artwork, a walk-in shower for two, and sliding window walls to enjoy the fresh air. 
KurSpa is known for being one of the most unique spas in the world, with over 40,000 square feet of tranquil space. The spa is infused with crystals and over 100 innovative healing techniques. There are many amazing amenities such as seven steam rooms and saunas, an outdoor infinity pool, cryotherapy cold sauna, and a scenic serenity room. Whatever you desire can be found here, from massages and fango treatments to wraps, couple's packages, and beyond. 
Tigh-Na-Mara Seaside Spa Resort (Parksville, British Columbia)
This all-season oceanfront resort is located on the beautiful coast of Vancouver Island. To get the most out of your experience book one of the Spa Bungalows. These bungalows are surrounded by the forest and outfitted with a gas fireplace, a jetted tub, beautiful furnishings, and a private patio just steps away from the award-winning spa.
The Grotto Spa at Tigh-Na-Mara boasts over 20,000 feet of bliss and is rated as the number one favorite spa in Canada. This spa believes in going above the ordinary and offers treatments such as body glows and three couple suites with handcrafted copper soaking tubs. All spa guests receive access to the mineral pool — a 2,500 square foot warm water pool, designed to emulate the wonder of a naturally occurring grotto. Also included is access to the two-story waterfall, an invigorating cool splash waterfall, and a non-mineralized whirlpool.
The Algonquin Resort (St. Andrews by the Sea, New Brunswick)
This exquisite resort offers authentic maritime hospitality, seaside allure, elegant guest rooms, and a pampering spa that you will love. The iconic building and its grounds are an oasis featuring contemporary dining, indoor and outdoor pools, a private beach, manicured gardens, and cocktails on their historic veranda. 
Guestrooms blend both modern amenities with historical charm and offer luxury linens, fireplaces, and breathtaking panoramic views. The newly renovated spa is bringing in people from all over the world to relax and rejuvenate, with an emphasis on personalized service. Feel your worries melt away as you enjoy treatments such as fusion stone massages, warm honey body scrubs, and lavender honey facials. The spa also offers several great packages at affordable rates. You can check out the full list of treatments as well as the prices on their website. With the choice of two excellent restaurants and in-room dining, luxurious accommodations, and serene spa treatments, The Algonquin Resort has you covered.
Wickaninnish Inn (Tofino, British Columbia)
This oceanfront luxury hotel is located just 5km from the popular surf town of Tofino and overlooks the beautiful Pacific Ocean. It's also just a few steps away to the beautiful Chesterman Beach. Guest suites feature soaker tubs, fireplaces, individual balconies, and panoramic views of the ocean. Dining at The Pointe Restaurant is a treat on its own as it offers floor to ceiling windows overlooking the Pacific with an exceptional seasonal menu. 
The Ancient Cedars Spa is the real hidden gem of this hotel though. It's located on the main level of the hotel and just like the rest of the hotel, the spa also boasts breathtaking views. The spa is a haven for relaxation and rejuvenation. Many of the products used in the spa are locally made and environmentally friendly. Be sure to treat yourself to the Lomi Lomi signature treatment that is traditionally used by Hawaiian Shamans and healers. This treatment costs $210 but there are plenty of other treatments and packages to choose from. 
Ste. Anne's Spa (Toronto, Ontario)
This all-inclusive spa resort is located in Toronto, Ontario, and is unique in many ways. To begin, the superior all-inclusive overnight packages include four-diamond service and accommodation, hand-crafted prepared meals, pampering spa services, and group wellness classes. Room types range from personal bungalows that feature private hot tubs, fireplaces, and beautiful furnishings to rooms in the main lodge featuring hardwood floors and personal balconies. 
The best part of this resort is its luxurious spa. This spa promises to go beyond the typical pampering and revitalize your senses and soothe your soul. You can enjoy treatments such as a hot stone massage, facial and body polish, and more. These treatments can be had in the main lodge, in your room, and outside in the garden retreat during the summer. With a focus on combining heat and hydrotherapy, bodywork, and esthetics, you can be assured you will have the ultimate spa experience at Ste. Anne's Spa. 
JW Marriott The Rosseau Muskoka Resort & Spa (Minett, Ontario)
The Rosseau Muskoka Resort & Spa is located in Minett, Ontario, and offers its guests a superior experience. Upon arrival, you'll witness its luxurious surroundings complete with a breathtaking view of Lake Rosseau. Make sure to splurge on a room that offers a fireplace, water view, balcony, and king bed. Plus, with an abundance of great dining options such as the intimate Chop House and Teca Italian, fine food and wine are at your fingertips
Most of the guests here will head straight for the resort's incredible spa where celebrating nature and delighting in signature spa experiences is their focus. Spa Rosseau features separate areas for men and women as well as dedicated coupes' facilities. There are 11 treatment rooms including a Vichy room for hydrotherapy. In the summer you can enjoy the private outdoor pool. The spa also added new self-serve spa options this year which include HydroSpa, Massage Beds, Foot Massagers, Oxygen Bar, and Oxygen Facials.  Earth's elements of wind, water, and rock all inspire this spa to provide renewed health and you will feel brand new after spending an afternoon here.
Fairmont Le Chateau Montebello (Montebello, Quebec)
It calls itself the "world's largest log cabin" and is renowned for offering luxury accommodations, yet still feeling rustic and surrounded by nature. One of the reasons this spa resort makes the list is because it's very family-friendly. Many luxury spa resorts don't encourage young children but the Chateau Montebello has enough activities to keep the little ones occupied and even offers in-room babysitting so you and your partner can sneak away to the spa together. 
Speaking of the spa, one thing is clear at this resort in that they have taken great care to use the natural surroundings to make this spa feel both luxurious and comfortable. The heart of the spa is a gathering place complete with cathedral ceilings, a cozy fireplace, wraparound porch, and exceptional views of the outdoors. Couples should make sure to book the couple's suite which features a fireplace, soaking tub for two, rain shower, and side-by-side treatment tables.
Black Rock Oceanfront Resort (Ucluelet, British Columbia)
Located just a 5-minute walk from the Wild Pacific Trail is this oceanfront hotel. Black Rock Oceanfront Resort seeps luxury with its exterior of granite and glass. The architecture behind this hotel makes it impressive to look at — the materials both enhance and contrast against the rugged nature of the west coast of Vancouver Island. Spectacular suites overlook the ocean and include floor to ceiling windows, lavish beds, and furnishings made from stone and wood. The bathrooms are like mini-spas themselves complete with in-floor heating, soaker tubs, and rainfall showers. 
The resorts' Drift Spa is absolutely beautiful, offering innovative luxury combined with nature's beauty. The spa features an extensive menu of rejuvenating and restorative body and skin treatments using locally sourced products. Treatment rooms, including one for couples, overlook the Pacific ocean which only adds to the relaxing atmosphere. 
Brentwood Bay Resort & Spa (Victoria, British Columbia)
Brentwood Bay Resort & Spa is an exquisite five-star oceanfront boutique hotel located in Victoria, B.C. This beautiful place offers its guests elegance and incredible service. Suites include waterfront views, fine Italian bed linens, a private terrace, a separate jetted tub and shower, and many other fine details you will enjoy. The dining room here is open nightly from 5:30 pm and serves only the freshest, seasonally inspired ingredients that are harvested from the sea and grown in Victoria. The meals are also paired perfectly with wines from the region. 
The Brentwood Bay Spa is where guests go to relax and be pampered. This beautiful oceanfront spa features an outdoor heated pool, hot tub, and elegant treatment rooms. There are plenty of packages to choose from which start at just $275. You can also choose from individual massage, facial, and body treatments if you prefer. There are also great couples' experiences to choose from such as the Couple's Cocoon which features a full-body eucalyptus scrub and moor mud wrap, couples hydrotherapy rain-shower, relaxation massage, and a scalp massage. Check out the full list of spa treatments on the resort's website.