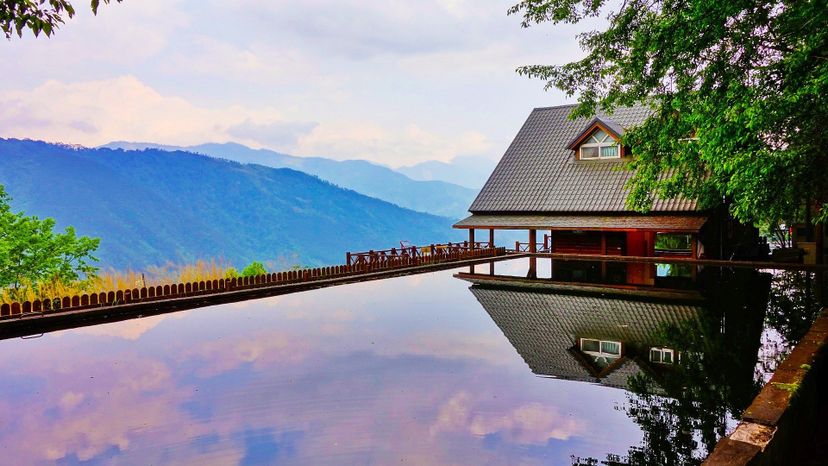 Contrasting the glamorous and animated world of Los Angeles, Ojai lies 75 miles north of the LaLa Land and offers unadulterated peace to its people. Washed over by distilled serenity, the small nirvana town is poles apart from the rest of California. Ojai is enveloped in stunning natural landscapes, making the village a retreat from the fast-paced life in metropolitan cities. It is known for its hiking trails, beautiful pink skies, locally produced organic food, and all things wholesome. Whether you want to nourish your body or heal your soul and mind, Ojai will offer you avenues for both.
The modest cafes in town serve healthy food made from farm-fresh ingredients that come straight from the farmer's hands, making every dish hearty and divine. Aside from food items, wines brewed in Ojai are also lip-smackingly flavorsome, and you can witness the process up close by booking a tour of the town's famous winery, Topas Winery that holds frequent wine tastings.
Simply put, from nature to nurture, you get everything in Ojai. While every feature the town offers is enriching and revitalizing, its dreamy spas are especially recuperative. Let's go over the two wellness retreats in Ojai that are worth visiting.
Ojai Valley Inn And Spa
Covering an area of 22 acres in the most picturesque location, Ojai Valley Inn Resort has a rich history dating back to 1923, when the Toledo glass mogul Edward Libbey commanded the construction of a Spanish-style retreat with an eighteen-hole golf plane. Over the years, Ojai Valley underwent several remodels, eventually adding a world class spa to the facility.
Spread over 31000 square feet, Spa Ojai is an in-home paradise for the guests staying at the Inn. It offers 28 wellness treatments within its elegant yet inviting chambers. From Moroccan tiled Kuyam suite, swimming pools, fitness studios to body/mind centers that provide complimentary tai chi, yoga, and qigong classes, there is an endless variety of activities one can do at Spa Ojai to recharge themselves. The newly constructed suites within the spa's premises allow guests to stay close to the treatment rooms at all times.
Honoring its Chumash Indian roots, the incredible spa facility has everything to heal a person spiritually, mentally, emotionally, and physically.
The Oaks in Ojai
If the wellness retreat's organic name is not enough indication of the level of nurturing one can get there, its remarkable faculties will surely do the job. An all-encompassing yet affordable fitness destination, the oaks was built in the 70s. The facility's caretakers call it America's best value spa for its reasonable rates for endless offerings. The resort charges $2,415 per person for a week, which includes comfortable accommodations, three calorie-conscious meals per day to help weight loss, daily fitness classes, evening entertainment, and seminars.
The Mission-styled hotel-turned Oaks spa was envisioned by fitness guru Sheila Cluff, who is globally acclaimed for introducing aerobics (initially called cardiovascular dance) in the 1950s. Sheila personally works with the guests staying at the Oaks to help them achieve maximum fitness by teaching five wellness classes per week.
If you are looking for a fitness boot camp supervised by a health maestro, the Oaks in Ojai is ideal for you.
Make your way towards Ojai, California, to enjoy your time with nature to refresh your body and mind!