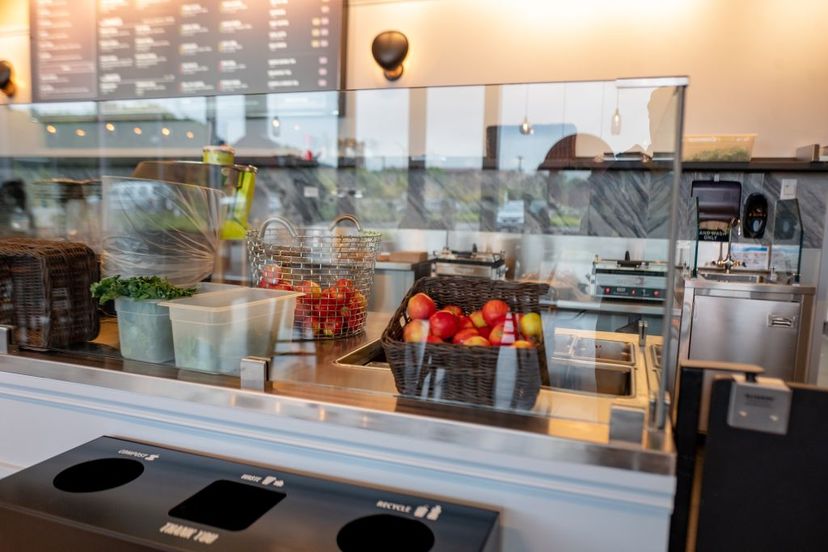 Instead of opting for a second coffee or cocktail, try a glass of fresh juice for a quick, midday energy boost. Fresh fruit and vegetable juice has been purported to heal everything from cancer to acne, and while there is only anecdotal evidence of its healing properties, Miami is full of juice bars that cater to Miamians and tourists looking for a healthier option. It might not be a cure-all, but some holistic health experts encourage juicing for its rich micronutrients that are quickly absorbed into the body. And on one of South Florida's infamous hot days, fresh juice is the perfect remedy.
Sunset Juice Cafe
Located at the entrance to Sunset Harbor, a premier neighborhood in South Beach, the Sunset Juice Café is a bright neighborhood spot with a modern, organic menu filled with natural, fresh ingredients. As the sun sets over the harbor, try some of their pastries and bread, which are baked in house every day. They also have vegan options like whole-wheat vegan croissants, one of the only kinds in Miami. Sunset Juice Café offers all the typical juice café classics like cold-pressed pineapple, apple, and mint juice and a large variety of fresh squeezed juices. But the lunch hangout is Italian at heart with its choice of veggie and salmon frittatas and eggs Rosinella ($10.95 – $12.95). Get ready for some healthy eats!
Juice and Java
Washington Avenue has gone through some dramatic changes since its Miami Vice days. Today, it's a South Beach hotspot with its bustling night clubs, tattoo parlors, restaurants, and one of the best juice bars on the beach – Juice and Java. Just past the popular Espanola Way and next to the historic post office at 13th Street, this laid back café is a favorite spot for fitness buffs in between workouts at the nearby Crunch Gym and occasional tourists wandering in from the beach two blocks away. Whether you're a health nut or just hungry, the kitchen at Juice and Java has a mix of wholesome dishes like tuna salad pita melts and gluten-free super duper waffle breakfasts with sliced fruit. But its specialty is, of course, the fresh juice and smoothies that make up half the menu with tons of variations. It's rated the third best juice bar in all of Miami, according to Tripadvisor reviews, so you know you can't go wrong.
Carrot Express
Carrot Express is a popular spot among locals taking a lunch break, in between errands on Alton Road, or waiting for their car to be washed next door. "Serving wholesome food since 1994," the juice bar and café serves fresh, natural dishes including homemade, Latin-inspired cakes and pastries. The fresh squeezed juices are a great choice with options like carrot, pineapple, and "green dream" ($6.95 – $9.95). If you're looking for an extra kick of green, up the ante with a wheatgrass power shot. They also have typical café food like pita melts, salads, and veggie wraps. With less expensive prices than most juice bars in Miami, Carrot Express offers a menu full of fruits, vegetables, and whole grains, plus seasonal, local produce featured in daily specials. Located at the busy intersection of 17th St. and Alton, stop in for a fast, healthy lunch or a fresh juice to beat the Miami heat.
Ten Fruits Juice and Coffee Bar
Among the towering offices of downtown and beer and burger joints, office workers flock to this chic warehouse space for lighter, healthier choices like the orange kale salad with avocado, figs, almonds, and chia seeds, or a classic chicken, beef, or spinach ricotta empanada ($4), the beloved savory Peruvian pasty. While you're there, order a nutrient dense smoothies like the tropical Red Dragon with dragon fruit, mango, banana, pomegranate, almond milk, and agave ($8.50). The owner and founder Alexander Vasquez was influenced by the Amazon region of Peru where he grew up eating organic tropical fruit and vegetables typical of the area. If you're ever downtown in the city, follow the trail of professionals on their lunch breaks and stop in for an exotic twist on modern juiceries. Located near the touristy Bayfront Park, Ten Fruits also offers a juice cleanse for beginners or hard-core health nuts.
Pura Vida
For a more laid back beach vibe, check out Pura Vida in South Point, a juice bar and café at 110 Washington Avenue, though they have other locations with different menus as well. The neighborhood is a great spot to explore Miami's Art Deco, and for architecture aficionados, South Point is full of hidden gems just outside Ocean Drive. Pura Vida is a popular café among locals and the occasional tourist for their big bowls like spicy tuna and summer chicken, a favorite lunch choice on Miami's hot days. They also have pita melts and wraps, plus a variety of signature juice blends for a quick energy boost. Meet your veggie quota for the day with Lulu's Lemon, a blend of pineapple, orange, apple, lemon, ginger, and turmeric. Time to drink to your health at this beloved juice bar in Miami!