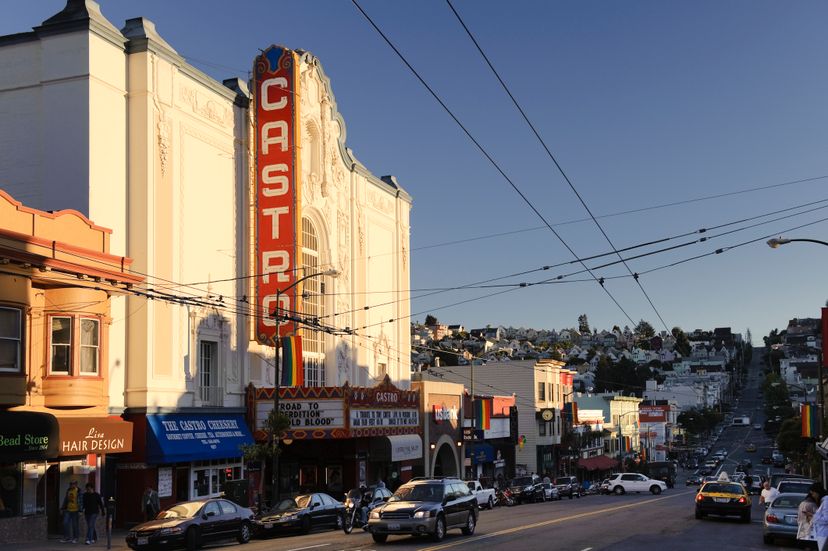 San Francisco has a long-running history of iconic movie theaters. From modern and luxurious film screenings to century-old theaters, the city offers different types of unique cinema experiences for moviegoers. Many of these locations have managed to stand the test of time against modern competitors, continuing to be an escape for people by featuring new releases, indie, foreign, and many other types of films. So if you're wondering where to see your next flick, grab tickets at one of these eight movie theaters in San Francisco that are worth checking out.
Roxie Theater
One of the oldest cinemas in the United States is the Roxie Theater. Since opening in 1909, the property has stood out in San Francisco with its big and bright marquee sign lighting up the street. Its goal is to share the coolest, weirdest, and most thought-provoking films, even receiving non-profit status in 2009. You can attend a screening in either the Big Roxie with 234 seats, or two doors down at Little Roxie with only 47 seats. Patrons compliment the Roxie Theater for the loads of character and its mission to keep indie films alive with an immersive movie experience. Filmmakers, curators, entertainers and other educators are invited to engage with the audience after screenings to discuss and support the independent film industry.
The Vogue Theatre
The regal Vogue Theatre opened to the public in 1912, making it the second oldest operating cinema in the city. It's located in the Presidio Heights neighborhood and was known as the Elite Theater before changing its name to the Vogue Theatre in 1939 when the property was bought by the San Francisco Neighborhood Theater foundation to keep this historical business in operation. At the Vogue, you can catch a variety of foreign and independent films. It also provides a mix of classic cinema showings in addition to first run films. You can also enjoy virtual screenings by purchasing a ticket online and streaming the film straight from your home. Plus, it's a known hotspot for checking out Woody Allen films.
AMC Metreon 16
For a modern and luxury movie experience, check out the AMC Metreon 16. The juggernaut movie company opened this location in 1999 and has since developed a number of ways to see the latest films in comfort. One example is the IMAX theater, an immersive experience that gives you crystal clear images and state-of-the-art surround sound. It also has five different recliner chairs to choose from, which might make the most comfortable theater in San Fran. One of them can be found in the Dine-In Theatre, which allows you to sit back, relax and open up a tray table to eat your food and drink while watching the movie. Other perks of some recliners include seat warmers, foot rests, and seat rumblers that move with the action taking place on screen.
4-Star Theatre
Walking into 4-Star Theatre is like stepping into a cinematic time machine. This compact and cozy family-run theater gives you a nostalgic viewing experience. One of the two screens is bordered with an old school picture frame, while the second is an intimate theatre with just five seats per row. The 4-Star Theatre opened in the early 1900's and stands out on Clement Street because of its vertical neon sign. Moviegoers can check the schedule for frequently updated shows that feature a mix of new releases and independent films. It's owned and operated by Lee Neighborhood Theatres, a local company that owns a number of historic venues in the city.
Castro Theatre
Built in 1922 by the Nasser brothers, The Castro Theatre marks itself as one of San Francisco's most iconic movie spots. It cost $300,000 to build, which was quite the price tag for an early 20th century structure. The city also designated it a registered landmark in 1972 so it still manages to be open for business today. Along with regular movie showings for all ages, The Castro Theatre has regularly scheduled family friendly sing-along movie events that you can bring your kids to. Moviegoers love the live music played on an organ before the film starts, which brings some historic flair to the theater experience. They also hold exclusive movie events such as Q&As and provide the audience with fun goodie bags at showings.
The Balboa
The Balboa is the little engine that could in the world of San Francisco cinema. After being run by the Levin family since opening its doors in 1926, the reins were passed onto Landmark Theaters co-founder Gary Meyer in 2001. He has worked to keep the theater alive while going up against competing theaters in the city. One of the traditional policies at The Balboa is playing second run engagements of quality movies through double features and is one of the few theaters that still does this. This establishment also upgraded from a single-screen to a mini multiplex to be able to offer more showtimes.
Embarcadero Center Cinema
Operated by Landmark Theatres, the Embarcadero Center Cinema has been providing on screen entertainment for moviegoers since 1955. Its central location in the city's Financial District makes it easy to access, and the renovations completed in 2013 gave it a major facelift with contemporary designs and new amenities. With seven screens, this theater has become a popular and prestigious spot to catch a film. Four of the auditoriums are equipped with stadium-style leather recliners and electric controls. Aside from the classic popcorn and soda, you have a diverse choice of movie snacks such as steak and cilantro empanadas and veggie egg rolls.
SF Film Society Cinema
This Bay Area film hub has become a major spot for not only watching movies, but celebrating film through a multitude of ways. It's a modern yet intimate theater that even schedules Q&A sessions with special guests after screening films. The SF Film Society Cinema has also captured international attention, which allows it to host noteworthy events such as the San Francisco International Film Festival and year-round programming with red carpet premiere events.