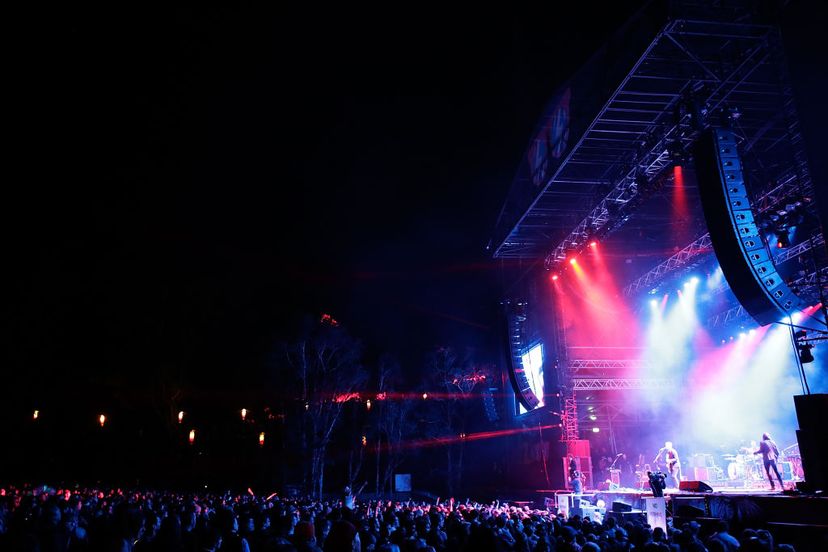 Australia puts on some of the most vibrant and exciting music festivals in the world. Music fans can enjoy everything from blues to indie, EDM, hip-hop, and folk music. Some of the best festivals are traveling shows which means they visit multiple cities while others can be found in the same place annually. If you want to listen to good music and enjoy a vibrant atmosphere then be sure to check out our list of the best music festivals in Australia. 
Byron Bay Bluesfest
Australia's premier blues and roots festival in Byron Bay, New South Wales happens every year on the Easter long weekend. Byron Bay Bluesfest is a massive 5-day event that pays homage to all things blues with a good amount of folk and grassroots music thrown in for good measure. Some of the featured artists that have played in the past include Bob Dylan, Hozier, Paul Simon, John Mayer, John Legend, and many more! This epic festival attracts over 100,000 fans each year and offers fun for the whole family. There are enough camping accommodations for 6,000 guests as well as five licensed bars, and over 100 food vendors. Enjoy something different this Easter and check out the iconic Byron Bay Bluesfest. 
The Big Pineapple Music Festival
The Big Pineapple Music Festival is the most anticipated music festival on the sunshine coast. It takes place during May and features an awesome array of Australian musical talent. Festival-goers party and move to the music set against the backdrop of the fruitiest landmark on the Sunshine Coast — the Big Pineapple! You can purchase a ticket to stay in the Pineapple Fields Campground for both Friday and Saturday night but if you don't enjoy camping there are plenty of other accommodations available nearby. It's also worth noting, there is no parking or drop off at the festival. You'll either have to use one of the festival bus services or park near the festival and catch a shuttle to the site. 
Melbourne Jazz Festival
The Melbourne Jazz Festival is an 11-day showcase of world-class musical talent that takes place in the concert halls, clubs, and art galleries located throughout the city of Melbourne. Jazz, Blues, and Funk fans will definitely want to check out Australia's biggest ode to the soulful music that happens in Melbourne each year in April/May. This festival is perfect for those that would rather enjoy a quiet setting with a glass of wine rather than battle crowds in a giant field. You can buy your tickets on the Melbourne Jazz Festival's website. 
Groovin the Moo
Sydney, Melbourne, and Brisbane tend to get a lot of attention from performers when it comes to shows within Australia but what about the little towns? Just because you live in regional Australia doesn't mean you like music less. The answer? Groovin the Moo! This traveling music festival takes place in April and May each year and rolls through some of the country's smaller cities such as Townsville, Bendigo, Bunbury, Maitland, Wayville, and Canberra. With impressive line-ups each year, this festival has been selling out since it started in 2005.
St. Jerome's Laneway Festival
St Jerome's Laneway Festival started as a small event in Caledonian Lane, Melbourne, Australia in 2004. It has since grown into one of the most vibrant celebrations of music and arts in the area. It's so popular that now the festival has expanded to five Australian cities including Melbourne, Sydney, Brisbane, Adelaide, and Fremantle, Western Australia. It even expanded to Auckland, New Zealand, and Singapore. You can check out the upcoming lineups for all cities as well as purchase tickets on the Laneway Festival website. 
Listen Out
Listen Out is Australia's annual dance music festival. The festival tours around the country and stops in major cities like Melbourne, Brisbane, Perth, and Sydney. The festival is usually held in late September to early October and features an array of international hip-hop, indie, electronic, and pop artists. Previous lineups featured renowned artists like DIPLO, A$AP Rocky, Future, and more. You can check out the previous lineups as well as the upcoming events on Listen Out's website. 
Splendour in the Grass
The beautiful town of Byron Bay in Northern New South Wales offers a number of notable music festivals but the festival known as Splendour in the Grass may very well be the biggest. It gets national attention by drawing one of the biggest international music line-ups of the year and boasts a staggering 30,000 person attendance capacity. What started as a one-day festival has quickly turned into a weekend-long music spectacular worthy of its $399 ticket price. The festival also offers fun for the whole family as well as family-friendly camping accommodations if you'd like to stay on-site. 
Woodford Folk Festival
The Woodford Folk Festival is one of the most unique festivals on this list. It's a 6 day, 6-night mash-up of music, dance, street theater, comedy, social dialogue, children's entertainment, and so much more. This massive festival starts on December 27th and ends on Jan 1 and draws in over 130, 000 people each year. There are more than 2,000 local, national, and international musicians, presenters, and artists who put on over 438 acts. The festival takes place in 'Woodfordia' which is a 500-acre park about an hour north of Brisbane, on the Sunshine Coast. If you're looking for something a little different to do with your family over the Christmas holidays check out Woodford and prepare for an unforgettable experience.