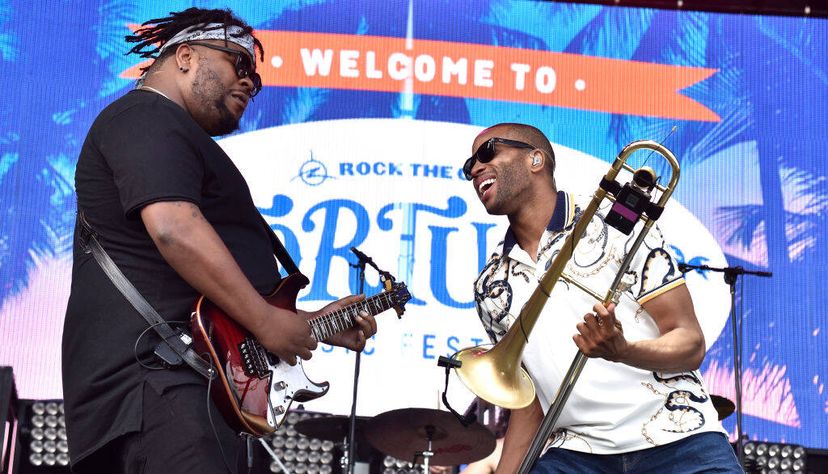 Florida is renowned for its breathtaking beaches, sunny weather, palm trees, fresh fruit, and is a very popular vacation destination. That said, Sunshine State offers great entertainment including incredible music festivals. Concerts featuring the top artists from genres like EDM, country, rock, bluegrass, pop, indie, and beyond can be found across the state all year long. If you love good music and are looking for a good time, come check out the top music festivals in Florida. 
Welcome to Rockville
World-renowned Daytona International Speedway in Daytona Beach, Florida is transformed into Rockville by the annual Welcome to Rockville festival in late April. The festival increases in popularity each year, in no small part thanks to corporate sponsorship and awesome acts taking the stage during the 2-day party. 
The festival's lineup features the top rock and metal artists as well as up-and-coming talent. This is Florida's biggest rock experience and you don't want to miss it! Previous years have featured rock legends from Korn, Lacuna Coil, Seether, Avenged Sevenfold, Rob Zombie, and many more of rock's biggest stars. The performers come to Rockville to rock out, with amazing sets replete with pyrotechnics and more across the 4 stages.
The Fest
The Fest shows no signs of slowing down. This popular music festival showcases the best in the underground music scene. It was first founded in 2002 and features a variety of punk rock, pop-punk, as well as indie and hard rock musicians. The Fest is timed to coincide with the annual Florida-Gainesville football game in Jackson, FL, which means downtown Gainesville belongs to festival attendees at the tail end of October
Performers come from all over the US, with some acts from Canada, Italy, the UK, Sweden, and Finland appearing on-stage as well. In previous years the three-day fest has featured the Menzingers, the Descendants, Less Than Jake, Only Crime, 7 Seconds and too and many, many more! 
Virginia Key Grassroots
This amazing festival all started back in 1990 when the organizers held a benefit concert to support a local AIDS organization in Ithaca, New York. The event was so successful that they decided to create an annual festival, the Finger Lakes GrassRoots Festival, dedicated to raising money for the fight against AIDS all the while supporting arts and education. It has become an internationally recognized event and since then the organizers have held successful events in North Carolina and now Miami, Florida in the Historic Virginia Key Beach Park known as Virginia Key Grassroots Festival.
This four-day event presents a mishmash of artists performing in a number of styles and genres, from bluegrass to hip-hop and reggae, along with everything in between. Groove along with ChocQuibTown, Sie7e, MC Yogi, John Brown's Body, Monsieur Prine, and many more diverse and international acts against a backdrop of yoga, music, and dance workshops. The festival highlights fusion acts and even hosts a café with coffees from around the world, which drives home what a global village we live in and just how lucky we are to live in it.
Ultra
The one you've been waiting for, the ultimate in Floridian music festivals. Ultra is an international festival held every March and it is a weekend-long celebration of EDM, house, techno, and the best DJs from around the globe. Popular with the spring-break crowd (although usually late enough not to coincide with spring break directly), Ultra attracts a huge crowd thanks to its all-star line-ups and its location in beautiful Miami. This annual event was founded in 1999 and now attracts over 160 thousand people every year. 
Throughout its history, it's been held in conjunction with the annual Winter Music Conference. From 2007 onward, Ultra festivals have been held in locations around the world, including Ibiza, Seoul, Buenos Aires, and Tokyo. Over 15-plus years, Ultra has welcomed acts such as Afrojack, Swedish House Mafia, David Guetta, and even Madonna.
Tortuga Music Festival
The Tortuga Music Festival, presented by Rock the Ocean, is one of the larger annual festivals featuring a country music line-up. Set along the sandy beaches of Fort Lauderdale, the festival is a three-day, multi-stage event on par with some of the larger pop and EDM festivals. 
The previous lineups featured performers like Luke Bryan, Sheryl Crow, the Brothers Osborne, and Train, so expectations for future festivals are high! Perhaps best of all, Rock the Ocean is a non-profit group dedicated to raising awareness for marine conservation and their impact on the environment and our everyday lives, as well as what we can do to improve ocean health. To date, the festival has raised over $2,000,000 for their Conservation Village partners!
Holy Ship!
What could be more synonymous with Florida than taking a cruise? Setting sail out of Miami, Holy Ship! is designed to combine the epic experience of an EDM festival with the luxury of a cruise ship, partying and playing games, all while being entertained. That said the festival has since evolved and now takes place onshore on the beautiful beaches of Punta Cana, Dominican Republic. While it doesn't take place in Florida anymore it's deep roots in the sunshine state definitely make it worth noting. 
The festival is a four-day beach party where you get to enjoy games, floatie-fun, luxurious sand, delicious drinks, and of course fantastic music. And since you'll be staying at a resort you'll get complimentary dining options, 24-hour room service, and an experience you'll remember forever. 
Electric Daisy Carnival Orlando
Orlando is a very popular city and is home to the iconic Walt Disney World theme park. But that isn't the only thing Orlando is known for. The iconic Electric Daisy Carnival Orlando (also known as EDC) takes place here on the historic grounds of Tinker Field. This three-day event features all the best from electronic music and celebrates love, art, and good music!
The event features three stages and puts on a remarkable show featuring pyrotechnics, and performers to really bring the show to life. Previous years have featured iconic artists such as Martin Garrix, Tiesto, Timmy Trumpet, Alison Wonderland, Alesso, and beyond.