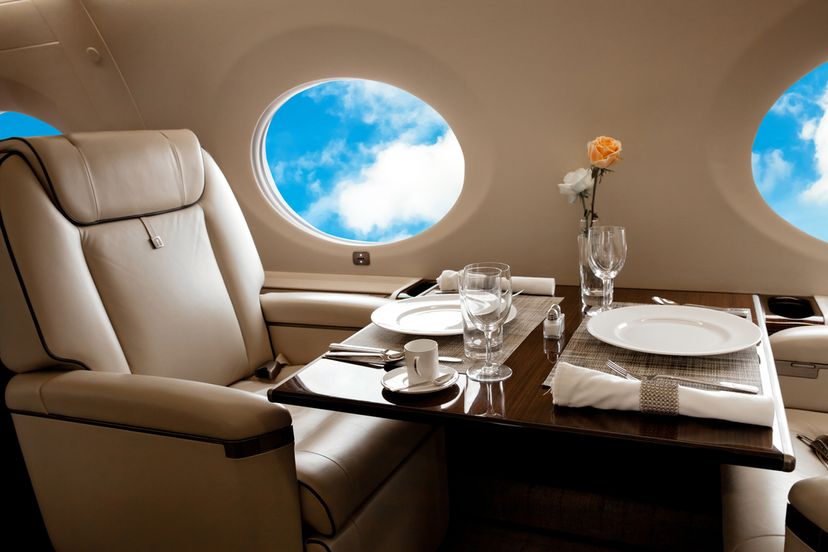 These days, luxury on an airplane goes far beyond extra-legroom and complimentary headphones. From having your own bed to an onboard shower, complimentary champagne and beyond, you'll have everything you need to fly in extravagant comfort. Follow along as we discover the 6 airlines offering the best luxury flight accommodations.
Etihad Airways
Cost: $30,000 USD for a one-way ticket.
Feel like you never left your apartment inside Etihad Airways' "Apartment" cabin. Experience all of the amenities you would usually see in an apartment, such as a bed, armchair, and even personal shower, but on a plane! When flying with regular flights you're often stuck to eating from the one or two options offered on the menu, but with Etihad's Apartment cabin you can mix and match from all sorts of different options. When you do decide on a dish, an in-flight chef prepares it for you exactly how you want it. If your experience with Etihad still isn't homey enough, the Apartment cabin also offers a shower (with complimentary loungewear and a bathrobe), entertainment system, free WiFi, toiletries, 45 square feet of private space, and even a personal butler.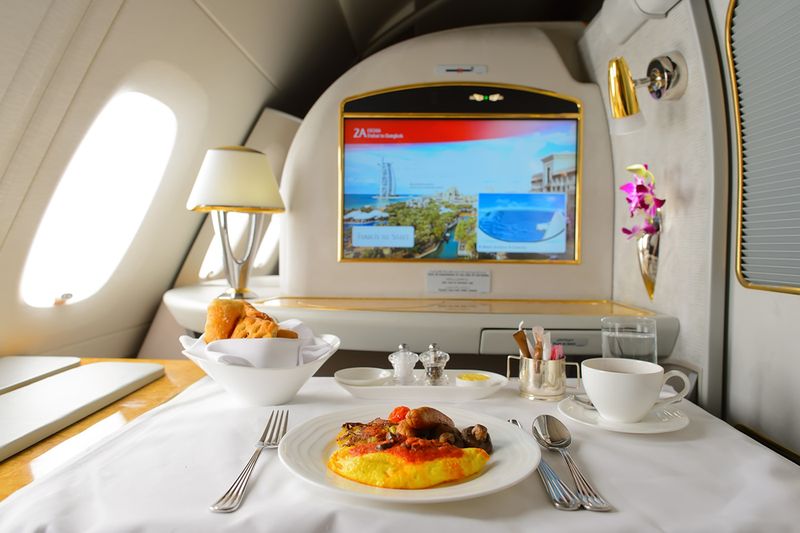 Singapore Airlines
Cost: $18,400 USD for a round-trip ticket.
The Singapore Airlines Suite offers more square footage to each passenger than any other airline. That means that you not only get an especially wide and spacious seat, but you also get an entire bed spanning 35 inches wide and 82 inches long.  You can enjoy a reserved meal (caviar, in some instances) from one Singapore Airlines' renowned international culinary panel, set the mood right in your space thanks to available mood lighting, and enjoy over 295 movies on your Krisworld in-flight entertainment system, all in complete privacy. As a treat to yourself at the end of the night, you can pop a bottle of Dom Perignon.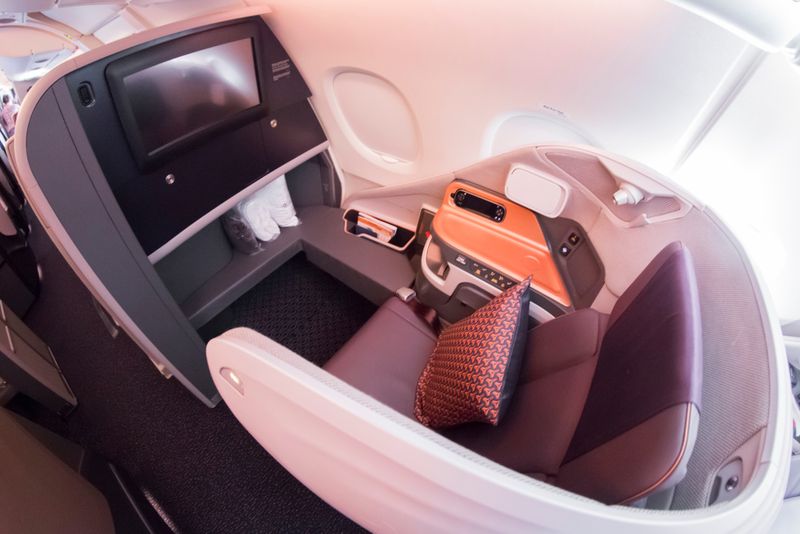 Emirates
Cost: ~$9,000 USD for a one-way ticket.
Made famous by YouTuber, Casey Neistat, the first-class experience aboard Emirates is one of the most luxurious experiences the world has to offer. Enjoy the complimentary bathroom inside your floor-to-ceiling enclosed space, pamper yourself with Bvlgari toiletries and Timeless Spa products in your onboard shower, and video chat with the crew to order your world-class food. When you're done with that, you can take advantage of your own mini-bar and selection of fresh juices. The luxury starts even before boarding with transport from the airport to the plane in a Mercedes-Benz S-Class sedan! If you happen to be seated in the middle of the plane, Emirates even provides "virtual windows" so you don't miss any beautiful views.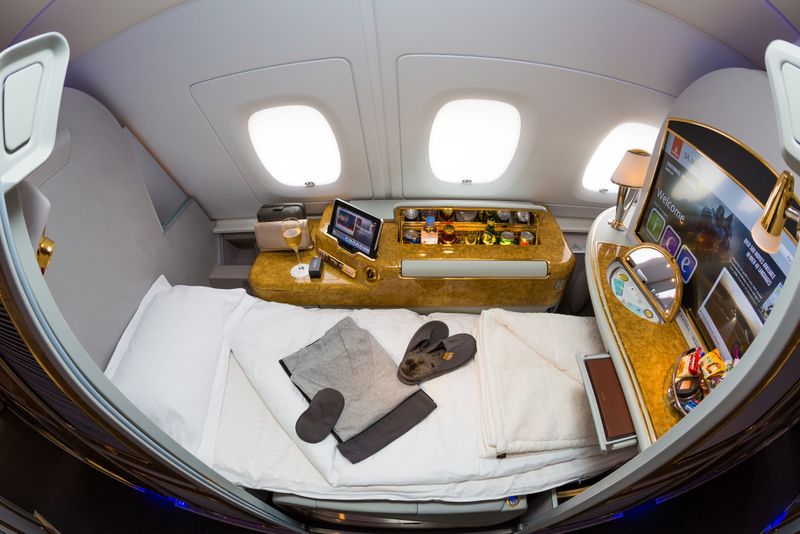 Lufthansa
Cost: begins at ~$7,000 USD for a one-way ticket.
While Lufthansa may not offer completely private cabins like some of the other options on this list, they do offer many unique amenities that give your flight a very homey feeling. Beginning with a drive to the plane in a Porsche and elegant snacks and decor pre-flight (think Roses, champagne, and nuts). Lufthansa offers its first-class passengers a private space, complimentary lounge experience, all you can eat and drink menus, regional cuisine that changes from country-to-country, as well as a dedicated nap room. This is the perfect flight experience for people who want to feel pampered without going overboard.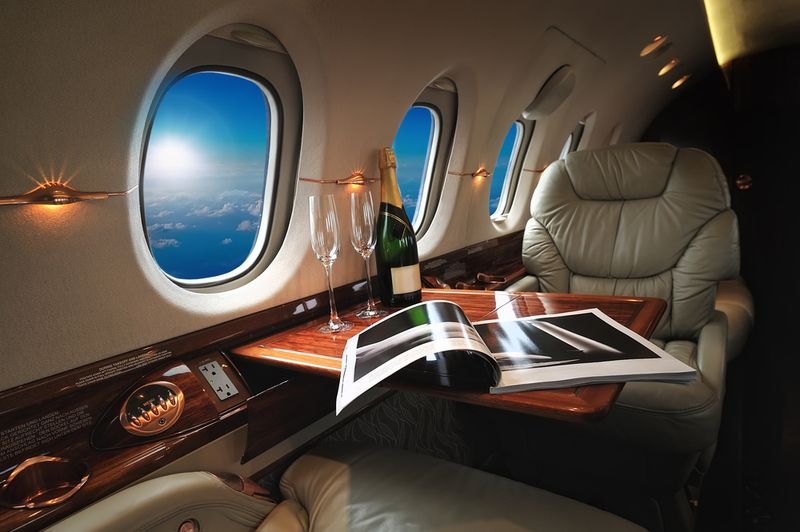 Air France
Cost: upwards of $10,000 USD for a one-way ticket.
Aside from its beautiful curtain covered cabins and comfortable six-and-a-half-foot-long bedding, Air France's La Première first-class experience arguably offers the highest-quality drink and food menus in the sky. Selected by renowned French Michelin star chefs, you can expect cuisine and service that rival the most expensive restaurants around. Checking all the boxes, Air France also provides free Wifi, Carita beauty products, complimentary cotton bathrobes, slippers, socks, as well as your own entertainment system.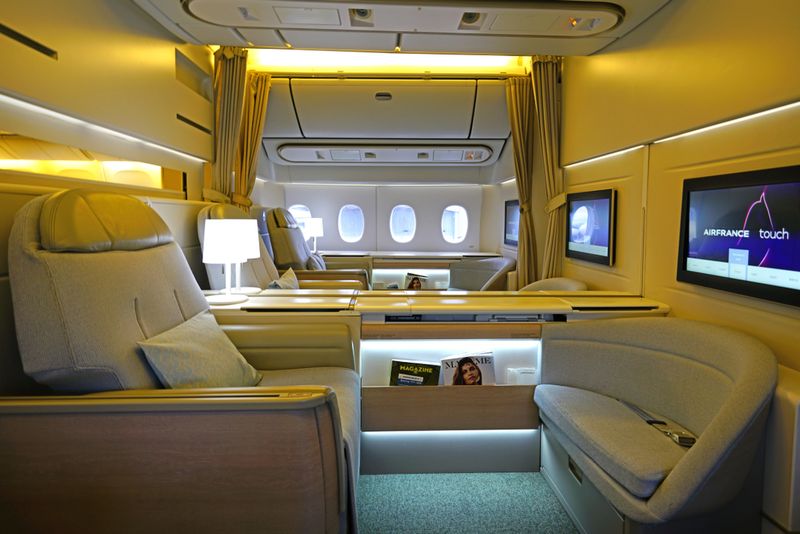 Qantas
Cost: upwards of $15,000 USD for a round-trip ticket.
For those wanting their flight to resemble more of a day at the spa than a mode of transportation, Qantas' first-class has you covered. You can enjoy complimentary eye cream and pajamas, and even book an appointment at the airline's lounge spa for a pre-flight massage. Also before your flight, you can enjoy provided hot towels, a glass of champagne, as well as a selection of olives nuts. Throughout your flight, you can relax even more in your swivel chair, facing forward when in the upright position for take-off and landing, and rotating when reclining to form the fully flat, 81 inch-long bed.