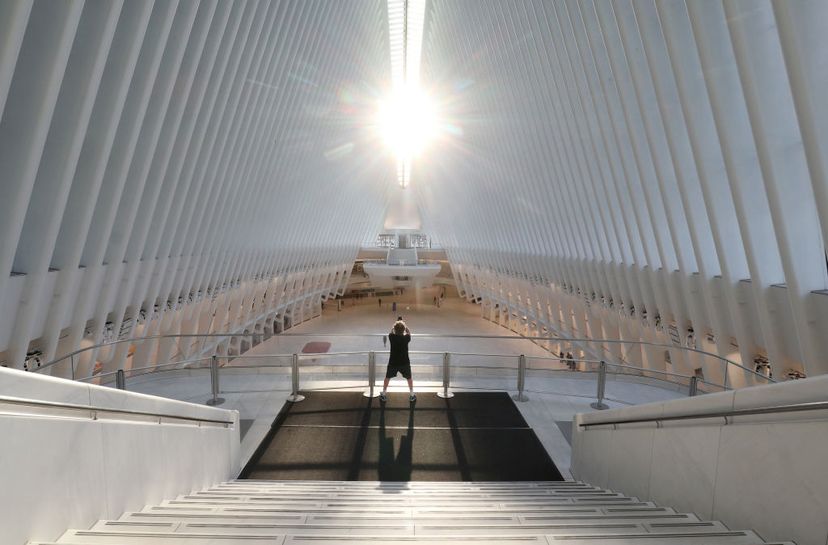 Sure, New York City above ground is amazing. You've got Central Park, Times Square, Columbus Circle, and tons of other places to check off on your itinerary. But have you considered spending some time underground in New York City?
The subway stations in New York City feature some of the most interesting works of art. Amidst the rush hour crowds and delayed subway trains, you might just find something worth stopping to learn more about.
Here are 7 must-see works of art located below New York City.
1. Life Underground
As you exit the A, C, E, or L train, you'll be greeted by a fun group of bronze sculptures by Tom Otterness. One sculpture tries to evade the fare, while another tries to escape the jaws of a crocodile coming out of a sewer. Intense. Directions.
2. Oculus
Can you handle the pressure of over 300 mosaic eyes staring at you as you wait for the train at Chambers Street? Created by Kristen Jones and Andrew Ginzel, the eyes are modeled after real New Yorkers. Directions.
3. The Return of Spring and Onset of Winter
This pair of mosaics were unveiled in Udine, Italy, the first in 1999 and the second in 2003. Created by Artistic Mosaics Travisanutto of Italy, the mosaics were inspired by the everyday scenes of New York City. Directions.
4. Carnegie Hall Montage
Music lovers will find this assortment of images in porcelain on steel showcasing some of the biggest artists that have performed at Carnegie Hall. The Beatles and Leonard Bernstein will steal your attention. Directions.
5. Community Garden
A garden in a subway? You bet! Artist Andrea Deszö brings the frogs, dragonflies, and snails of the garden to life along with vibrant fruits on winding vines throughout the station. Directions.
6. Flying Home Harlem Heroes and Heroines
I guess the train was taking too long? Performers, writers, musicians, civil rights activists appear to be flying homeward in this installation by Faith Ringold. Directions.
7. Funktional Vibrations
If you thought the new Hudson Yards stop was cool when your train pulled into the station, then you're in for a surprise when you get on the escalator! It won't be long before you look up and find yourself wrapped up in Xenobia Bailey's funky tile art. Directions.