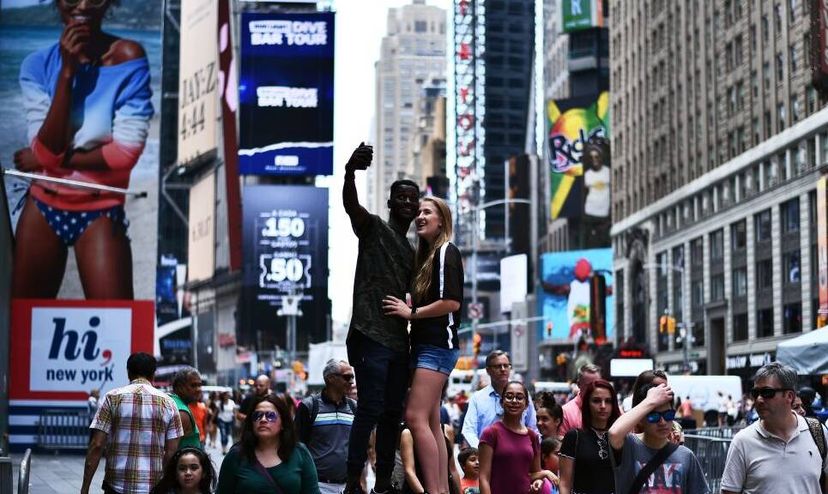 New York City is one of the most scenic places in the world with recognizable landmarks like the Empire State Building. In an era of social media, the perfect picture can make for an amazingly curated feed. And while there are many places around New York City where you can take the best photos, here are the top ten places you have to go to get the best backdrop for your selfies.
Herald Square
Located in the heart of 34th street, Herald Square is home to the world-famous Macy's. Though they are the largest department store in the city, Macy's offers more than just shopping. Around Thanksgiving and Christmas, they create the best storefront windows that feature lifelike scenes from classic films and stories like Miracle on 34th Street and Rudolf the Red Nose Reindeer. To get a photo with a view of New York behind you, walk a block up to the Empire State Building, located five minutes away from Macy's. There you can snap a photo in their Observation Deck with all of New York as your backdrop.
Times Square
Located in Midtown Manhattan, Times Square stretches from West 42nd to West 47th Streets. With large billboards and lights that never go out, this location offers the best backdrop for epic selfies. Though the daytime offers great scenic views and there's a lot to see, the nighttime is the best time for photos, mainly because of how vibrant the billboards in motion look when the sun is down. Some of the attractions they have in the area include Hard Rock Café, Ripley's Believe it or Not, Toys R Us, and their indoor Ferris wheel. Stop by Madame Tussauds located on West 42nd street to take a picture with one of the waxed celebrities they set outside for people to gawk at and take photos with.
Chelsea Piers
This sports center not only offers a series of piers with everything to do from batting in a batting cage to bowling into the wee hours of the morning but also a view of the Hudson that would make for an incredible background for your next selfie. Located on Manhattan's Westside this venue is perfect for adult and youth sports. There are tons of restaurants in the piers and with options to board a boat and ride around the Hudson to kayaking, there are opportunities to capture an experience you'll remember long after it's over.
Coney Island
Coney Island is a leisure/entertainment destination that is the perfect place to get the best photos. From the boardwalk to the world-famous Wonder Wheel (and the beach, we can't forget the beach) this place is selfie central and a great reason to cross the bridge into Brooklyn. There are other picture-perfect locations like the world-famous Nathan's, where the annual hot dog eating contest takes place every fourth of July, and then there's the New York Aquarium that's located right off the boardwalk.
Rockefeller Center
The fall and winter in Rockefeller Center are the best. The Rockefeller Center spans from 48th to 51st Streets and has many jaw-dropping attractions. Between The Rink, the Channel Garden filled with sculptures and paintings, plus the massive Christmas tree that gets lit up three weeks before Christmas, there's plenty of opportunities to get the best shots. You can take a trip to the Top of the Rock Observation Deck and snap a photo of your view of New York. This includes a great view of the Empire State Building. Located just steps away from Times Square, Rockefeller Center is also near Radio City Music Hall and there's nothing more iconic than having the blue-red lights of Radio Music Hall flashing behind you in your selfie.
Madison Avenue
Once you're done at Rockefeller Center walk to Madison Avenue and be surrounded by luxury. From 57th to 79th street there's a huge stretch of high-end retail stores that will make for excellent backgrounds in your photos. Store windows are dressed to the nine with mannequins that almost resemble the models that walk the runways of Fashion Week. If you've got the cash or the credit, step inside of the many upscale retail stores that will have your Instagram friends green with envy. And if you don't feel like splurging, window shopping will be a satisfying alternative. Madison Avenue is home to the most expensive retail real estate in the world and you might bump into a celebrity or two so keep your phone and camera handy.
City Island
If you're into posting photos of your food and views of the water, City Island is a must-go when you're in New York. Located in the Bronx, City Island boasts the most delicious seafood New York City has to offer. And because it's by the water you get an oceans to view that's even captivating during the winter. The summer is the best time to visit City Island so that you have the choice of eating outside comfortably.
Harlem
Located in the northern section of Manhattan, Harlem is full of culture and iconic venues. Stand in front of the acclaimed Apollo Theater and snap a photo in front of the place where legends like Michael Jackson, Diana Ross, and James Brown to name a few once performed. There are some national landmarks located in Harlem such as Duke Ellington Circle where a statue of Duke Ellington is located, Lenox Lounge, and Marcus Garvey Park.
Central Park
There's so much to do in Central Park that this will probably be the place that takes up most of the photos on your phone. Besides the lush green landscape (depending on when you visit) that Central Park's large land of trees and grass has to offer, there are several places located in or near the park that will keep your camera ready. The Central Park Zoo, Belvedere Castle, Diana Ross Park, and the Carousel are just a handful of places that make scenic backdrops for photos.
American Museum of Natural History
The American Museum of Natural History is located in the Upper West Side right across from Central Park West on 79th street and is one of the largest museums in the world. Nothing boring or stuffy about the exhibits here. They're amazing enough to make a big kid out of anyone. It's home to over 32 million specimens of plants, humans, animals, fossils, minerals, rocks, meteorites, and human cultural artifacts, you'll need to set aside a day to see them all since the museum is quite large. Get a selfie with the pack of eight African elephants in the Akeley Hall of African Mammals and blow your followers away.