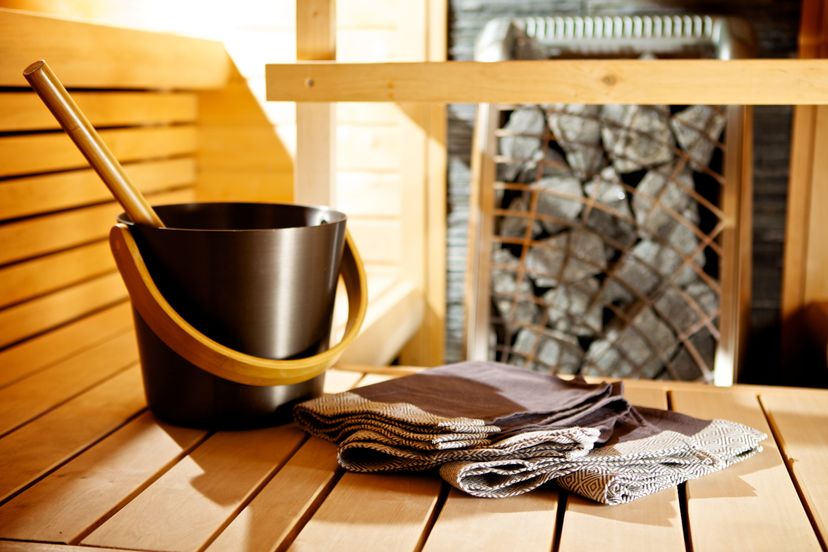 Nordic, or Nordik spas in Quebecois French, are a circuit of hot and cold baths, saunas, and steam rooms that you move through in order to reap health and wellness benefits. Generally, you repeat the cycle 2 to 3 times in a row to get the full benefits, and it makes for a lovely afternoon or evening, whether you're solo, with girlfriends, or on a romantic date with your partner. While these spas can be found all around the world, Quebec Canada has become extremely well known for them. The snow-capped mountains and chilly winters are the perfect time to visit and reenergize, though you can go year-round.
The cycle works like this: You begin by working up a sweat in a steam room or sauna to simulate cardiac function and promote blood circulation. You then plunge your body into a cold temperature; whether it is a frigid river or pool, chilly waterfall, rain shower, or even the snow. The cold closes the pores, reduces inflammation, and boosts the immune system by stimulating circulation. The final step of the cycle is to allow your body to relax for 15 to 20 minutes during which time the body regulates itself back to a normal temperature. When visiting a nordic spa, you should bring your bathing suit and an empty non-glass water bottle. Check with the spa ahead of time to see whether they provide robes and sandals. If they don't, you should also pack flip flops and an absorbent robe.
Many Nordik spas also offer a range of other treatments in addition to the baths, from massage to facials – just be sure to check the service menu at a given place. From modern and polished luxury havens to nature-focused eco-spas, discover one of these ten relaxing Nordic spas in Quebec.
Spa Ofuro
The Japanese wooden architecture and flowing river set the stage for complete relaxation here at Spa Ofuro; located in Morion-Heights in the heart of the Laurentians. Overlooking the mountains, this Nordic spa includes three dry saunas, a eucalyptus steam bath, four hot whirlpool baths, two cold baths, and a cold river to plunge into. With a total of three indoor relaxation rooms, there's plenty of space for everyone here. The focus at this Nordik spa is relaxation and taking care of one's self, and with only the sounds of nature around; you will see why many visitors continue to return.
If you want multiple days of soaking in these baths, stay in one of their beautiful guest rooms, each of which is equipped with a queen-size bed, fireplace, and full access to all the amenities. A bistro on-site provides a daily lineup of soups and sandwiches that can be enjoyed indoors or out. The landscape is equally stunning in all seasons whether the waterfall is clear and babbling or fresh snow is covering the mountain tops.
Siberia Station Spa
Just minutes outside of Quebec City, visitors will feel like they have stepped into a different world when they walk through the doors of Siberia Station Spa. In the heart of a beautiful lush forest, multiple saunas, hot pools, and relaxing rooms await you. An infrared sauna helps to alleviate stress, fatigue, and chronic pain while promoting healthier skin while the Finnish sauna works on blood circulation and removing toxins from the body. Six different hot pools scattered across the property allow for your muscles and mind to unwind and relax.
Hop into the beautiful Yellow River that borders the property or one of the cold plunge pools with their waterfalls to shock (erm, we meant refresh) you! Head to one of the heated relaxation areas including a yurt complete with fireplace or outdoor heated terrace. This nordic spa offers a morning just for families every Sunday from 9:00 AM until noon, as kids are not normally permitted inside. Deep relaxation is a guarantee at this wonderful spa located just steps from downtown Quebec City.
La Source
One of the most picturesque Nordic spas on our list is La Source Bains Nordique, tucked up high in the dense forest on a hillside in the beautiful Lanaudiere region. As you climb the long stairway to the entrance of this spa, the owners encourage you to leave your worries and stresses at the bottom. A gateway to relaxation awaits visitors as they enter the reception area with its roaring fireplace, bistro loaded with healthy meals and smoothies, and beautiful views out the large glass windows.
A eucalyptus steam bath and dry sauna will warm you up quickly before you plunge into the cold baths with chilly waterfalls, snow, or even into a hole dug in the frozen river (in the wintertime). Outdoor hot tubs built into the cliffside provide massaging jets and the relaxation areas range from outdoor fireplaces, indoor solariums, terraces, and hammocks. A special darkroom is available in which guests have the chance to relax on zero gravity chairs in complete darkness. Normally the spa is all about silence and reflection, however, La Source often runs fun nighttime activities where silence is not required and people come out to have some more rowdy fun.
Spa des Chutes de Bolton
Harmony between nature, body, and spirit is the goal of Spa des Chutes de Bolton which is located at the base of the falls of the Missisquoi River in the Eastern Townships. Two dry saunas overlooking the falls along with outdoor hot tubs and a eucalyptus steam bath set the stage for the "hot" part of your nordic experience. This spa is also the only one of its kind in North America to offer the Savusavu; an old-style smoke sauna that works like a wood sauna, without the fireplace. Smoke fills the air creating a gentle heat that envelops the body and smells great.
The cold part of this spa is the natural river that crashes down and invigorates the body, leaving you fully alert and refreshed. The yurt, with its crackling wood stove, provides rest for those visiting in the winter while the sunny terrace is open in the summertime. If you're hoping for a deal or would prefer to skip the crowds, opt to visit on a weekday and after 5 pm to experience this breathtaking Nordic spa in the heart of nature.
Bota Bota, Spa-sur-l'eau
Step out of the ordinary with this next Nordic spa on our list. It's actually a former ferry that has been transformed into an incredible spa and is now moored at Old Ports Quay. It promotes the healing benefits of the spa alongside being lulled by the natural movement of the beautiful St-Lawrence River. It is hard to beat the views over the city of Montreal whether you are outside or enjoying them through one of 678 rounded boat windows.
The five decks house the various spa installations including two saunas, a eucalyptus steam bath, outdoor hot whirlpool baths, and of course, cold showers and baths to complete the cycle. There's also a restaurant, plenty of relaxation areas, gardens and terraces on board. A variety of treatment options exist at the full spa including massages, manicures, pedicures, yoga, and Pilates, making this a must if you're in the area and needing a break.
Nordik Spa-Nature
Located only 10 minutes outside of Ottawa at the entrance of Gatineau Park sits the largest spa in North America. This Nordic spa boasts seven outdoor baths, eight saunas, and an infinity pool with views of the city. The outdoor baths range in temperature from 10 to 39 degrees Celsius, varying depending on weather and season. In addition to the typical Finnish sauna (common of all Nordic spas), this one offers many more alternatives including the Barik Sauna – a uniquely shaped tubular dry sauna that creates a special climate. Other saunas include an aromatic sauna that is kept at a lower temperature letting guests stay in longer (talking is permitted here too!); a Maa Sauna which is dug halfway into the ground and offers intense heat; and an orange steam sauna which is similar to the eucalyptus sauna with a different scent. Sign up for a package such as a girl's getaway and foodie Wednesdays if you're looking for the full experience for one price.
Le Nordique Spa Mont Ste-Anne
The most family-friendly Nordic spa on our list is nestled on the edge of a private lake, just a five-minute drive from Mont Ste-Anne. Children are welcomed to this spa every Friday through Sunday morning from 10 AM to 1 PM, as well as holidays, which makes this the perfect place for the whole family to relax. The hot Finnish sauna and Turkish steam bath provide ultimate relaxation. Cooling off here is a breeze with opportunities to swim in the private lake, stand under the rain shower, plunge into the cold bath or simply go for a roll in the snow (a favorite of the kids).
Experience the unique Aufguss Sauna – an experience of German origin that is designed to increase sweating. Every Sunday afternoon the sauna master throws water onto the lava stones creating a cloud of steam that increases humidity, simultaneously waving a towel to increase air movement. Oils added to the water simulate the limbic system and perfume the air while frozen fruit is distributed to participants to end the experience. This natural environment is packed full of outdoor hot tubs, saunas, and relaxation rooms – all in a beautiful setting appropriate for those of all ages.
Le Scandinave Mont Tremblant
Immerse yourself in the beautiful natural setting at Le Scandinave for quiet rest and contemplation, located at the edge of the Diable River. Heat up in the Finnish sauna, eucalyptus steam bath, thermal waterfall, or choice of hot baths. Let your pores open and toxins melt away before you head to the cold baths, waterfalls, showers, or year-round Diable River. Silence is key at this Nordic spa and encourages visitors to find inner stillness which leads to complete relaxation.
There are enough relaxation areas to keep anyone happy. Sit by the outdoor fireplace, lounge in the hammocks, or relax in solariums for 20 minutes – after all, resting after a full cycle is recommended. This Nordic spa invited visitors year-round from 10 AM to 9 PM, rain, sun, or snow. For an extra special experience, treat yourself to one of the hot stone or deep tissue massages.
Polar Bear's Club
Located on the banks of the Rivière à Simon, the Polar Bear's Club offers a breathtaking setting for the true Nordic spa experience. Two hot dry saunas, one steam bath, and five therapeutic thermal pools warm visitors up in all seasons. The cold factor comes by way of a waterfall, two cold baths, and three different access points to the river. Of course, in the wintertime, there is plenty of snow to frolic around in as well. We suggest getting with the theme of this spa and taking a dip in the cold river!
If you just can't get enough why not stay the night? Two separate hotels are available to visitors. Lofts with rustic designs, fireplaces, and a cozy bed with unlimited access to the pools are some of the best options. For larger groups, rent the two-bedroom cottage complete with two full bathrooms, a kitchen, living room, dining room, and fireplace. An updated bistro offers exceptional cuisine on-site with a roaring fireplace and views of the river. Whether you spend a few hours here after the ski hill or make this a romantic weekend getaway, Polar Bear's Club doesn't disappoint.
Spa Natur'Eau
Located in the beautiful Lanaudiere region, this cozy, calm, and serene Nordic spa will have you relaxed and rejuvenated in no time. The small staff are known for their hospitality and are always ready to ensure visitors have a great experience. Every Sunday this spa opens to families from 9:30 AM to 1:00 PM so the whole clan can relax together. The on-site restaurant also offers fresh and healthy meals with a view if you're needing a bite to eat.
The dry Finnish sauna or high-temperature hammam (Turkish bath) is the perfect place to start your heat cycle. From there, plunge into the cold pool with a waterfall to get the heart pumping. Then head to the yurt or aromatherapy room to relax. Three outdoor hot tubs that are cut into the rock face provide visitors with the chance to stay warm and relax outside in the wintertime. This Nordik spa offers a variety of different activities throughout the year including days where you can whisper instead of remaining silent when kids are treated to massages, lunch and the baths, and a full moon evening when mediums and clairvoyants join.