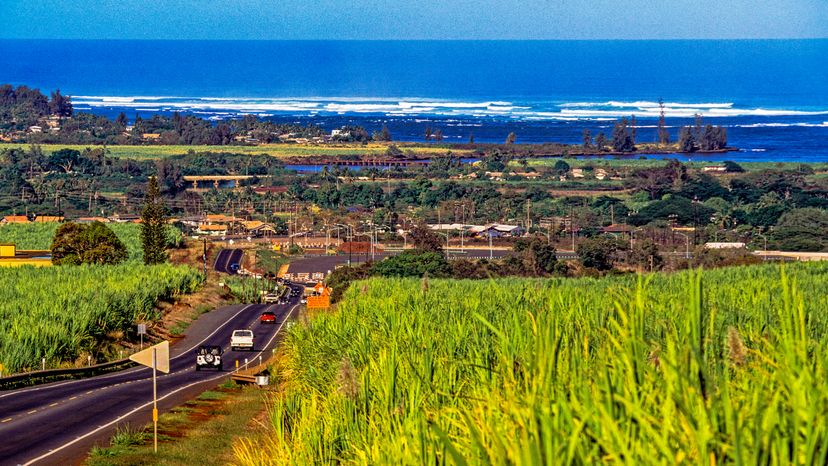 Away from the urban bustle of Honolulu and the crowds of Waikiki, the Kamehameha Highway (Route 83), the road that traverses the North Shore of Oahu, is a study in pastoral tranquility and rural charm. It's set against the backdrop of the blue Pacific.
The Kamehameha Highway -- named for King Kamehameha the Great, who conquered and unified all the Hawaiian islands in the late 18th and early 19th centuries -- hugs the Pacific Ocean from the eastern (windward) side of the island going north and then west until it dips south toward Pearl Harbor at the town of Haleiwa.
Along the way, it passes a succession of small coves and bays and miles of white-sand beaches, some nearly deserted. In summer, the ocean waters tend to be fairly calm and good for swimming. In winter, the waves at Waimea Bay and Sunset Beach may hit 25 to 30 feet or more -- the largest surfable waves in the world.
Those who travel Oahu's unspoiled North Shore will soon feel as though they have escaped to the Hawaii of old. Roadside vendors peddle local delicacies such as coconuts, fresh pineapple (the Dole Plantation is farther down Kamehameha Highway to the south), Kahuku sweet corn, and cold shrimp.
General stores and food stands offer up some of the islands' most refreshing shaved ice, the exceptionally tasty Hawaiian version of the snow cone; tropical flavors include pineapple, coconut, and passion fruit, and are often served over ice cream or azuki beans. The historic resort town of Haleiwa, the "surf capital of the world," features old-fashioned eateries, intriguing shops, and, of course, the ever-inviting Pacific surf.
As beautiful as the drive is, it's hard to resist stopping at one
of the many beaches along the North Shore. Sunset Beach, Ehukai Beach, and Waimea Bay are world famous for their monster waves and surfing competitions. Malaekahana State Recreation Area has terrific swimming and body surfing. Other beaches, such as Shark's Cove at Pupukea Beach Park, are known for their tide pools and snorkeling.
Kawela Bay and Kuilima Cove are uncrowded sandy beaches with safe swimming and snorkeling year-round. In winter, beachgoers might spot humpback whales offshore, migrating south from Alaska to mate.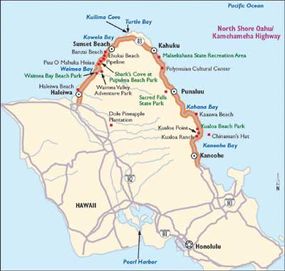 For more information related to Hawaii's Kamehameha Highway, see:
Hawaii Volcanoes National Park, Haleakala National Park: Find out about visiting these awesome national parks in Hawaii.

How to Drive Economically: Fuel economy is a major concern when you're on a driving trip. Learn how to get better gas mileage.