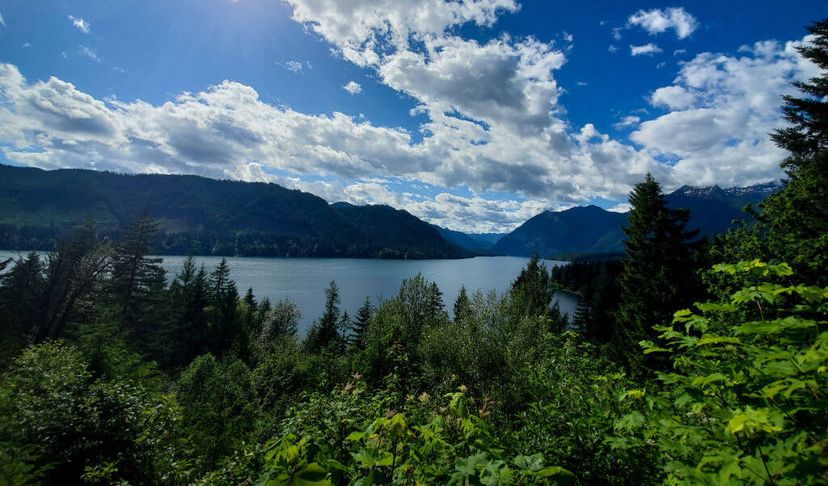 Three Major Ecosystems in One Incredible Park
Situated on the remote Olympic Peninsula in northwestern Washington, Olympic National Park is a land of deep wilderness and incredible diversity. More than 95 percent of the park is backcountry, with habitats ranging from coastline to dense forests, to alpine grassland and glaciers. Otters swim in the undersea kelp forests off of the coast. Roosevelt elk roam free in the temperate Hoh rainforest. About 570 square miles of the park is old-growth forest, home to towering western hemlocks, red cedars, and coast-Douglas firs.
But wild as it is, the park is also incredibly accessible. Almost 3 million people visit it each year, and while many take advantage of the park's unique hiking opportunities — such as treks along the Pacific coast — lots of folks choose to tour it by car. The park's 16 National Park Service-maintained campsites accommodate a host of recreational vehicles, and offer amenities such as fire pits and picnic tables, and sometimes cold running water.
When the first American homesteaders arrived on the Olympic Peninsula, many thought that its fertile soil, abundant rainfall, and lush beauty would attract droves of settlers before long. Fortunately, they were wrong. Today, Olympic National Park's natural richness is preserved for all to enjoy. Ambitious new restoration projects geared toward recovering lost ecosystems are leading the cause of conservation into the future.
Activities in Olympic National Park
Coastal Day Hiking
There are lots of day hikes to choose from in Olympic National Park, but hiking on the shore is perennially popular. This might seem counterintuitive since the Olympic shoreline is marked by dense forestation, poor footing due to slippery rocks, and tides that can make hiking along the shore rather tough. Hikers should know the tides and plan on doubling their travel times when traveling on coastal trails.
The most popular trail along the coast is the Ozette Lop. This nine-mile trail is divided roughly into thirds, including six miles of boardwalk and three miles of headland path that neatly avoid tides along the beach. Campsites are located at Sand Point and Cape Alava. Reservations are required for campsites between May 1 and September 30. Campfires in this area, where allowed, may only burn driftwood — don't worry, there's plenty of it.
An easier hike to Rialto Beach is open from April to October. It is one mile away from the Hole-in-the-Wall camp areas, named for a natural arch that's right on the beach. No reservations are required for this campsite. Be sure to check out the unique sea stacks that line the shore on the three-mile hike between Rialto Beach and Mora.
Mountaineering and Alpine Hiking
If you've ever wanted to climb a glacier, Olympic National Park might not be the place to start. It's a 4-6 mile trek from Glacier Meadows to the summit, with an elevation change of almost 3,600 feet. The summit of Mount Olympus is a tough climb that requires an ice ax, crampons, and the skills to use them, even into early summer. Previous experience with glacier travel and crevasse rescue training is a must for anyone looking to scale the summit's rock faces.
Other summits popular among mountaineers include Mount Constance and Mount Deception. Due to the rock composition — shale, sandstone, and soft basalts — and exposed surfaces, conditions can be hazardous even when climbing isn't highly technical.
The 13-mile Hoh River Trail to Glacier Meadows is a better alternative for less hardened travelers. The elevation change is about the same, but it's more spread out. This long, gradually rising trail moves through several of the park's ecosystems, beginning in temperate rainforest and moving up into subalpine and alpine meadows and forests. These diverse biomes offer plenty of opportunity for wildlife watching and reward hikers with great views of Blue Glacier and Mount Olympus from Glacier Meadow at the end.
Fishing
Olympic National Park's coast and waterways make for excellent sport fishing, whether you're angling on its more than 3,000 miles of rivers and streams, casting off its 73 miles of shoreline, or launching a boat on one of its hundreds of lakes. Regulations apply to catching fish and shellfish, and special restrictions are in place for coastal rivers. Trout, steelhead, and salmon live in the park's waters. Dam removal on the Elwha River, which began in 2011, is projected to vastly increase the area's fish population as well.
Auto Touring
Olympic National Park's system of access roads connects all of its major points of interest and makes it relatively easy to get around, provided that conditions like snow, construction, and flooding don't lead to closures. While this is bound to happen from time to time, auto touring is still rather popular at the park. If you think of the park's roads as a wheel, then Highway 101 is the rim and the access roads are the spokes. A mileage chart helps plan car trips, but as can be expected from a national park, most of the fun takes place outside of your vehicle.
The National Park Service maintains 16 campgrounds in Olympic National Park, many of which are suitable for recreational vehicles up to 21 feet in length, and include amenities such as running water and pit toilets. Campgrounds are open seasonally and do not have electrical hook-ups or showers. Fees vary by the campground.
Visiting Olympic National Park
Seasons, Fees, Permits, and Reservations
Olympic National Park is open all year, but roads and certain sections of the park may be affected due to conditions like snow, flooding, and construction. It's always a good idea to check current conditions before planning a visit. Standard entry fees to the park are $15 per vehicle and $5 per individual arriving on foot, bicycle, or motorcycle. These passes are good for visits of up to seven consecutive days. Annual passes are $30. Check the park's website for more information on special passes.
Wilderness permits are required for all overnight trips to the park's backcountry, and reservations may be required to enter certain protected areas in accordance with overnight use limits. While limits vary across regions, generally only 50 percent of an area's nightly limit is reservable in advance. The other half is given on a first-come, first-served basis at select information centers and ranger stations.
Visitor Centers
Olympic National Park's main visitor center is located in the town of Port Angeles, which is in many ways the gateway to the park. The center is open daily all year and hosts exhibits highlighting the park's cultural and natural history. The park's Wilderness Information Center, located within the main visitor center, issues backcountry permits, stocks bear canisters, and provides other useful updates and tips regarding travel in the park's extensive wilderness.
Mountains, Beaches, and Forests
Generally speaking, Olympic National Park's ecosystems can be broken into mountains, beaches, and forests. Temperate rainforest covers much of the western park and is typified by large coniferous trees like western hemlocks, Sitka spruce, and coast-Douglas firs, as well as mosses. This area receives an average of 12 feet of rain every year. It's common to see plants growing out of fallen trees, called "nurse logs." The Hoh Rainforest is one of the Olympic National Park's biggest tourist attractions.
Northern and eastern sections of the park are home to lush valleys covered in lowland forest. This much-visited section of the park is home to the Elwha River, the subject of one of the largest wilderness rehabilitation projects in national park history. The Salmon Cascades overlook in Sol Duc Valley is a great place to watch coho salmon jump during spawning season (late October, early November). Easy day hikes among giant trees are a popular feature at the park's Staircase and Heart O'the Hills areas.
The Olympic Mountains are favored for their scenic views, hearty subalpine forests, and broad, wildflower-sprinkled meadows. Although backcountry hiking is a very popular activity, you don't necessarily have to rough it to witness the glory of Olympic's high country. Hurricane Ridge and Deer Park are highland areas accessible by car — weather conditions depending — that offer numerous scenic turnouts and tourist-friendly features.
Stop by the Hurricane Ridge Visitor Center to take in awesome panoramas of Lillian Ridge and Mount Olympus, or catch ranger-led walks and talks. Numerous trailheads are located in the Hurricane Ridge area, including easy-to-moderate day hikes in its nearby hills and meadows. Alpine meadows on the peninsula are home to more than two dozen endemic species that escaped glaciation during the last ice age. Hurricane Ridge is also a hub of winter activities like snowshoeing and downhill and cross-country skiing, road conditions permitting.
Olympic National Park's coastline offers incredibly diverse terrain, ranging from sandy and rocky beaches to dramatic cliffs and peculiar shoreside rock formations. Beach hikes are fairly popular, especially along the western edge of the park near Kalaloch and picturesque Ozette. Just be advised that a walk on the beach isn't exactly a walk in the park — figuratively speaking. Slippery rocks and tides can hinder your progress when hiking on the shore.
Wildlife in Olympic National Park
Sea Otters and Gray Whales
The undersea kelp forests found off the coast of Olympic National Park are the preferred habitat of the sea otter. This frisky fellow is protected from the cold waters of the North Pacific by a thick coat of fur — a pelt that was once so valued by trappers that the otter nearly faced extinction.
The sea otter was extirpated from the Washington coast by the early 1900s because of hunting. Worldwide population for the marine weasel once fell lower than 2,000 individuals, before a hunting ban and habitat restoration efforts helped it rebound. The waters near Olympic National Park are home to about 800 sea otters. While its turnaround is one of the great success stories of marine conservation, the sea otter remains an endangered species.
Like the sea otter, the gray whale also recovered from the brink of extinction. But while the otter remains a species of significant concern, the eastern Pacific population of gray whales now number more than 20,000 individuals. These marine giants were once hunted for their bones and oil, but today they are most sought after by whale watchers who can catch them from March to May as they migrate northward to their summer feeding range.
Whales, otters, and other marine animals greatly benefit from the protected waters of the Olympic Coast National Marine Sanctuary, a 3,310-square mile ocean preserve (about twice the size of Olympic National Park) that is home to 29 documented species of marine mammals.
Olympic Marmots
The Olympic marmot is one of more than two dozen endemic species that evolved on the Olympic Peninsula through geographic isolation associated with glaciation during the last ice age. The burrowing member of the squirrel family is uniquely adapted to thriving the on windswept, high-altitude grasslands of the Olympic Mountains. It may hibernate underground for up to eight months out of the year to escape the harsh cold.
Although settlers and explorers of the Olympic Peninsula hunted the marmot for food and sport, it's remained a constant resident of the region throughout the human settlement. However, a recent decline in marmot numbers — indicated by the abandonment of long-populated areas — has spurred new research on rodents. Scientists argue that encroachment of new predators, such as coyotes, due to human disturbance and climate change have precipitated the downturn.
Roosevelt Elk
Preservation of the Roosevelt elk, also known as Olympic elk, was a principal driving force behind the founding of Mount Olympus National Monument, which would later become Olympic National Park. The elk would be named in honor of President Theodore Roosevelt, who established the monument. This largest existing species of North American elk was once aggressively hunted but has since made a comeback in diverse locations such as Northern California, some Alaskan islands, and of course, the Olympic Peninsula. Today Olympic National Park is home to herds of free-roaming Roosevelt elk, which can commonly be seen in the Hoh rainforest.
Looking for more great national parks in Washington?
Try out these naturally beautiful spots nearby to enjoy even more flora and fauna: