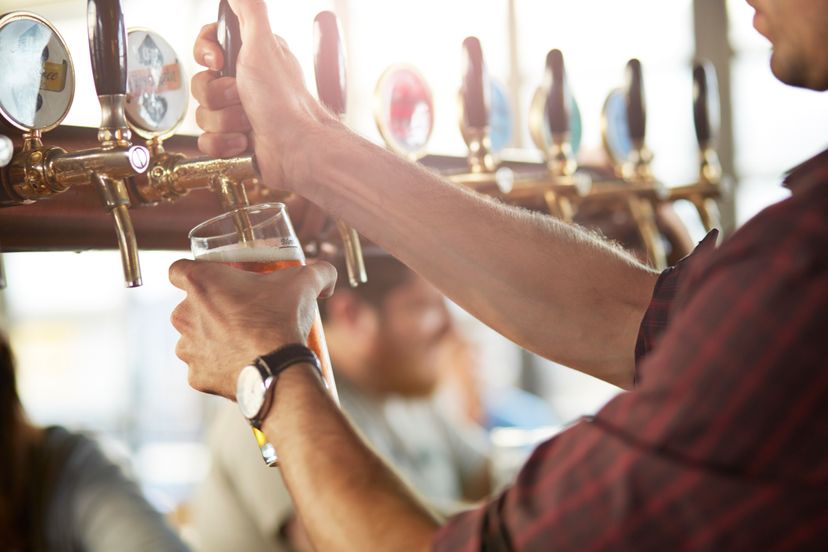 Beer lovers unite! For a trip to Oregon, that is. There is no better place to discover craft beer than Oregon. The brewery scene here is vibrant, with more craft breweries per capita than anywhere else in the world and more money poured into the industry than in any other state in America. From unique brews to crisp pilsner from the mountain streams to hoppy IPAs (thanks to the state's ideal climate for growing hops), brewers and beer lovers alike will enjoy taking advantage of the liberal craft brewing laws and the beers it's produced. Here is where to find the best Oregon craft beer and the stories of how these breweries came to be.
Pelican Brewery, Pacific City
On the Pacific Coast a beer paradise awaits you at Pelican Brewery. Wander down to the incredible seaside pub and brewery, head into their newest facility in Tillamook, or simply fill your cooler with their beer and watch the red sun slowly sink into the horizon. Pelican Brewery originally came to the West Coast in 1996 when founders opened the brewery in an old brick building in Pacific City. Since then this brewery has produced some incredible beers and they have the awards to prove it. In 2014 Pelican Brewery received a Gold Medal for their Kiwanda Cream Ale, a Silver Medal for Silverspot India Pale Ale and was named Champion Small Brewery at the World Beer Cup. This was the third time around winning the "Champion Brewery and Brew-master Small Brewing Company" award. They make sure to have their six flagship award-winning beers on tap and in bottles year round, but also offer seasonal favorites and one-off rotating beers on tap to keep things interesting. They've also won numerous awards for the food that is offered at its oceanfront pub with the executive chef and brewmaster becoming world leaders in food and beer pairing. This one abandoned building bought by two people who didn't know a whole lot about craft beer has certainly turned into a mighty force to contend with in the micro-brewery world.
Breakside Brewery, Portland
Breakside Brewery was founded in Portland in 2010 opening a restaurant and nano-sized brewery. Demand quickly grew as they began producing quality and unusual beers and in 2012 they expanded operations with a new production facility and 20 tap tasting room. In 2014 they received the highly coveted Gold Medal for American-style IPA at the Great American Beer Festival for their flagship IPA. With 6 favorites offered year round and a number of seasonal offerings throughout the year, it's not hard to find a beer that everyone can enjoy. Breakside also specializes in experimental barrel-aged and sour beers. The new production facility has allowed this brewery to expand and they have brought home numerous awards for beers such as their Bourbon Barrel-Aged Aztec; an amber ale with chocolate and chilies and a sour double wit that's aged in gin barrels. This brewery loves to collaborate with other brewers, ice cream shops, and anyone else who will make their beer that much more unique and flavorful, making it some of the best Oregon craft beer you can find.
Fort George Brewery, Astoria
In one of the oldest buildings in Astoria Oregon, Fort George Brewery has managed to make quite a name for itself with their unique location and variety of beers. The idea behind this location was to revitalize the area, open a public house where everyone feels welcome, and produce the best beer possible. The beer here is never filtered, refined, or clarified and is produced using only the freshest most local ingredients. Distributed through Oregon, Washington, and Idaho, this brewery has a loyal band of followers and has produced over 40 some varieties of beer. Expanding into the building next door, Fort George Brewery was able to add on a 30 barrel brewhouse and tasting room that consistently has 20 plus taps going. With awards piling up, this brewery most recently took home two silver medals from the Oregon Beer Awards for their Suicide Squeeze IPA and Cavatica Stout. For Goerge offers more than just incredible beer and a unique location though with its live music and informal lecture series on beer in the tasting room. Come for the beer, stay for the food, and enjoy the music!
Ecliptic Brewing, Portland
The newest brewery on this list is perhaps the one with the greater amount of brewmaster experience behind it. Ecliptic Brewing was established in 2013 by a man named John Harris, an icon in Oregon craft beer. Harris began as a brewer at McMenamins' breweries and then moved on to Deschutes; creating some of Deschutes most famous beers including Mirror Pond and Black Butte Porter. The next 20 years of his career were spent as a brewmaster at Full Sail creating their reserve line of beers. His love of beer and astronomy were finally able to come together when he opened Ecliptic Brewing; with constellations on the walls and the overhead light fixture in the shape of an Analemma curve. The beers are approachable, balanced, and well thought out. Careful thought has been put into pairing them with the great food that is served in this warehouse turned brewpub. In early 2015 this brewery was awarded medals from both the Best of Craft Beer Awards and the Oregon Beer Awards. Along with many of the favorites including the Orbiter IPA and the Spica Pilsner, Harris has released other fantastic beers such as the Orange Giant Bourbon Barrel-Aged Barleywine. This hip new brewing company is one to watch out for in Oregon's craft beer scene.
Sunriver Brewing Co, Sunriver
Another newer member to this list is Sunriver Brewing Company; a brewery which actually started out as a family pub that brewed their own beer in-house. The awards they've won speak for themselves; in one year of brewing production Sunriver brought home 1st place in the Central Oregon Craft Beer Week's SMaSH competition with their Mosaic IPA and a silver medal from the North American Beer Awards for their Hop Shop Series: India Session Ale. The beer choices range from hefeweizen and summer ales to red ales and endless IPA's. The brewpub in the mountain resort community of Sunriver offers a certain number of "brewhouse only" taps that you won't find anywhere else, increasing the draw to visit them in-person. This company also cares deeply for its people and planet, using locally and regionally sourced products and services along with paying attention to environmental issues that relate to their business. A gorgeous community, an incredible team of brewers and staff, and delicious beer that is amongst the best in Oregon is what Sunriver Brewing is all about. Did we happen to mention that it's family friendly? They have a special kid's play zone in their brewpub so adults enjoy the beer while the kids are fully occupied.
Hair of the Dog Brewery, Portland
Producing unusual beers using traditional craft brewing techniques is the philosophy of this brewery; with an emphasis on originality and creativity. They were one of the first breweries in America to specialize in the production of high alcohol, bottle conditioned beers and remain one of the leaders in this trade today. Hair of the Dog Brewery puts a lot of thought into the names and identities of each beer making sure they are unique and often boast the name of the beers they were inspired by. Besides being featured in many magazines and television shows, this brewery has brought home a slew of beer awards since they first started out in 1993. With only bottling 5,000 cases a year that ship to a select number of places and offering the rest on draft at their tasting room, the best place to try this beer is at the brewery itself. With a strong value on keeping things local this brewery manages to get 99% of their ingredients from within a 350 mile radius from the brewery. Along with using recycled equipment, bottles and labels made in Oregon, and locally grown hops, this company is doing its part to keep it in the community. So while you wash down a delicious Reuben sandwich with a Blue Dot IPA you can feel good, knowing you're doing your part to support the local economy.
Deschutes Brewery, Bend
Deschutes Brewery is the very brewery that created Bend's original brew pub established in 1988. Now it's a well-known craft brewery that has expanded and grown due to high customer demand. In 2013 Deschutes started its own Employee Stock Ownership Program allowing its employees to become owners; the second brewery on this list to offer this option. The philosophy of this brewery: use fewer resources, maintain a productive and healthy workforce, and create lifelong fans. And it's safe to say they've done just that with incredible beers that have won numerous awards. For two consecutive years in a row Deschutes had the honor of having the "world's best beer" named by the World Beer Awards for their seasonal Red Chair Pale Ale. Some of the best brewmasters in the world have produced beers for Deschutes and brews such as Mirror Bond and Black Butte Porter continue to be favorites. The 6th largest craft brewery in the United States it simply could not be left off this list; with its two always-packed brew pubs, the family friendly atmosphere it offers, and the diverse line up of beers that you absolutely have to try.
Full Sail Brewing Company, Hood River
In 1987, an abandoned fruit cannery was purchased with the hopes of turning it into a brewery. It was the start of the craft brewery era where windsurfing was the craze and microbreweries were popping up all over the Northwest. Since then, Full Sail Brewing Company has turned into one of the best craft breweries Oregon has to offer with its dedication to sustainability and quality of life for its employees. Without offering an overwhelming choice of beers this brewery has been taking home awards since their first year in operations. Their Amber Ale, IPA, and Pilsner are offered year round while their reserve list changes yearly featuring barrel aged bourbon stouts, wheatwine ales, and many more. Full Sail takes pride in the fact that they are an independent employee-owned company. In 1999 the company was divided up amongst the 47 employees thus committing to its values of balancing life, work, family and friends in a way that makes life worth living. This brewery still crafts all their beers by hand in their manual brewhouse with hops and barley from local farms and water from a spring on Mount Hood. Not only does their beer boast incredible flavor and complexity, but you will feel good supporting all that this brewery stands for.
Crux Fermentation Project, Bend
This brewery is located in an old warehouse that blends new with the old and creates an industrial yet still welcoming atmosphere. Crux Brewery's tasting room is designed to bring people together, with its long farmhouse tables that encourage sharing and conversation. The absence of TV's is hardly noticeable as visitors are too busy admiring the copper kettles, the brewmasters hard at work, and the never ending beer list. Everyone is welcome here including kids, families, friends and even those four-legged friends (when it's nice enough outside). The location is amazing in itself; located where North, South, East and West converge with a stunning view of the cascades from anywhere inside or out. The beer produced here is beautifully thought out in regards to flavor, hops, color, and smell. From the Nitro Stout to the beloved Winter Ale to the fresh Lemondrop IPA, it's easy to understand why this brewery continues to grow in popularity. Come around sunset as it slowly sinks behind the Cascade Mountains and sip on one of many incredible Oregon craft beers Crux has to offer.