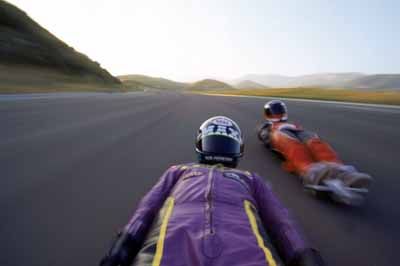 A pair of street luge pilots gain speed on a course in Los Angeles. Street lugers can go as fast as cars -- mere inches from the asphalt. See more extreme sports in the following photos.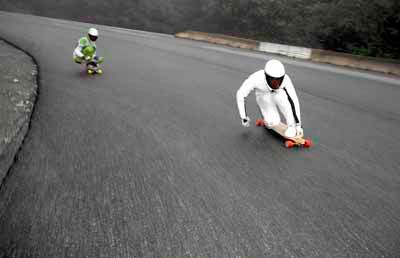 Longboarders crouch into a turn on a road in Vancouver, Canada. Longboards are usually 3 to 5 feet (0.9 to 1.5 meters) long, with design inspired by surfboards. See some bikers speeding downhill next.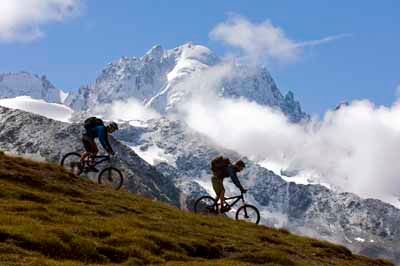 Two mountain bikers enjoy the snowcapped mountains near Chamonix, France.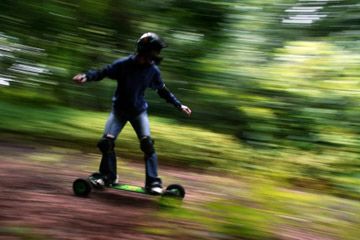 Mountain boards combine the best characteristics of snowboards and skateboards. The next photos show daring airborne and vertical sports. First, parkour.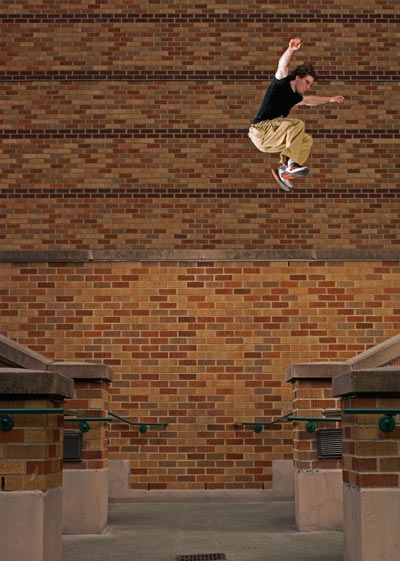 Traceurs bring gymnastics feats to urban environments. This parkour practitioner launches from a brick wall. See a BASE jumper in the next photo.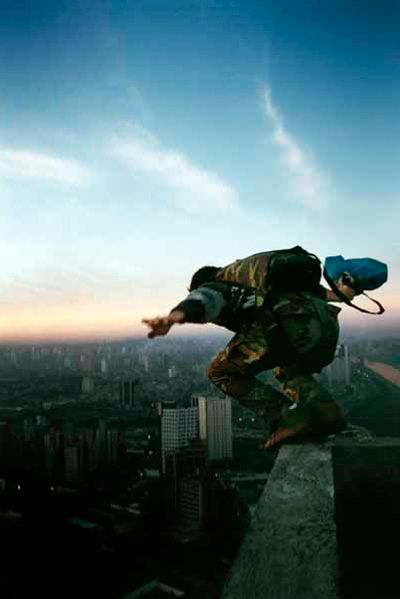 Whether jumping from buildings, arches, spans or cliffs, BASE jumpers take skydiving to new extremes. See another BASE jumper in the next photo.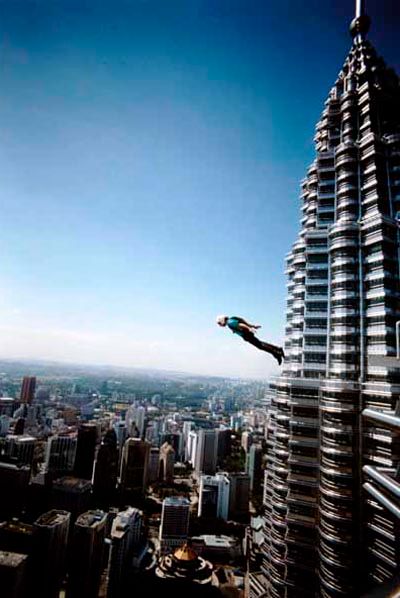 There's no turning back for this BASE jumper. Low-altitude skydiving is as risky as it is thrilling. See a climber clinging for dear life in the next photo.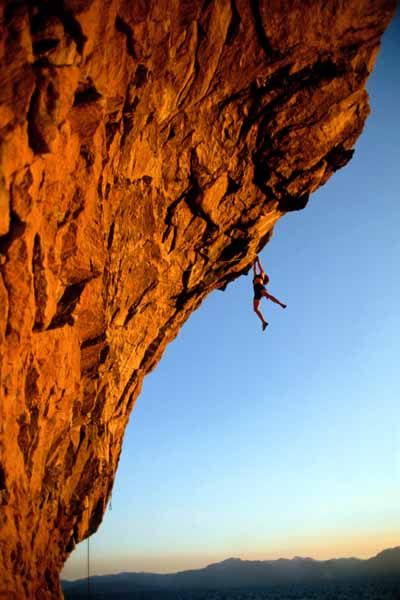 Free soloists don't use any ropes or other gear -- their skill is their only protection. The next photo shows another climber soloing without protection.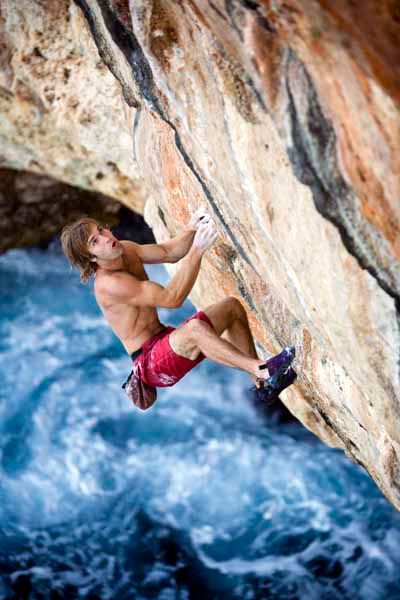 This man climbs over deep water in Mallorca, Spain. When you climb without ropes, a water landing can be safer than hard rock. Of course, some athletes jump in that water intentionally.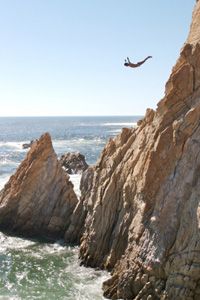 These cliff divers in La Quebrada, Mexico, jump from heights of up to 147 feet (45 meters). This seems scary, but how can you describe a sport where people dive head-first at the ground?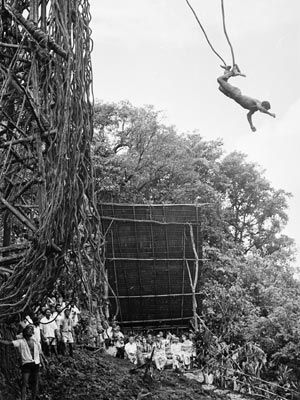 Land diving is a Pentecost Island ritual in which men dive from platforms with vines tied to their ankles. Here, John Tabi performs a land dive during a visit by Queen Elizabeth and Prince Philip to Pentecost Island, Vanuatu. The next photos show some sports at high altitude.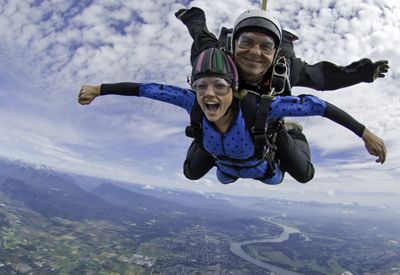 Tandem skydiving is the best way for beginners to learn. Eventually, they might get enough experience to try skysurfing -- check it out in the next photo.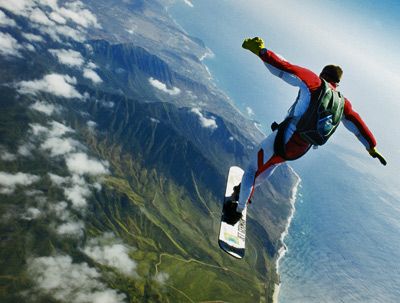 Skysurfers leap from planes and perform acrobatic maneuvers on the way back down to earth.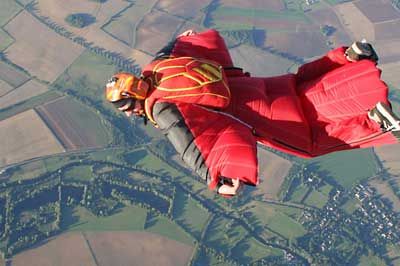 A typical wingsuit like this one provides some lift to slow the descent and allows the flyer to steer and adjust forward momentum. See another great view from a hang glider in the next photo.
Hang gliders launch themselves out into the air -- from a plane or a cliff -- and float on thermal currents. Head to the next few photos to see some adventurous winter sports.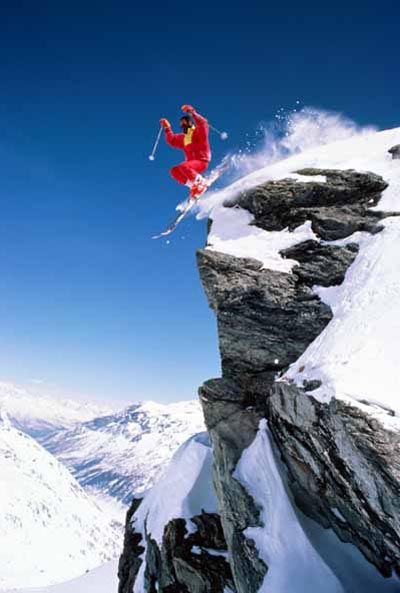 This heli-skier launches off a cliff in Valgrisenche, Italy. Helicopters drop the skiers off on remote mountain slopes.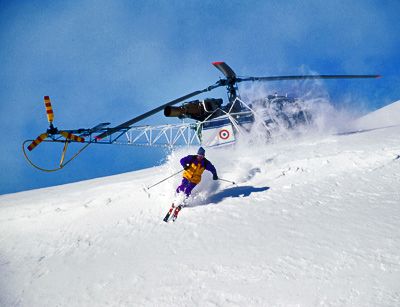 This skier was just dropped off by the helicopter and is enjoying the fresh powder on the way down the mountain. See an ice climber in the next photo.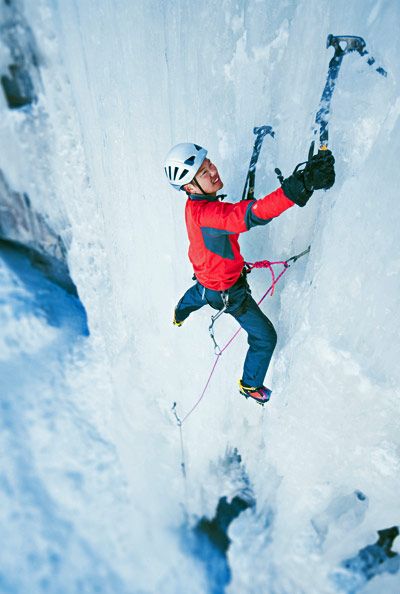 Ice climbers use crampons and ice axes to get vertical on frozen walls that sometimes melt even as they climb. The next photo shows a climber on a glacier.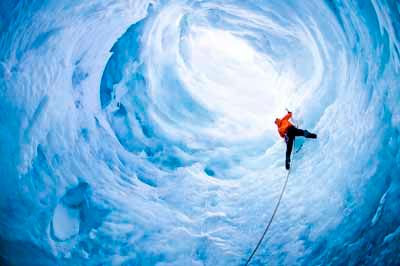 This ice climber enjoys the clean lines of Langjokull Glacier in Iceland. The next sport is perfect for winter athletes who like speed over altitude.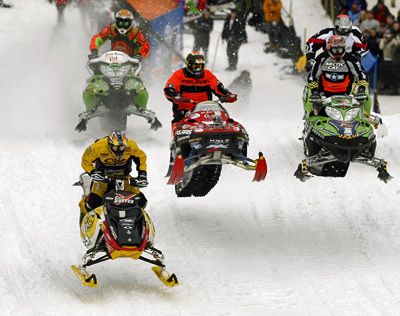 Snowmobilers soar off a bump during a snocross competition at the Winter X Games. Want to go even faster? You need an ice boat.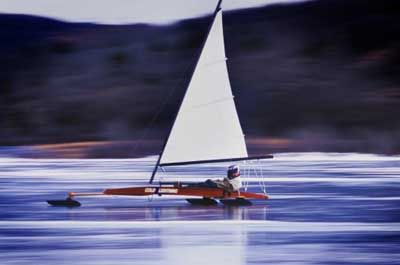 All it takes is a puff of wind -- and lots of skill -- to reach up to 100 miles per hour (161 kilometers per hour), like this ice boater on Ghost Lake, Alberta. If that's too fast for you, you might just want to "chill" on the lake.
The exertion may not be extreme when you're ice fishing, but the conditions can be. It's important to bundle up -- you might be there for a while. The next photos show some adventurous water sports.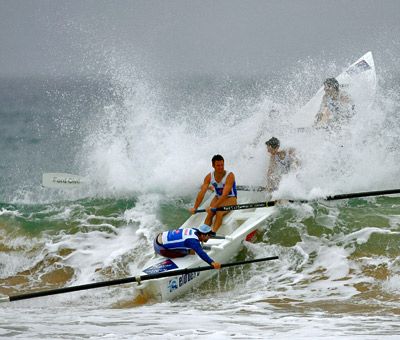 A surfboat team cuts through a wave during a competition in Sydney, Australia. The specially designed boats can take on heavy surf. The next photo shows a surfer taking on an even bigger wave.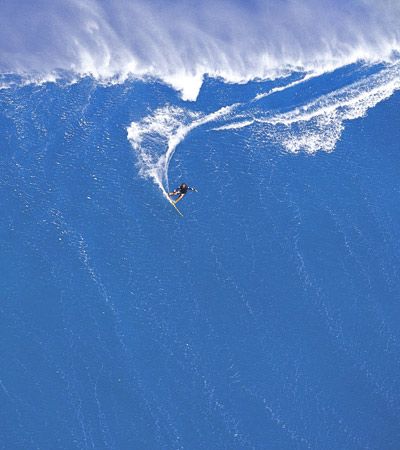 To get on monstrous waves like these, far from Hawaii's shore, surfers are towed in on personal watercraft. See a kayaker braving furious water in the next photo.
A kayaker plunges over a waterfall on the Cheakamus River near Vancouver, Canada. Some water athletes skip the boards and boats and just go straight under the surface.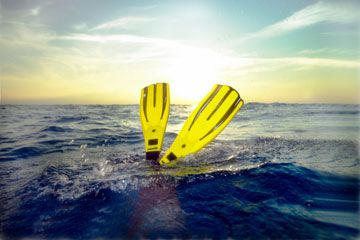 An accomplished free diver can hold his breath for nine minutes and descend up to 700 feet (214 meters) below the water's surface. Ready to test your own boundaries? Take the Extreme Sports Quiz.