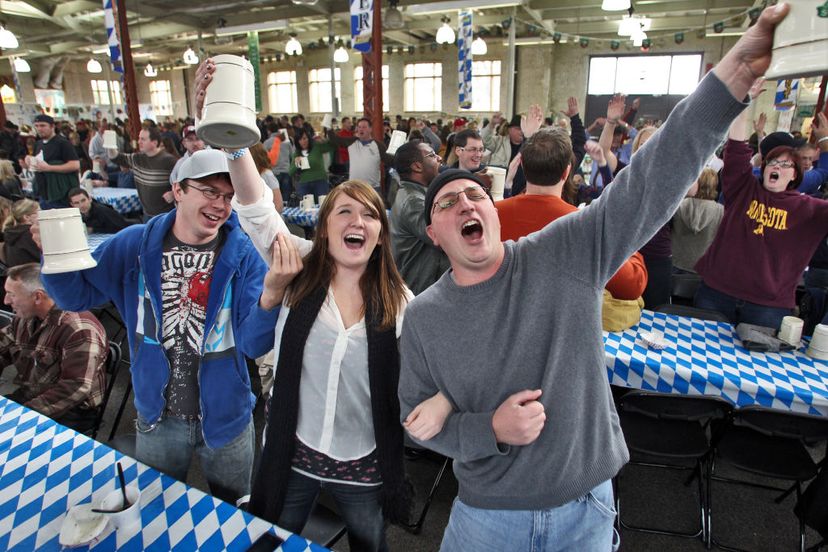 Oktoberfest started over 200 years ago in Munich, Germany, and originated as a celebration of the marriage of the crown prince of Bavaria to Princess Therese von Sachsen-Hildburghausen. Now, Oktoberfest is the largest festival in the world. Over six million people from all over the world travel to Germany to take part in the festivities from drinking beer to indulging in delicious food and immersing themselves in true Bavarian culture. That said, the United States puts on some pretty great Oktoberfest festivals too. Instead of booking a trip to travel abroad consider checking out the exciting festivities in these cities! Here are the best places to celebrate Oktoberfest in the USA. 
Frankenmuth, Michigan
It's no wonder Frankenmuth, with its distinctive half-timbered architecture, its brewery, and its German-themed restaurants and shops is often called "Michigan's Little Bavaria". This town is also well known for its festivals, throwing at least one per month. Combine Frankenmuth's love for parties with its Bavarian heritage and nature, the town puts on a great Oktoberfest. In fact, Frankenmuth is the only U.S. city to have been officially sanctioned by Lord Mayor Christian Ude and the German Parliament. 
Unsurprisingly, Frankenmuth puts on a very traditional Oktoberfest, aligning its festivities to the opening of Munich's celebration and hosting its wiener dog races in a pavilion modeled after a German beer hall. Frankenmuth Brewery, originally established in 1862, also puts on an Oktoberfest event that you should definitely check out.
Las Vegas, Nevada
Hofsbrauhaus in Las Vegas advertises that visitors will 'party like they are in Bavaria' and it's certainly true that those dropping in might think they've wandered into Germany by mistake. The Vegas beer hall which opened in 2004, is the only exact replica of Munich's Hofbräuhaus in the world and serves its legendary beer and Bavarian specialties. 
Hofsbrahaus' Bier Hall can accommodate up to 380 guests and is decked out in the same long wooden tables and painted ceilings as you would see in Munich, Germany. The Biergarten can host up to 430 people and looks exactly like the original except it's inside, complete with chestnut trees, fountains, and a painted blue sky overhead. The bar offers classic Bavarian brews that are imported directly from the brewery in Munich as well as your favorite spirits, liqueurs, and cocktails. Join in on this celebration and you can expect to see plenty of lederhosen and even more dirndls, live Bavarian music, and celebrity keg tapping.
Mount Angel, Oregon
Mount Angel's festival may be one of the lesser-known Oktoberfest's on our list but it's certainly famous in the Northwest. This event attracts more than 450,000 people over a four-day period. It makes perfect sense for Mount Angel to host Oktoberfest: Not only was the small town settled by primarily Bavarian immigrants, but the hilltop abbey nearby is now brewing its own beer. 
The Swiss order has created an Oregon take on Trappist beers, which will now be served at the German festival. If supplies run out, Mount Angel will also be serving Weihenstephaner limited-edition Hefe-Weissbier. Take a break from beer tasting for things like the crosstown pedal tractor race and the von Trapp Family Singers. There are plenty of other delicious offerings from the food booths located throughout the festival. You'll have your chance to indulge in fish tacos and marionberry cobbler as well as sauerkraut and spaetzle.
New Braunfels, Texas
Originally settled by Germans in 1845, the town of New Braunfels near San Antonio, revels in the opportunity to celebrate its heritage each year. "Sprechen die Fun (Do you speak fun)?" is the theme of Wurstfest, which opens its 10-day celebration not with a tapping of the keg, but a ceremonial biting of the sausage. 
The festival, which recently expanded to accommodate even more guests, includes a carnival, a Bavarian marketplace, food trucks and five live music stages. Wurstfest even has a craft beer garden, making sure small Texas breweries have their chance to shine. Better yet, this Oktoberfest celebration doesn't start until early November, so it's possible to hit a few other towns first, then stretch out the festivities by heading to Texas!
New Ulm, Minnesota
The organizers of New Ulm's Oktoberfest insist that "Germans have more fun" but you don't have to have German roots to enjoy the celebrations. The festival takes place over two weekends and across the entire town. There are four primary locations and the horse-drawn trolley rides provide plenty of opportunity for visitors to take in the town's German history. 
Be sure not to miss the 45-foot tall Glockenspiel, with its rotating characters and chiming bells that ring throughout the day. New Ulm's German heritage is further showcased in its Schnell Brewery, the second oldest in the country, which visitors can tour daily. But while New Ulm's slogan might be "Come See What's Brewing," it's Oktoberfest event also celebrates wine as Local winery Morgan Creek Vineyards hosts their annual "Great Grape Stomp" as part of the festivities.
Leavenworth, Washington
Las Vegas might have created a replica Hofsbrauhaus, but this town in central Washington has gone ahead and replicated an entire Bavarian village! For the first three weekends in October, the majority of the main strip is devoted to the festival. During Oktoberfest, Leavenworth starts every Saturday with a parade followed by a traditional keg tapping.
Leavenworth makes the most of its German connections by bringing in German bands (along with its local Bavarian-style band), offering up plenty of Bavarian wursts, selling German crafts, and of course, pouring delicious German beer. Since the town revels in its Bavarian ties throughout the year, that practice enables them to put on a pretty great party! It's so popular that over 10,000 people come from all over the country for the Oktoberfest weekends.
San Francisco, California
Those who love breathtaking views should prioritize Oktoberfest By the Bay. It takes place on San Francisco's Pier 48 overlooking Mission Bay. And because September's typically San Francisco's most beautiful month of the year, sunny weather is almost guaranteed to enhance your experiences. 
Oktoberfest By the Bay is hosted by the city's German American Society and sponsored by German brewery Spaten, this is quite the traditional Oktoberfest. The 21 piece Chico Bavarian Band provides oompah music throughout the event, while traditional Bavarian dancers strut their stuff every couple of hours. The organizers of Oktoberfest by the Bay strongly encourage the wearing of dirndls and lederhosen. And not only will you get to indulge in German beer but you can also get delicious pretzels, sausages, and other traditional German foods to help soak up all the beer. 
Cincinnati, Ohio
Cincinnati's "America's Oktoberfest" might be one of the shortest events on our list as it takes place over one quick weekend in September. That said, it's the biggest in the country as it lures in more than half a million people each year. And no wonder, as Cincinnati packs a lot of party into the festival's three days. 
The festival kicks off with the "Running of the Wieners," in which 100 daschunds wearing hot dog costumes run to their owners. The Goodwill Games, which include a beer stein race and a barrel roll, come next, while later in the weekend is the world's largest Chicken Dance, in which Oktoberfest Zinzinnati attendees attempt to break the record they set back in 1994 when 48,000 participated. Sam Adams is the main sponsor, but the beer tents will also boast German beers like Erdinger and Weihenstephan as well as plenty of other great options. You can check out the full beer list on their website. 
Denver, Colorado
Denver's Oktoberfest is the perfect fit for those who just want to drink beer and not take themselves too seriously. Denver's festival spans over the last two weekends in September so you'll have plenty of opportunities to celebrate! Better yet admission is free and pets are allowed (unless they're snakes; the organizers hate snakes)! 
Further, buying Oktoberfest steins is also encouraged because "you will look awesome carrying it around" That sense of humor runs through the entire Oktoberfest, from the "Keg Bowling National Championships" to the "Stein Hoisting Competition," an event which rewards those who hold a full 1.5-liter stein at shoulder height the longest. If you like prizes you can also sign up for the bratwurst eating contest, the winner of which will have a donation made to his or her favorite charity and the chance to be known as the "Brat-King". Denver's Oktoberfest goes through twice as many kegs as any other festival in the U.S., so be sure to come thirsty!
La Crosse, Wisconsin
This Wisconsin festival, which calls itself "Das Beste Oktoberfest USA", is famous for combining the Midwest's German heritage with the region's own unique culture and customs. While the "Lederhosen Luncheon" serves up the traditional Bavarian sausages and potato salad, other food vendors offer things like deep-fried cookie dough and Wisconsin cheese curds. 
Oktoberfest USA is another festival that takes pride in its local beer, in addition to serving German brews. You'll even find a craft beer tent on the festival's opening night. One of the biggest draws for Oktoberfest USA is its parades. The smaller Torchlight Parade kicks off opening night when its illuminated entries wind through the streets of La Crosse. You definitely don't want to miss the Maple Leaf Parade which is held on Saturday and draws in over 100,000 people along its route.