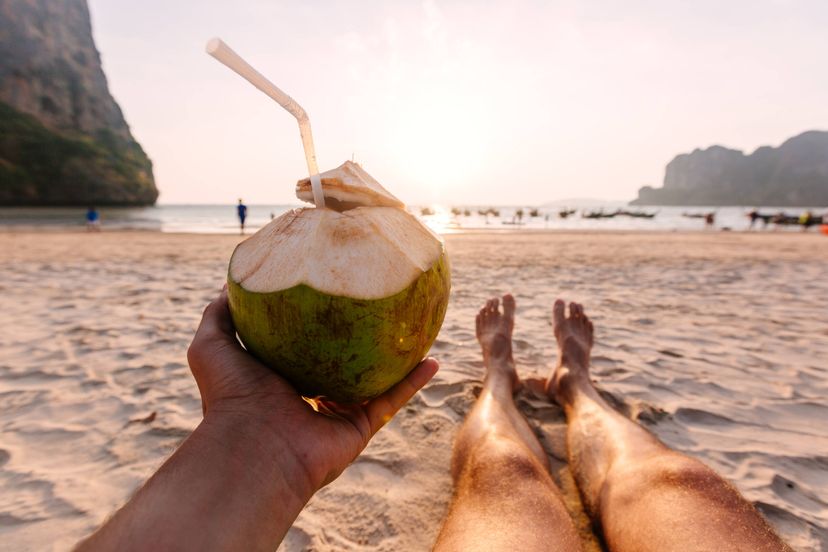 Initially, when we first arrived on Railay we thought we had gone back in time to the Jurassic era (think Jurassic Park). With its towering limestone cliffs and jungle-esque interior, you could quite imagine landing on the beach and seeing groups of Compsognathus running around. Unfortunately (or maybe fortunately for us), there were no dinosaurs to be found. What did greet us was a breathtaking peninsula cut off from the mainland.
Only accessible by boat, which makes it feel more like an island, Railay is surrounded on 3 sides by the Andaman sea and plays host to the pretty Haad Phra Nang beach, as well as Tonsai and Railay West beach. Renowned for being one of the world's best rock climbing destinations, with over 700 routes scattered across the impeding limestone cliffs, you can see why this is such a popular destination for rock climbers.
While there is an increasing amount of tourists visiting Railay and development on the peninsula, it's not quite the hidden gem it uses to be. But compared to say Koh Phi Phi it is still fairly rustic and laid back. With its soft sand beaches and stunning natural beauty, you can see why Railay is still one of the best places to visit in Thailand.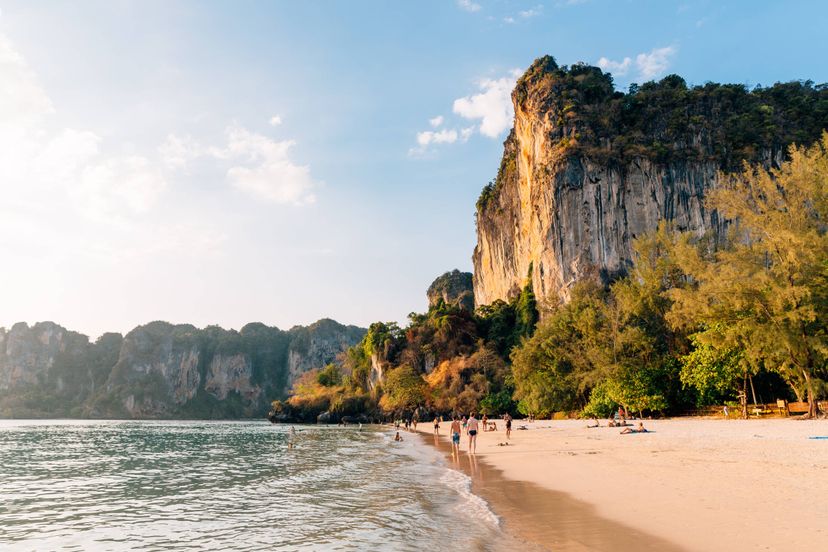 Getting Around
Railay is separated into 4 different areas: Railay East, West, Haad Phra Nang, and Tonsai, the latter being a short longtail ride from the mainland or if you're feeling adventurous a short trek over the headland. Each area has its own distinct vibe and attracts different types of visitors on Thailand Tour Packages.
Railay East and West are connected by 3 walkways running across the peninsula's interior passing by resorts and or jungle depending on which one you take. Head to the West side and here you will find the 'Walking Street' which is home to the information center where you can book tours and ask for information relating to Railay. You can also find a few places to eat, a mini-mart, ATM, and shops selling gifts and local handmade trinkets.
Railay East is where you will find more of a choice to eat, plus lively bars, cheaper accommodation, and other amenities including a few minimarts, ATMs, tattoo parlors, and even tailors! To make your way over to Haad Phra Nang walk towards the far southwestern corner on Railay East and follow the walkway round to the beach, passing by various caves and passageways, just watch out for the monkeys! Along this path you will also come across the route up to the view-point and lagoon, do not attempt this if it has recently rained as it can be slippery and potentially dangerous.
Tonsai is the place to go for cheap accommodation and great rock climbing. This makes it popular with backpackers and climbers alike. Compared to the main peninsula of Railay, it's very rustic with a few bars and places to eat it's a go-to place to escape the crowds and just chill out.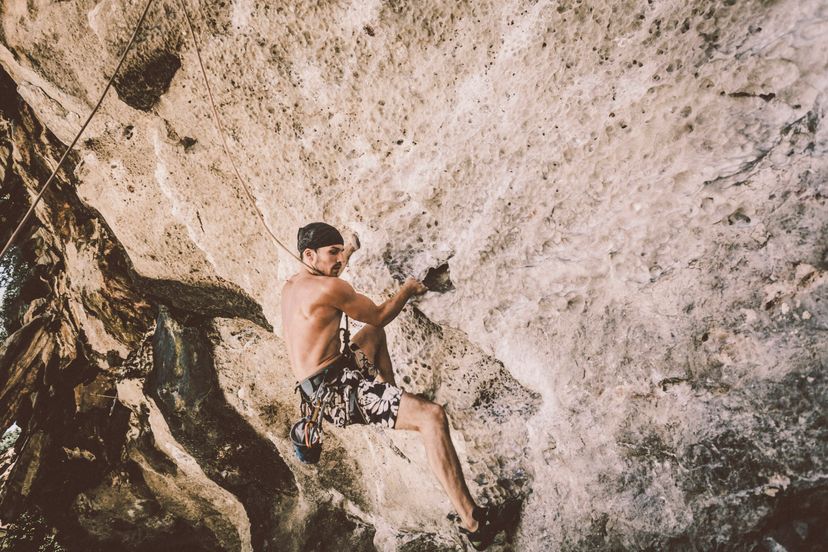 Accommodation in Railay
You will be spoilt for choice from a basic budget to luxury accommodation available in Railey. We were pretty lucky to have found a gem at the Sunrise Tropical Resort, such a beautiful villa and with lots of trees around you could easily sit out on the balcony watching the monkeys go by and plenty of monitor lizards to be seen! High-end resorts can be found on Railey, including the 5-star luxury Rayavadee resort. The majority of the luxury resorts are located on the west side, where your struggle to find a place to stay on a budget.
For cheaper accommodation, Railay East and Tonsai is your best bet. Railay East has places to stay covering high-end, midrange, and budget and Tonsai is all about the budget accommodation, where you will find beach bungalows set back from the beach on the edge of the jungle.
Where to Eat & Drink
On the first arrival to Railay, you won't be too spoilt for food (so you think) but have a walk around and you will find some pretty tasty places! First, stop a little shack called 'One Stop Takeaway Shop' run by an Australian guy offering up some great choices of… well pretty much everything you could think to put in a wrap. We couldn't get enough of the chargrilled chicken and salad wrap, very tasty! (you won't find any seating here so grab a good spot on the beach and enjoy).
For some traditional Thai food head to 'Flame Tree Restaurant' which was very reasonably priced, compared to other restaurants on the peninsula. We tried an assortment of dishes, including Pad Thai, Thai curries, and the not so Thai burger. Our one criticism would be the chicken satay, very dry, and not the tasty dish we know and love. They also have a stall next door serving up crêpe (of course we tried the chocolate and banana…always a winner) and various ice creams. In the evening they also offer up seating on the beach, lighted by candles which were very relaxing and good to get away from the crowd of tables.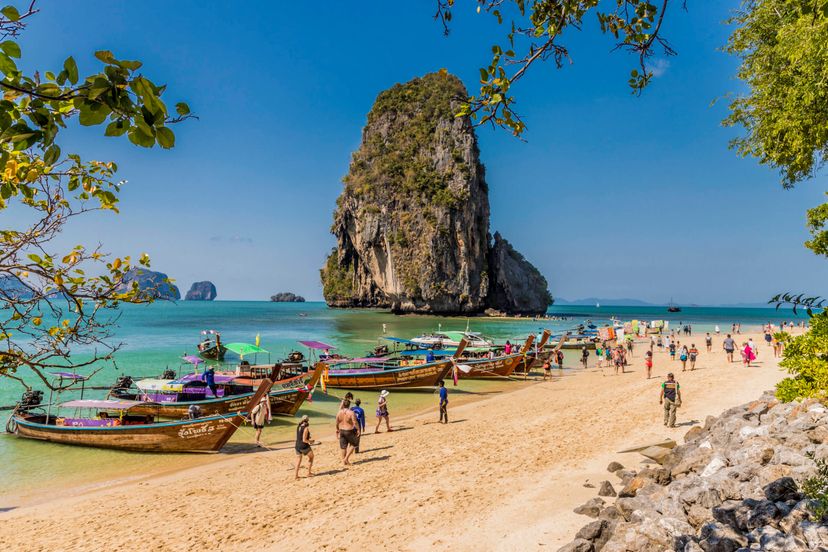 Where to go
Railay isn't your usual 'open all hours' Thailand. With not too many bars, this place has a relaxed atmosphere. With candles on the beach, set up with cushions as seats it can be a very romantic setting. While this is on the West beach if you take a short walk over to East beach and head on over to the far corner (opposite end to Haad Phra Nang) that is the Last bar. This was Railay's go-to place for entertainment. Grab yourself a table or make yourself comfy on the bean bags on the terrace and get ready for a night of Thai boxing from both locals and tourists alike, get yourself a lesson on the didgeridoo or some good old-fashioned drinking games with a lavish cocktail bucket for your night's prize. Then sit back and watch the fantastic fire show they put on here, from all the shows we had seen around Thailand, this had to be the best by far! With great tricks and roaring fireballs you will be in for a real treat, then after continuing your night listening to great music and dancing the night away at such a fun place for all in a beautiful location!
What to do
For such a small place, Railey is packed with activities suited to all. Kayaking was great here with not many boats around and calm sea there is plenty of caves and small islands to go and visit. If you are looking for a little bit more adrenaline pumping then this Limestone cliff haven is where rock climbers from beginners to the advanced knowledge to come and get their kicks. You can snorkel around Railay but we found it wasn't that great, but there are plenty of places to go scuba diving a short boat ride away. Along with various treks and climbs up to 2 viewpoints and a secret lagoon, there is more to Railay than just the beaches.