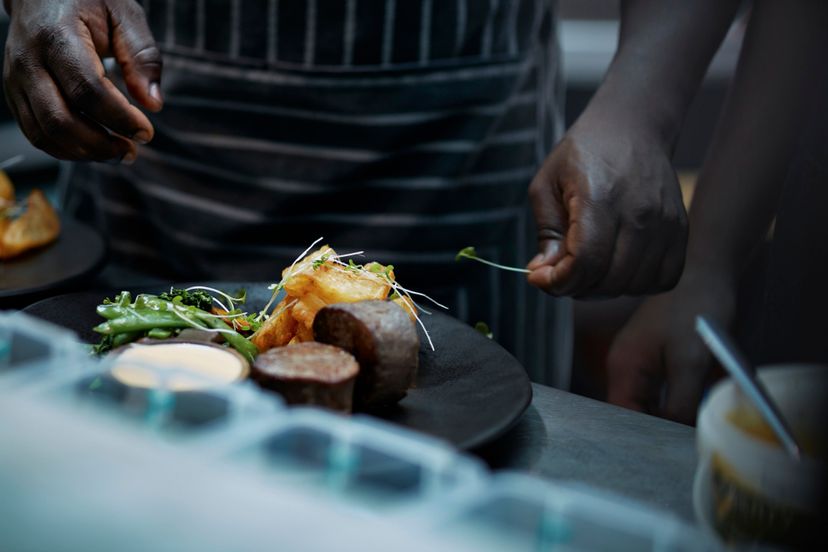 The culinary scene may not be quite as vibrant and experimental as Portland, but Salem Oregon has tons of delicious food to offer both travellers and locals, with many restaurants focusing heavily on local ingredients for a truly fresh experience. From all-day breakfast to bougie fine dining, there's something to discover for every meal, craving, and occasion in this city. So to help you in your search for where to eat, we've rounded up the best 10 restaurants in Salem, Oregon. Here are our reviews…
Rafns'
Rafns' is perhaps the most beloved place in all of Salem Oregon, owned by two married lifelong Oregonians who opened their doors in 2013. The menus are completely organic and rotating, with items like grass-fed beef chili and mushroom & truffle risotto with all of their produce sourced from local businesses that the owners have relationships with to ensure quality, sustainability, and freshness. The atmosphere inside is warm and cozy – perfect for a family dinner or date night – with lots of dark wood in the decor and outstanding hospitality from the small, family-like staff. You can expect a truly memorable experience every time you visit this family-owned restaurant.
Happy Bibimbap House
This family-oriented Korean restaurant delivers serious flavor at an affordable price. With a large menu including hot pot, Korean BBQ, Korean Chinese-style, and bibimbap (of course!), there's something for everyone. It also offers dishes for those who are vegan, vegetarian, and gluten-free, without sacrificing flavor! This place is actually rated the #3 restaurant in all of Salem on Tripadvisor! Dine-in or takeout, the food is drool-worthy – either way, order a feast (you'll definitely want leftovers) at the Happy Bibimbap House in Salem.
Wild Pear
This downtown historic Salem lunch spot is best known for its homemade soups, salads, and sandwiches. Locally-owned by two sisters (lovingly called the "Wild Pair" by their family), the Wild Pear focuses on quality food made with ingredients local to Willamette Valley, Oregon, and a reduced environmental footprint at the restaurant. The menu boasts comfort items like White Truffle Sweet Potato French Fries and healthy options such as the Wild Pear Salad, along with a large selection of gluten-free and vegetarian options. Whether you need a quick bite or are sitting down for lunch with an old friend, you'll love this warm, inviting restaurant in downtown Salem Oregon.
Word of Mouth Bistro
Looking for a delicious homemade breakfast? Word of Mouth Salem is the place! Owned by a local couple who cook every single meal that's served, this "everything from scratch" restaurant offers breakfast all day. The menu is so drool-worthy, with items like baked-fresh-daily buttermilk biscuits, creme brûlée french toast, filet mignon benedict, and Oregon blueberry pancakes, you'll need to go back, again and again, to work your way through the menu. It's a small restaurant (which is what allows them to create such delicious, labor-intensive dishes) in a small greenhouse, which only adds to the quaint feeling of this Salem Oregon restaurant.
Ritter's Housemade Foods
Owned by a brother-sister duo, Ritter's was created with the family's love of good real food and community in mind, making this restaurant in Salem Oregon a great gathering place. The pizzas are a local favorite, but you can't go wrong with one of the burgers or loaded salads with house-made dressings. Everyone can find something to eat (even if you have dietary restrictions) at Ritter's, making it the perfect restaurant for a family dinner in Salem.
Minto Island Growers Food Cart
You can only get this farm-to-table restaurant's grub for a few months of the year, but it's worth the wait! They serve up incredible salads, sandwiches, desserts, wood-fired pizza, and milkshakes – all using fresh ingredients from their farm. It's casual – eating outside at picnic tables under a tent – but it's a true community hub and not a restaurant to be missed in Salem, Oregon in the summer.
Table Five 08
New American dishes, bar bites, and local sips are aplenty at Table Five 08, which boasts "local ingredients, global flavors." Inside you'll find a colorful "rustic industrial" feel with a comfortable lounge and a bartender renowned for his signature drinks (they're very fun!) with over 30 years of experience inventing and pouring libations. If you stop in, order the honey molasses cornbread or the sweet potato pie for dessert, both of which you can't go wrong with!
DaVinci Ristorante
Davinci's is an Italian restaurant with a longstanding 20 years plus a presence in the Willamette Valley. They use fresh, locally grown, and seasonal ingredients, which is the standard in Salem's culinary scene, to create unique flavorful dishes. You may find fine-dining menu items like Quinoa Crusted Prawns and Burrata and Prosciutto Flatbread that will make your mouth water, but the menu changes frequently to reflect the availability of ingredients and keep customers excited. Stop in for dinner if you find yourself near this downtown restaurant in historic Salem Oregon!
The Yard Food Park
If you're looking for options, The Yard Food Park might be your best (and definitely coolest) bet! The indoor-outdoor location is home to 18 food carts serving up a range of dishes from breakfast and brunch to lunch and dinner. Conceptualized and built by the Williams family as a community space, you can fix any craving with Mexican cuisine to healthy-focused meals to a sweets cart. Think of The Yard as an elevated, yet still accessible food court (with great prices)!  Whether you're looking for a takeout meal for one or a fun Friday family outing, you'll find what you're looking for at this Salem restaurant.
Gilgamesh Brewing
This list wouldn't be complete without a craft brewery! Head to Gilgamesh Brewing – co-owned by three brothers and their father – which has a robust lunch and dinner menu at their onsite restaurant, in addition to a full beer list. You'll find delicious bar food, like mac and cheese, loaded burgers, and fish tacos on the menu, all of which complement their seven flagship brews. If the weather is nice, grab a spot on the patio to eat and wander around the 2.5-acre property with a bevy afterward! If you're in the area, you can't miss this restaurant in Salem Oregon.