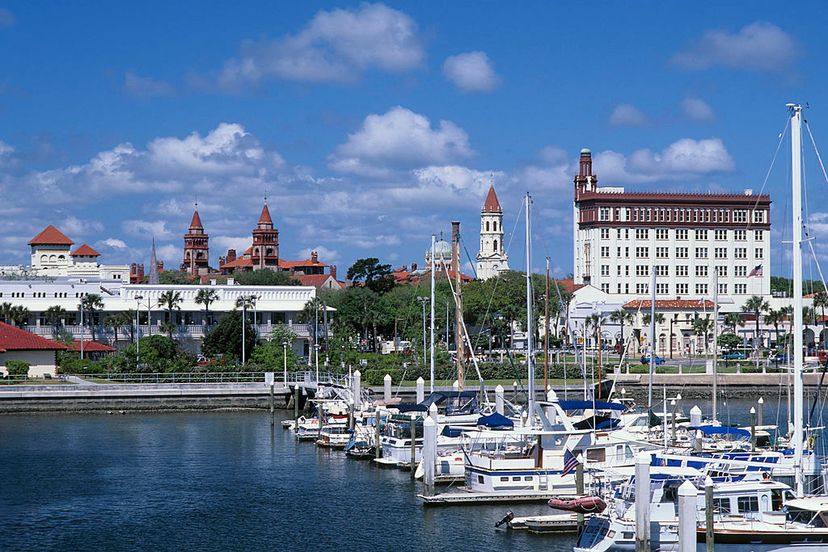 St. Augustine, Florida was founded in 1565 making it the oldest city in the United States. The city is rich in culture and history and there are a plethora of things to see and do. But with so many activities you're bound to get hungry along the way. When you're ready to grab a bite, make sure you visit one of the best restaurants in the city. After all, you want to make sure the restaurant is worth the visit and worth your money!
Follow along as we round up some of the absolute best restaurants in St. Augustine, Florida you don't want to miss. We've made sure to take into account the location as well as the menu variety when creating this list. We also made sure to include a variety of restaurants from fine dining, to casual stops, and family-friendly eateries. There is something for every type of traveler!
Sunset Grille 
After spending the day in the sun at St. Augustine Beach, head to Sunset Grille for a delicious bite. The restaurant is conveniently located across the street from the beach and offers laid back dining to its patrons.
You can sit on either the first floor or second floor but wherever you sit you'll enjoy the wonderful breezy atmosphere. Sunset Grille's award-winning menu features everything from Chicken & Waffles and Baja Fish Sandwiches to Peanut Butter Pie dessert and handcrafted cocktails and so much more. Once you enjoy the fresh cuisine and encounter the friendly staff you'll discover why this is one of the best restaurants in St. Augustine, Florida. 
Taberna Del Caballo
If you find yourself craving Spanish cuisine be sure to check out Taberna Del Caballo. Conveniently located in the heart of St. Augustine, this 18th century-style Spanish-inspired tavern provides patrons with a delicious Spanish and Latin dining experience. If you stick around in the evening you can experience their bustling nightlife. They even occasionally offer live music and events! Want to enjoy the weather? Grab a seat under their charming covered patio.
Taberna Del Caballo is open every day for lunch and dinner. The restaurant offers everything from delicious drinks like margaritas and sangria to enticing meals from Baja Fish Tacos to Big Boy Tacos. There are also plenty of appetizers to choose from such as Street Corn and Fried Empanadas. Check out Taberna Del Caballo's menu to explore their delicious offerings!
The Chatsworth Pub
When you're looking to grab a pint and a bite check out The Chatsworth Pub located downtown on the bayfront. The restaurant features an English Pub-style atmosphere and serves guests craft liquors, popular liquors, local craft beer, and more!
Guests can also enjoy their brunch and lunch which features bottomless mimosas which is served on Saturdays and Sundays between the hours of 11 AM and 1 PM. The restaurant also offers afternoon tea seven days a week. Their regular menu starts at 3 PM and features crave-worthy options from Farm House Turkey Sandwiches and Pot Pie Du Jour to Guinness Stew and Freshly Baked Soft Pretzels and so much more. 
Casa Benedetto's Ristorante 
Step into Casa Benedetto's Ristorante and you'll be welcomed by the refreshing aroma of Sicilian homestyle cooking! This restaurant makes traditional Sicilian foods made from the freshest ingredients to provide you with an unforgettable experience. Have your choice of Penne Ala Vodka, Grandma Ferracane's Braciole, and specialties like escarole, manicotti, and rice balls. Although, the menu goes far beyond just that. You can check out their full lunch and dinner menu on Casa Benedetto's Ristorante's website. The restaurant even boasts over two-thousands reviews on TripAdvisor and has a great rating of 4.5!
Casa Benedetto's Ristorante is open Monday through Saturday for lunch and dinner. The restaurant is closed on Sundays. Each table is dressed in fresh linens, candlelight is set during dinner and you'll always hear Sinatra singing in the background. It's also worth noting, in order to keep their competitive prices, the restaurant only accepts cash or debit. 
Collage Restaurant
When you're looking for a quiet, quaint, and perhaps romantic dinner be sure to visit Collage Restaurant. It's also conveniently located one block from the heart of the historic district. It's also worth noting, the restaurant only serves dinner nightly starting at 5:00 PM.
The Collage Restaurant boasts exquisite meals made from scratch using the finest and freshest ingredients. When possible, the restaurant will use fresh fish from the local waters, and fresh produce from local farms. Since this restaurant is so popular, it is highly recommended that you make a reservation far in advance. But after your dining experience, you'll discover exactly why so many people love it and why it's one of the best restaurants in St. Augustine. 
O.C. White's Restaurant 
O.C. White's Restaurant is located in the historic Worth House (builtin 1790), and right across the street from the St. Augustine Marina. Since it's so close in proximity to the marina, you can enjoy your dinner and then take a stroll along the water — the perfect date night!
This is also a family-friendly restaurant where you can even bring your dog to their outdoor area. Their menu includes delicious local fish offerings, fresh shrimp, crab cakes, steaks, chicken, pasta dishes and so much more! If you're up for spooky tales, the restaurant even has a haunting past! Learn about the haunting past of the Worth House on their website. 
Bono's Pit Bar-B-Q
Bono's Pit Bar-B-Q's motto is "if you don't see a Pit, it ain't Legit". The BBQ-style, American restaurant has been serving Real Pit barbecue since 1949. They guarantee that with every visit, you'll have an authentic and traditional southern BBQ experience! 
Bono's Pit Bar-B-Q ensures that their menu offerings are prepared fresh every day and finished on a live pit. You can have your choice of tender pulled pork sandwiches, beef brisket, St. Louis Ribs, and so much more! Not only do they serve delicious food, but you'll also experience the southern charm in their customer service as they take pride in serving their customers. Guests can order their food for takeout but the restaurant also features ample seating if you wish to dine in!
Salt Life Food Shack 
Score yourself a seat on the rooftop deck in the Salt Life Food Shack! This family-friendly restaurant offers a wide range of delicious food with a spectacular view of the beach! It is worth noting, the rooftop deck is a hot commodity, especially on the weekend, so be prepared to wait! That said, previous patrons have said it is well worth the wait!
Salt Life Food Shack features a diverse menu to ensure there is something for everyone! The menus feature everything from delicious burgers and shrimp tacos to sushi and other seafood offerings! If you're heading to the restaurant without kids you can also pull up a seat at the bar for an even more casual experience or if you simply want a nightcap! If you happen to visit Monday through Friday between the hours of 4 PM and 6:30 PM, you can score their happy hour deal which gets you $1 off all liquor drinks, house wine, and drafts! With a spectacular view, a delicious menu, and a beachy atmosphere it's easy to see why the Salt Life Food Shack is one of the best places to eat in St. Augustine, Florida.