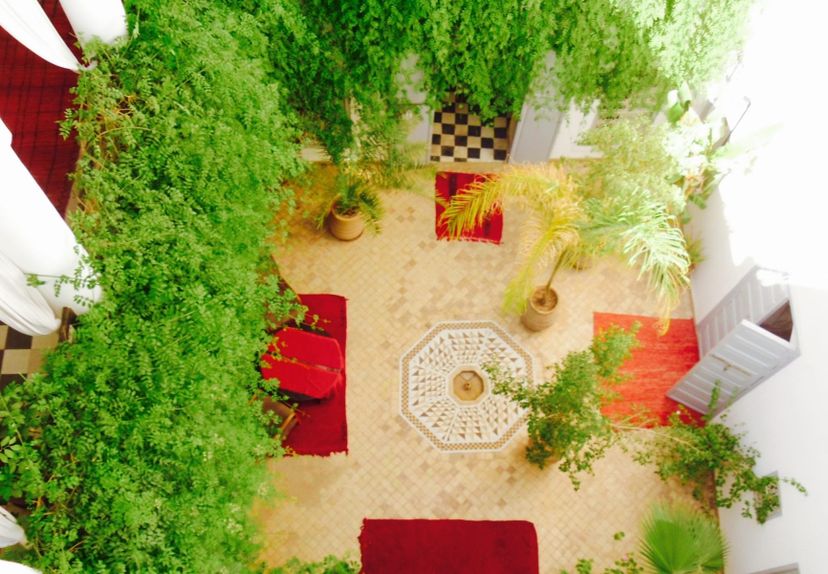 Marrakech has become a tourist haven in recent years due to the cheap flights and means of living. For those seeking an authentic experience, we highly recommend Riad Tizwa Marrakech.
Typically, a traditional Moroccan home based around a central tiled courtyard – offers what we can only describe as an oasis of calm within the hustle and bustle of the Medina. Guests are welcomed with a surprisingly cool breeze with the serene open space, the sound of a beautiful water feature and the smell of sweet mint tea and of course that indispensable item: a street map.
The Riad consists of six double bedrooms all decorated in a traditional Moroccan style and an elegant spacious roof terrace, which is ideal for lazing around on the sun loungers and for al fresco dining. We originally booked room 2 which is at the top of the Riad opening onto the roof terrace, but on arrival, we were upgraded to their most luxurious room which of course we were more than pleased with. The grand room had a fantastic view across the Riad looking down onto the courtyard below, with a super kingsize bed and an en-suite bathroom. Each room has free wifi, air conditioning, complimentary slippers, robes and toiletries (be sure to use the handmade natural soap worked wonders, clearing up any spots leaving your skin smooth and feeling fresh).
The Riad staff are on hand 24 hours a day, and nothing is ever a problem for them. They go un-noticed but do a fantastic job of being there when needed and help make your stay even more enjoyable. A special mention must go to Hassan the Riad's manager, he was always on hand to answer any questions we had regarding the Riad and Marrakech, or just to sit and give some insight into daily life in this marvellous city.
Upon waking to the bright sunshine we went to the roof terrace for what we can only describe as a fulfilling breakfast that was sure to set us up for the day ahead. The effort that went into this buffet breakfast is more than we can say for most places. Muesli, freshly squeezed orange juice, fresh local fruit, Natural Yogurt and croissants is just to name a few delights included and you may not be 'a morning eater' but the best thing… you can request breakfast any time of day. Dinner is also available on request if you wish to sit out on the terrace and see that beautiful sunset, Offering traditional Moroccan dishes and other local delicacies.
Owned by two British Brothers this tranquil setting in the historic Medina really adds to the authentic experience and with staff accommodating to your every need it will certainly leave you relishing your time in such a wonderful city. A very easy booking process and with great communication, they also have another Riad in the city of Fes if you are in that area which we hope to visit in the future but in the meantime by experience, we highly recommend Riad Tizwa Marrakech.
You can book your stay at Riad Tizwa by following this link here.