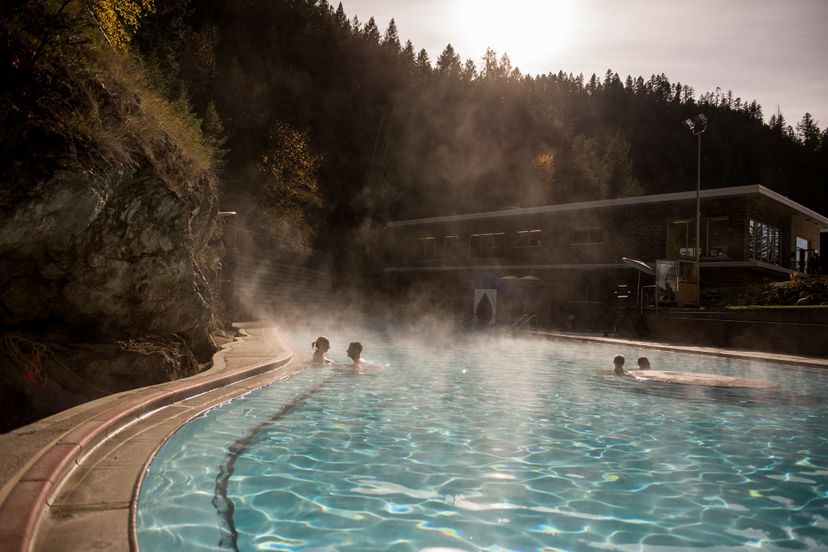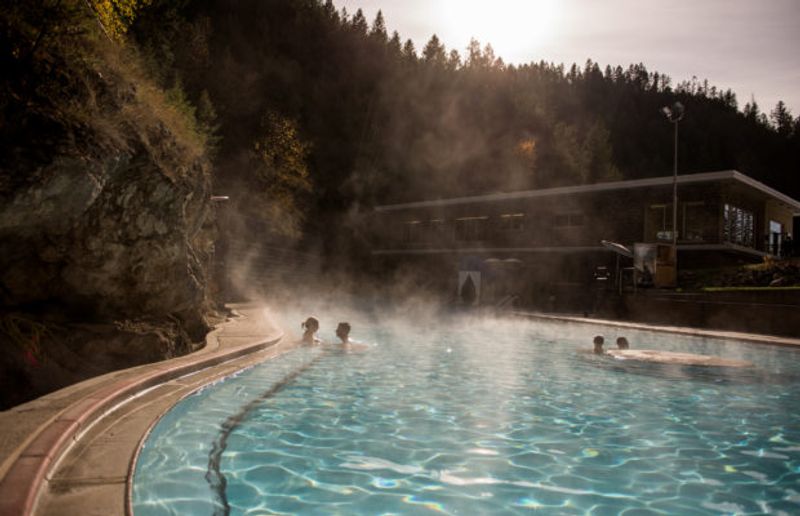 *Reconnect at Radium Hot Springs. Photo by Kari Medig, Courtesy Destination BC
Few sensations get your pulse racing — or open your heart to new places or experiences — like amore. In British Columbia, there are exciting destinations for every stage of romance, from those slow-burning flutters that washed over you the very first time you set eyes on each other, straight through to the heart-pounding adventures that seem all the more manageable when you're locked hand-in-hand with the person of your dreams.
Here are four destinations sure to impress a loved one, and perhaps even rekindle that spark.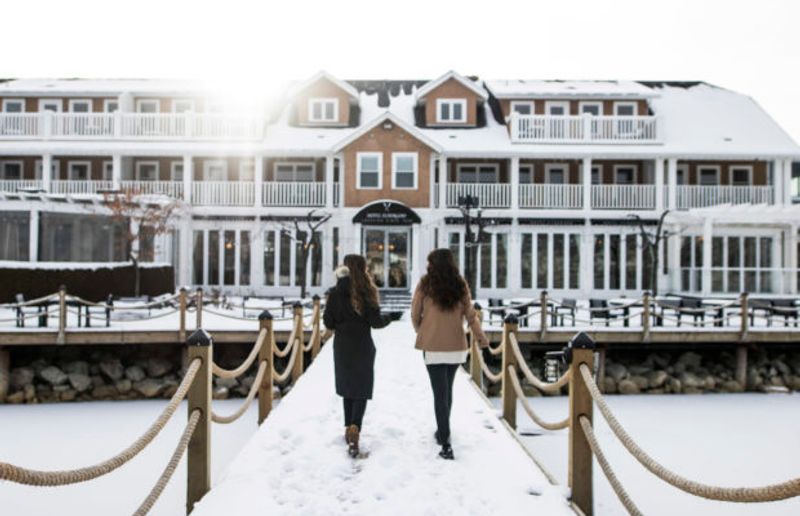 *Take in the beauty of Kelowna's Hotel Eldorado. Photo by Megan Reading, Courtesy Destination BC
Search for Cupid in Kelowna
For some, the hustle and bustle of a new city offers the ideal opportunity to celebrate coupledom. And in vineyard-fringed Kelowna, you can do just that.
Signing up for a sommelier-guided wine tour? Don't forget to arrive thirsty. Keeping an eye out for "Cupid" during a hike in Angel Springs? Let us know if you spot the little winged cherub. Lingering over refined French cuisine along the city's waterfront? Let's say it en Français: "Oui, mon amour." For a delicious denouement, nibble local delights during a culinary workshop or unwind with vinotherapy sessions — a relaxing treatment that uses grape leaf wraps for an exfoliating, rejuvenating rub — at Beyond Wrapture Day Spa.
To Impress: Make a reservation at the Hotel Eldorado on the shore of Okanagan Lake. Dating back to 1926, this grand dame meshes luxury with spectacular vistas best viewed with a loved one.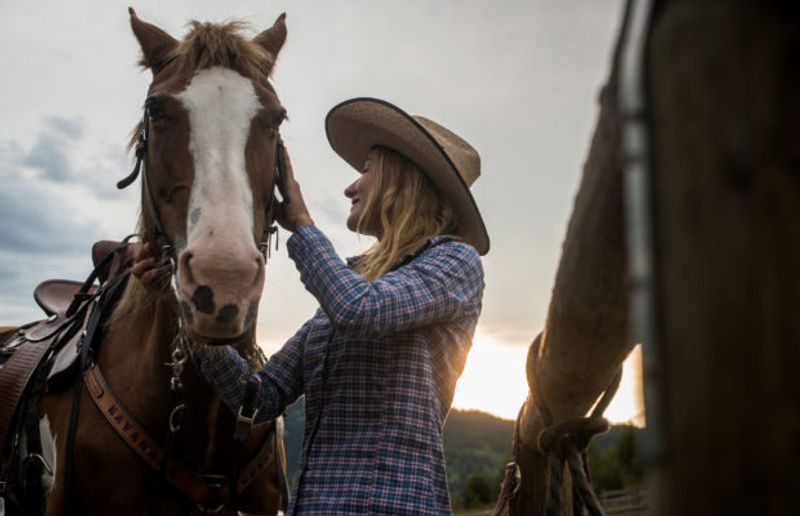 *Enjoy a romantic horseback ride in the Cariboo. Photo by: Blake Jorgenson, Courtesy Destination BC
Add a Spring to Your Step(s) Near 100 Mile House
Log cabins and acres of snowy, forested trails beckon in the Cariboo Chilcotin Coast region at Spring Lake Guest Ranch, near 100 Mile House. Take advantage of the surroundings with ice skating at the pond. When you're done at the makeshift rink, you can slip into snowshoes or slide on your skinny skis to explore the seemingly endless forested trails that wind through the area's 10,000 acres.
If you've never tried ice fishing, it's an outdoorsy way to bond; plus, what you catch is incidental, as huddling together over the fishing hole is what matters most. And when you start to feel winter's nip, simply head back to your cabin and marvel at the winter landscape from your toasty home-away-from-home.
To Impress: If you're hoping for some more traditional romance, hop on a horse-drawn sleigh or wagon and tour the forests and meadows on an hour-long excursion. Hot tip: bring a cup of cocoa to warm both your hands and your loved one's heart.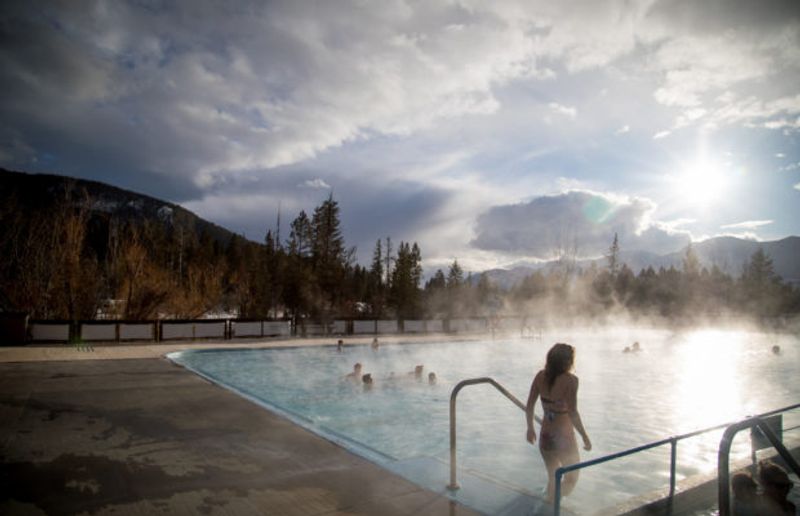 *Sink into mineral pools at Radium Hot Springs. Photo by Zoya Lynch, Courtesy Destination BC
Find Your Peace in Radium Hot Springs
As you drive into Radium Hot Springs in Kootenay National Park, you're welcomed by a sign that reads: "The mountains shall bring peace to the people." That's good news if you're eager to leave everyday stresses in the rear-view mirror, and even better news if you're planning to do so with a loved one at your side.
Here, you can ease into clear, odorless mineral pools — and into a new state of mind. This rejuvenating soak promises a renewed sense of calm and an opportunity for the two of you to melt into the natural beauty and remember all the reasons you were drawn together to begin with. Your only distraction? The wildlife that comb the tree-and-mountain backdrop, including resident bighorn sheep.
To Impress: Overnight in a luxury suite, like those at the stunning Prestige Radium Hot Springs Resort, and spend time together in the warmth of these rejuvenating waters.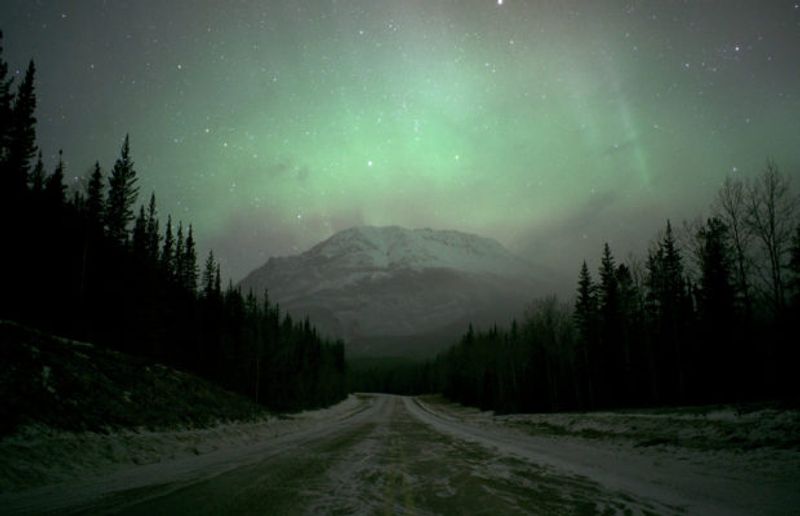 *See the Northern Lights sparkling over Northern BC. Photo by Ryan Dickie, Courtesy Destination BC
Take in the Northern Lights in Dawson Creek
Remote communities with little light pollution are the best places to view this breathtaking natural phenomenon, making Northern BC the ideal place to take your sweetheart. Make a stop in the charming town of Dawson Creek, located at Mile 0 of the iconic Alaska Highway, which boasts wide-open skies ideal for watching the Northern Lights, or Aurora Borealis. The town is also home to plenty of historical sites and museums, including the Alaska Highway House.
In addition to being incredibly romantic, viewing the Northern Lights is often a bit of an adventure. If you've never hunted for the Lights before, keep in mind that it's an after-dark activity that often requires some intrepid driving (and overnight camping) to find the perfect vantage point.
To Impress: Take a side trip to Mount Robson Provincial Park. As the highest point in the Canadian Rockies, this mountain offers incredible views and an endless supply of wildlife spotting opportunities, and its backcountry and Berg Lake Trail are open year-round. Pack a picnic and bring your cameras along with you — you won't want to miss an opportunity to capture this UNESCO World Heritage Site.
No matter what outdoor activity you're planning, be prepared for possibly hazardous winter conditions. If you're travelling through avalanche terrain, you and everyone in your group must be self-sufficient by carrying all the proper gear (transceiver, shovel, and probe) and receiving proper avalanche training. AdventureSmart and Leave No Trace are great resources to help you get informed before heading outdoors. Follow the three Ts —  trip planning, training, and taking the essentials — to keep you and your family safe and happy in British Columbia's wild outdoors this winter.