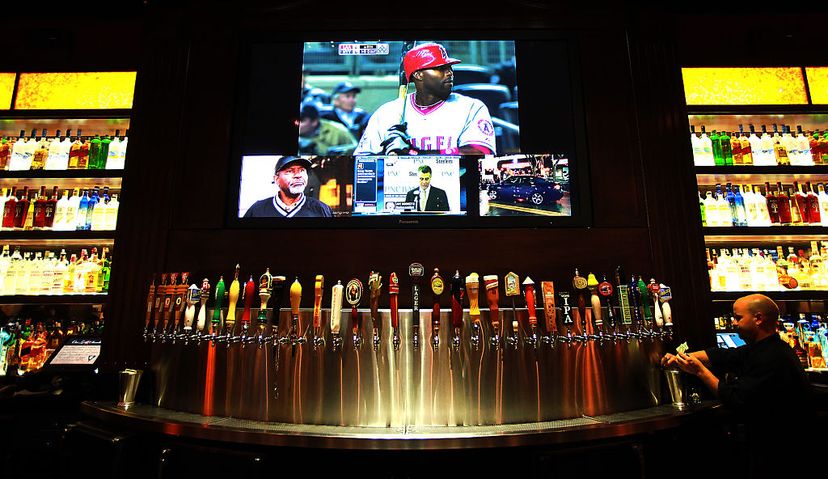 If you're making your way along Route 66 and end up in San Bernardino county, make a pitstop and visit one of the many mouthwatering restaurants in the area. This town, located just east of Los Angeles, California, is home to an eclectic mix of cuisines such as Italian, Indian, Thai, American classics and much more. So whether you're a local or traveler, here is a guide to the nine best San Bernardino restaurants to check out.
BJ's Restaurant & Brewhouse
BJ's Restaurant & Brewhouse has come a long way since opening as a simple pizza place in 2004. Now, the restaurant has a bigger updated menu and makes their own craft beer! The wide menu includes the likes of handcrafted burgers, sandwiches, and specialty entrees like the New Orleans jambalaya and baby back pork ribs. The restaurant still delivers on its humble beginnings as a pizza place, with the signature deep dish pizza still being a delicious go-to. BJ's also caters to guests who prefer something healthy with its Enlightened Favorites menu featuring items like quinoa bowls, cherry chipotle glazed salmon, and cauliflower pita tacos. According to Tripadvisor reviews, BJ's is the best restaurant in San Bernardino!
New Delhi Palace – Cuisine of India
If you're looking for authentic Indian food in the heart of San Bernardino, then you should visit New Delhi Palace. This locally owned restaurant serves fresh North Indian dishes for lunch and dinner, both dine-in and delivery. Start your meal with vegetable pakora or samosas before moving on to curry specialties like the chicken tikka masala or the lamb vindaloo. The menu also features seafood curries, tandoori entrees, and plenty of vegetarian options. If you want to enjoy a little bit of everything, visit New Delhi Palace for its buffet specials starting at just $10.95 per person.
Alfredo's Pizza & Pasta
For classic Italian cuisine, look no further than Alfredo's Pizza & Pasta. The family restaurant opened in 1979 and has been serving Italian favorites ever since. Using fresh and high-quality ingredients, guests can enjoy house specialties like spaghetti and homemade bread with garlic butter. Plus, it's been deemed the preferred "Spaghetti House" in the area for over 40 years. Whatever Italian delicacy you're craving, you can find it at Alfredo's where one of the menus is entirely dedicated to pizza and sandwiches. For dinner, consider Alfredo's 3-Way Combo which is a lasagna consisting of Italian sausage, mostaccioli pasta, and marinara sauce. You could also opt for one of the many other pastas on the menu such as the linguine and clam sauce, manicotti, or chicken parmigiana.
Najwa's Mediterranean Cuisine
This 4.5 star-rated restaurant serves authentic Mediterranean greek, middle eastern, and Lebanese cuisine. Previous customers applaud this lunch and dinner spot for its quality hospitality and special attention to service. Try the 7-layer greek or shawarma bowl, one of the five pita menu items, or kebab plate. Finish your meal at Najwa's Mediterranean Cuisine with tasty baklava, maamoul, or namoura for dessert.
Rose Apple Thai Cuisine
The kitchen at Rose Apple Thai Cuisine takes great pride in preparing and presenting their food. Thai cooking is a fusion of Chinese and Indian cuisine, with the Rose Apple modifying it with local herbs and spices. Whatever dish you choose, it's guaranteed to be colorful, flavorful, and spicy.
One of the house specials is the seafood love boat that consists of shrimp, squid, and green mussels. There are also tasty entrees like spicy eggplant and orange chicken, and a range of noodles and curries available. The Rose Apple even has Thai desserts like fried bananas, ice cream with sticky rice, and coconut ice cream.
D.J. Coffee Shop
The eight-page menu at D.J. Coffee Shop has offered customers a ton of options for breakfast, lunch, and dinner since opening in 1965. The old-school style diner has cozy booths, bar seating and an open window that peeks into the kitchen through which you can watch the action where two of the chefs have worked for three decades. It's one of the best places to grab breakfast in the county.
One of the most popular dishes you can find on the all-American menu is the brisket sandwich. It's made with lean and tender layers of meat piled on an onion bun. Indulge in the all-day breakfast of homemade hash browns, Angus beef top sirloin steak and eggs, breakfast burritos, and other favorites.
Claim Jumper Restaurant & Saloon
For some hearty comfort food, pay a visit to Claim Jumper Restaurant & Saloon. There's something for everyone thanks to its sizable menu that has everything from pasta, to burgers, to soups and BBQ. Order one of the classics like the chicken pot pie, southern fried chicken or the meatloaf and mashed potatoes combo. If there's room for dessert, try the chocolate motherlode cake made with six layers of chocolate cake and fudge icing. It was even named one of the "Top 5 Most Decadent Desserts" in the state by the Food Network.
Rosa Maria's Mexican Food
With four locations across California, you can enjoy some quality Mexican food from Rosa Maria's in San Bernardino. The franchise has been serving a variety of homemade Mexican favorites for over 40 years. You'll eat fresh ingredients for breakfast, lunch, and dinner at this casual dining restaurant. Get a burrito with pork or chicken, beans, rice, cheese, and other mouthwatering ingredients. Or pick a combo consisting of two foods like enchilados, tacos, taquitos, or enchiladas. Whichever you decide to go with, make sure to get a side of chips and salsa to complete your Mexican culinary experience.
Myung Ga Tofu
San Bernardino has few Korean restaurants, but luckily Myung Ga Tofu is there to satisfy your authentic Korean and BBQ cravings. Everything on the menu is a great price, making the most of your dollar. For lunch, try Asian items like the beef short rib stew, gloss noodles, or the spicy kimchi stew with pike mackerel. The hot stone pot menu items include mixed seafood, chicken bulgogi, and shitake selections. There are also many entree options like beef bulgogi and assorted vegetables and rice.