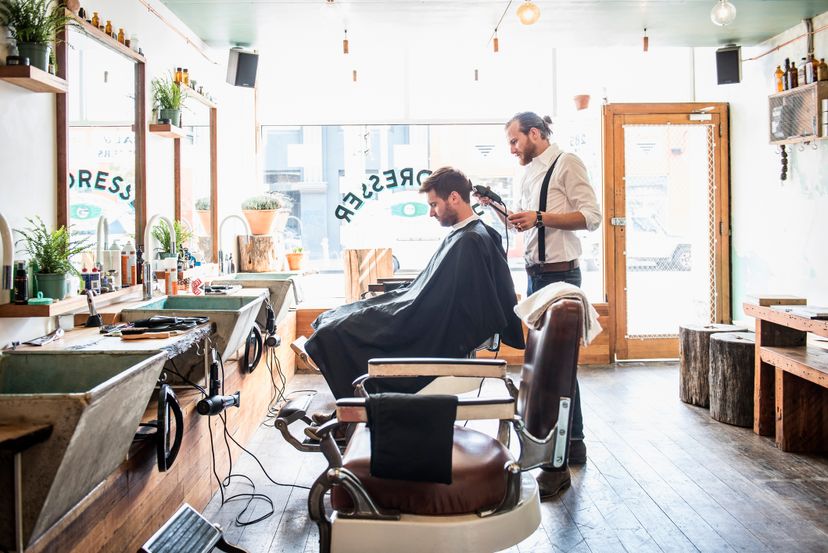 Those looking for a fresh haircut have no shortage of professional barbershops in SF in the United States. Each parlor has barbers with years of experience, guaranteeing you high-quality service and a slick cut. Along with standard haircuts, many of these barbershops offer beard trimming, fades, hot towel facials, and other services to meet all your hair (and facial hair) care needs. Here are eight San Francisco barbershops.
San Francisco Barbershop
Located between Valencia and Gurrero street in the Mission District in San Francisco Barbershop. Patrons can enjoy a complimentary beer before or during their haircut and trust their experienced barbers will give you exactly what you're looking for. Since opening in 2016, the San Francisco Barbershop has made itself a neighborhood go-to for anyone needing a cut.
Haircuts for kids ages four to 12 only cost $25. For adults, the price can range anywhere from $18 to $45 depending on the service you're looking for. You can get a clipper cut, beard trim, face shave, buzz cut, or head shave. There's also a discounted rate for seniors aged 62. Customer reviews compliment the shop for the employee's attention to detail and excellent results.
Emilio's Barber Shop
With over 1,100 followers on Instagram, Emilio's Barber Shop has developed a loyal clientele in the northern Crocker area. Emilio is a native of San Francisco that started cutting hair over 20 years ago. After working at a mom-and-pop shop and a high-end salon, Emilio decided to take over an existing barbershop and start his own business in 2008.
Emilio provides an old-school barber experience with a modern twist thanks to his varied shop experience. Kids and seniors can get a cut for $25, whereas adults generally pay somewhere between $30 to $35. The place is designed with TVs and artwork, and a special guest – Emilio's sleeping pooch.
Nate's Barbershop
After opening in 2012, Nate's Barbershop is a great choice for anyone needing a haircut near the Ingleside Heights area. The owner, Nathan Cerda, has been a barber for 18 years and goes the extra mile to keep his customers happy. His shop stands out on the street with his English bulldog as part of the business's logo.
Nate's is open early for people needing morning cuts, and is happy to accept walk-in customers along with his regular clients. He aims to help clients achieve their desired look through facial services like beard trims or hot towel facials, and hair cuts such as fades, comb overs, tapers, and other styles.
Debonair Barber & Shave Parlor
You can find the Debonair Barber & Shave Parlor – a business with a 4.5-star rating on Yelp – in the Haight-Ashbury neighborhood. If you get to the parlor early for your appointment, play one of the pinball machines to stay entertained. Men can pay $40 for a cut and $20 for a beard trim, or get both and pay a discounted combo rate of $50.
The business has a number of different barbers that each receive rave reviews from clients, including undercut designs that show barbering isn't only a trade but can be an art form.
JP Kempt Barber
One of the best barbers in the country has made his way to San Francisco and brought his talent with him to open JP Kempt Barber. Shorty Maniace has opened barbershops and salons from New York City to Seattle. His new Bay Area business caters to men's grooming needs by providing good service in a comfortable and masculine environment.
JP Kempt Barber and his team of nine barbers deliver stylish haircuts along with traditional barbershop services. Straight-razor shaves, beard trims, and buzz cuts are some of the services on the menu. They even provide straight-razor shaving classes for people looking to take their personal grooming skillset to the next level!
Mike's Barbershop
Mike's Barbershop has been serving Fillmore District residents and beyond since opening in 2016. The salon went through a major renovation with flashy lightbulb fixtures, mahogany cabinets, and marble countertops. This and other careful details give the business an old-school retro persona. This cash-only shop has a simple menu for customers. You can get a men's haircut, beard trim, or shave with prices ranging from $25 to $45. Mike has been a barber since 1995 and has already worked for six different barbershops, so you know you'll be getting a quality experience.
Old Mission Barbershop
The operation of Old Mission Barbershop is a little different compared to other shops. This is a chair rental barbershop, meaning licensed barbers rent their own station. The barbers book their own appointments set their own prices and work independently from the owner. You can browse through the barber bios on the Old Mission Barbershop's website to learn about what each barber provides.
Some of the services you can get done here include a traditional cut with a straight razor on the back of the neck, buzzcut, clipper cut, and a child's cut. The business is owned by a third-generation entrepreneur and it's located in San Francisco's Mission District.
Fine Line Barbershop
The owner of Fine Line Barbershop doesn't consider his job to just be about giving haircuts. He calls it an art form that involves discovering different cuts and styles that work for different people and face shapes. He started out simply cutting his own family's hair before opening this business in 2007.
His goal is to have clients leave the shop feeling better about themselves, no matter their age. The barbers take their time giving customers all types of haircuts from fades to razor shaves, to simple trims and beard works. People compliment the shop for its service and the laid-back ambiance that the music and staff create.